Clemson's Martin on track at U.S. Amateur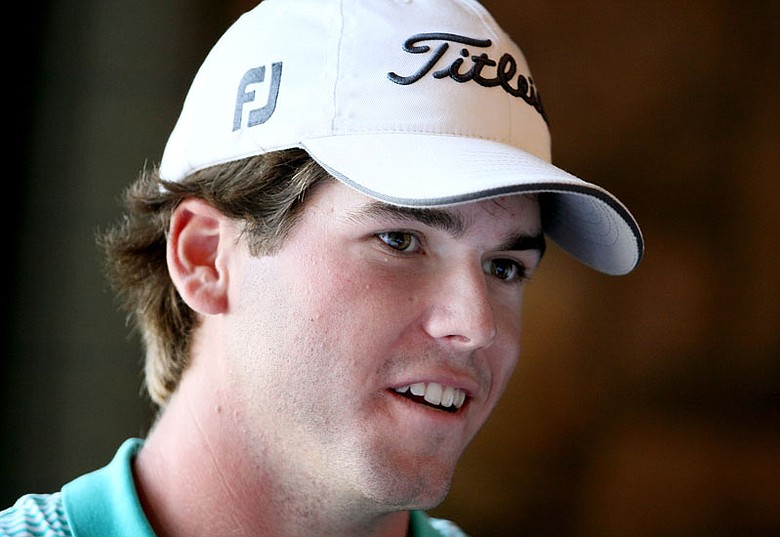 Tuesday, August 25, 2009
TULSA, Okla. – OK. Having his name on the leaderboard after he finished his two stroke-play qualifying rounds Tuesday at the U.S. Amateur Championship wasn't quite as thrilling or exciting as when Ben Martin last saw his name up there in a national championship.
It's also most understandable. When the fifth-year Clemson senior, finally feeling comfortable again after years of heart issues, last saw his name on a big leaderboard it was two months ago on one of the biggest stages in the game of golf, the U.S. Open.
"I was 2-under par for a while and my name went up on the leaderboard," said Martin, who advanced to Bethpage Black through local and sectional qualifying. "My caddie and I looked up there and just started laughing. It was really something.
"I tried not to think about it, but I guess it was still there in the back of my mind," he said. "I three-putted my last three holes and went on to miss the cut. But what a great experience it was out there with all the best players in the world."
---
Video
U.S. Amateur: Take 5 (Tuesday)
---
This week he's among some of the best amateurs in the world and is definitely holding his own – he made the cut from the starting field of 312 and will be among the 64 players who begin the match play portion of the championship on Wednesday.
After an opening round of 3-over-par 73 at the Cedar Ridge course, Martin, a two-time All-Atlantic Coast Conference performer, shot a 2-under 68 at the most demanding Southern Hills course, which played some eight strokes over par for the field.
"The conditions were great out here (Southern Hills) and I was able to take advantage of it," Martin said. "I hit only four drivers all day and was able to keep it in the fairway and keep it on the low side of the hole on the greens. You really have to do that out here. This is a golf course where you really have to think your way around."
Starting on the 10th hole, Martin drained a 25-footer for birdie and then sank a 10 footer at No. 13. He three-putted 18 for bogey and made another at the fifth when he failed to get up and down from a bunker. He came right back at No. 6 and hit his 6-iron approach shot to within six inches for birdie and ended the round by holing out a 15-yard bunker shot for birdie. That made him the leader in the clubhouse through the morning wave of competition.
Playing in his first U.S. Open and then his first U.S. Amateur? Not a bad summer for a guy who has been battling heart problems since his freshman year at Clemson.
During the Christmas break of his initial year in college, Martin was at his home in Greenwood, S.C., when he started having chest pains. After seeing a doctor and having tests done, he learned he had a virus in the lining of his heart.
While he says it's "not as serious as it could be," it was enough to slow him down for the next few years. It became a nagging ailment that would come and go, sometimes forcing him to take anywhere from one to three months off from any physical activity, golf included.
"I would walk about 200 yards or so to class and be out of breath," Martin said. "If I climbed some stairs, when I got to the top I'd have to stay there and rest a while."
He's been on a variety of medications to help treat the problem and says things are much better now.
"Things have been going pretty good (health wise) for about a year now," he said. "I haven't needed any medication and I've been feeling pretty good. I think it was just one of those weird deals."
Martin's summer got off on a solid note as he tied for 12th at the Sunnehanna Amateur and qualified and played in the U.S. Open.
"After the U.S. Open and playing Bethpage and against all those great players, I kind of had a letdown," he said. "It was tough to get fired up for amateur events after that."
It showed, too. Martin missed the cut at the Dogwood Invitational and then tied for 36th at the Players Amateur.
Exempt into the U.S. Amateur by virtue of playing in the U.S. Open, Martin seems to have gotten himself back to earth at this week's national amateur championship.
"I'm really looking forward to the rest of the week," Martin said after finishing his stroke play. "I haven't played a lot of match play, but I really do like this course (Southern Hills). I'm just going to try to keep doing what I'm doing and win a few matches and see what happens."
And if that happens, well, who knows, maybe Martin will see his name in the spotlight again – like on the U.S. Amateur Championship trophy.
Golfweek.com readers: We value your input and welcome your comments, but please be respectful in this forum.
---
---
---
---
---
---
---
---
---
---
---
---
---
---
---
---
---
---
---
---
---