One Walker Cupper remains at U.S. Amateur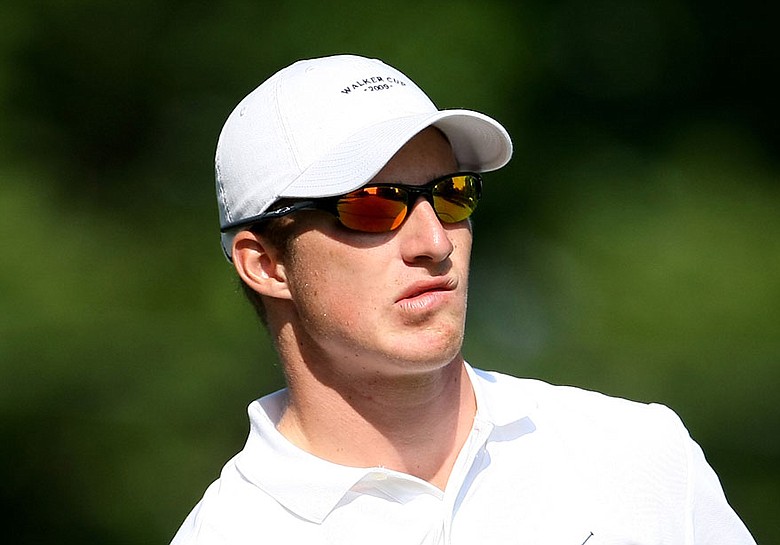 Wednesday, August 26, 2009
TULSA, Okla. – After just one round of match play, the U.S. Amateur is over for all but one member of the U.S. Walker Cup team.
Bud Cauley was the lone team member to advance to Thursday's second round, and that's because one Walker Cupper was guaranteed to advance out of his match against Rickie Fowler. Cauley won, 3 and 1.
Nathan Smith, Brian Harman and Morgan Hoffmann all lost Tuesday, on either No. 18 or in extra holes. Harman lost in 19 holes to Chris Ward, while Hoffmann lost to Charlie Holland on the first extra hole. Brendan Gielow, Drew Weaver and Adam Mitchell didn't advance out of stroke play.
Smith, who lost to Zach Barlow, 2 down, tried to look at the positive side of things.
"Well, we'll pick up two more," he said. The final two members of the team will be named either later this week or soon after the tournament ends.
At least the players jockeying for the final two spots on the team are playing well.
---
Video
U.S. Amateur: Take 5 (Wednesday)
---
• Peter Uihlein beat James Sacheck in 19 holes. Uihlein had to make a 7-foot birdie putt on the first extra hole after Sacheck made a 60-foot par putt. Sacheck birdied No. 18 to force extra holes.
• Cameron Tringale beat John Peterson, 2 up, while Bronson Burgoon was a 5-and-4 winner over Joe Juszczyk. Tringale and Burgoon will play in the second round.
• Mark Anderson beat Justin Bardgett, 2 up.
• Dan Woltman beat Talor Gooch, 3 and 2.
• Mike Van Sickle was a 6-and-4 winner over John Murphy. Van Sickle was one of two players to win by a six-hole margin Wednesday.
Of course, players are really competing for one spot, since there is a good chance an American will win this year's U.S. Amateur. There are 25 players from the United States in the final 32, and only Cauley is already on the team.
The Walker Cuppers weren't the only big names to go down Wednesday. Corey Nagy, David Chung, Tyson Alexander, Wesley Bryan and Kevin Tway lost their first-round matches.
• • •
The University of Texas' Charlie Holland beat Hoffmann in 19 holes Tuesday in a matchup of quarterfinalists from last year's U.S. Amateur.
Holland was 3 down after 12 holes, but won No. 13 when Hoffmann hit his approach into the water. Holland made birdie on the next hole, then made an 8-foot putt to save par out of a bunker and watched Hoffmann 3-putt from 5 feet for bogey.
"It's weird," Holland said. "In my first round last year, I was 3 down through 12. I was down in every match. The match I was up in, I lost."
While Hoffmann and Holland had the same finish at last year's Amateur, they took divergent paths during the college season. Hoffmann finished No. 2 in the Golfweek/Sagarin College Rankings and was the freshman of the year. Holland finished 320th in Golfweek's rankings, a drop of almost 300 positions.
Holland said he's "headed in the right direction" this summer after focusing too heavily on swing mechanics during the college season.
"I'm back to just playing golf," he said.
• • •
---
Photo Gallery
U.S. Amateur (Rd. of 64)
Plenty of big names fell in the first round of match play at the U.S. Amateur.
---
In addition to Van Sickle, the other player to win by at least a six-hole margin was former Stanford player Dodge Kemmer, who has played some tremendous golf lately. Kemmer won his U.S. Amateur qualifier by seven shots, won last week's Scratch Players Championship by four shots, then beat Eric Steger, 6 and 5.
"I've been working on a couple things in my swing and my putting that have allowed me to be more consistent week-to-week," Kemmer said.
Many of the players at the U.S. Amateur either have the college season or Q-School on their horizon. Kemmer is fortunate to have neither. He finished his eligibility at Stanford this past season, but still has about 12-15 credits remaining for his degree in human biology.
"I'm going to try to drag that out to a whole year," Kemmer said with a laugh. He will probably turn pro after finishing school.
• • •
Tyson Alexander was one of the first players on the course Wednesday and the last player off. Unfortunately, his 11-hour day ended in a 21-hole lost to Clemson's Ben Martin. Alexander chipped in on the first hole of a 27-for-4 playoff to earn a spot in the match-play bracket. He won the final three holes of regulation to draw all square with Martin, but made bogey on the third extra hole.
• • •
Two soon-to-be college rivals were among the players to advance. High-school seniors Cameron Wilson and Byeong-Hun An both advanced to the second round. An, a 2-and-1 winner over Texas' Alex Moon, has made a verbal commitment to Cal. Wilson, who beat the University of Michigan's Matt Thompson in 19 holes, has a Stanford headcover and putter cover in his bag.
Marcel Puyat, a 16-year-old from the Philippines, is the youngest player remaining in match play. He beat Fielding Brewbaker, 3 and 1, in the first round and will have a tough second-round match against Scott Langley.
• • •
Results from the first round of match play at the U.S. Amateur, played Aug. 26 at the par-70 Southern Hills CC in Tulsa, Okla.:
Tim Jackson def. John Kostis, 5 and 4
Charlie Holland def. Morgan Hoffmann, 19 holes
Christopher Ross def. Corey Nagy, 5 and 4
Travis Woolf def. Brady Johnson, 4 and 3
Peter Uihlein def. James Sacheck, 19 holes
Connor Driscoll def. Jonathan Randolph, 3 and 1
Dodge Kemmer def. Eric Steger, 6 and 5
Connor Arendell def. David Chung, 2 and 1
Ben Martin def. Tyson Alexander, 21 holes
Chris Ward def. Brian Harman, 19 holes
Nico Geyger def. Derek Ernst, 1 up
Matt Smith def. Andrew Funk, 4 and 3
Bud Cauley def. Rickie Fowler, 3 and 1
David Lingmerth def. Scott Strohmeyer, 3 and 2
Cameron Tringale def. John Peterson, 2 up
Bronson Burgoon def. Joe Juszczyk, 5 and 4
Mark Anderson def. Justin Bardgett, 2 up
Zach Barlow def. Nathan Smith, 2 up
Phillip Mollica def. Travis Ross, 2 up
Cameron Wilson def. Matt Thompson, 19 holes
Scott Langley def. David Sheman, 2 and 1
Marcel Puyat def. Fielding Brewbaker, 3 and 1
Brad Revell def. Matthew Broome, 19 holes
Bhavik Patel def. Patrick Rada, 3 and 2
Will Strickler def. Brenton Flynn, 2 and 1
Steve Ziegler def. Jackson Beindorf, 5 and 3
Dan Woltman def. Talor Gooch, 3 and 2
Glenn Northcutt def. Jonathan Fly, 2 and 1
Trent Whitekiller def. Wesley Bryan, 19 holes
Mike Van Sickle def. John Murphy, 6 and 4
Brett Kanda def. Kevin Tway, 1 up
Byeong-Hun An def. Alex Moon, 2 and 1
---
---
---
---
---
---
---
---
---
---
---
---
---
---
---
---
---
---
---
---
---