Ziegler zips into Am quarters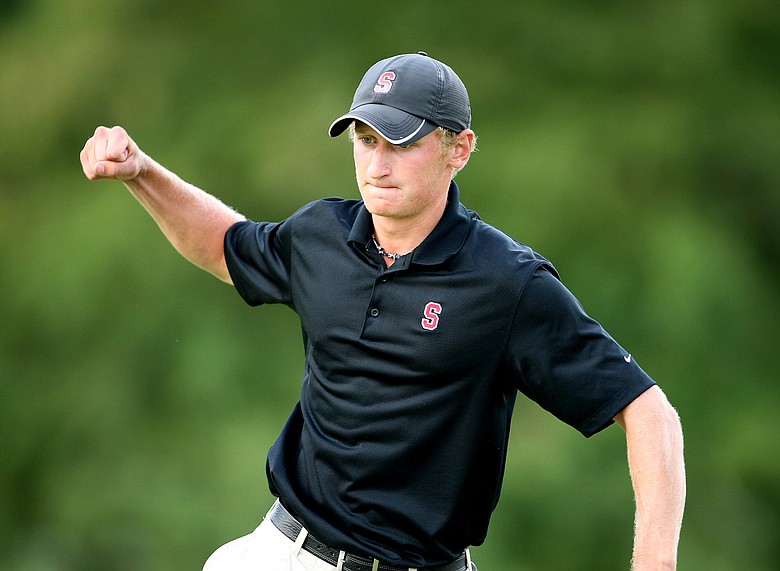 Thursday, August 27, 2009
TULSA, Okla. – The annual football game between Stanford and Cal is known as "The Big Game." A version of that rivalry will be played out at Southern Hills in Friday's quarterfinals.
It was set up by extra-hole victories from Steve Ziegler and Byeong-Hun An, both of whom ended a match that would've been heavy with Walker Cup implications.
Ziegler beat Dan Woltman in 22 holes, while An beat Mike Van Sickle on the 20th hole. Woltman and Van Sickle, two of the favorites for the final two spots on the U.S. Walker Cup, would've faced each other in the quarterfinals if they'd won.
Ziegler is a junior at Stanford, while An is a high-school senior who's made a verbal commitment to the Golden Bears.
"We hate those Bears," Ziegler said with a laugh when informed that An is headed to Cal. "I didn't know that. You've given me some extra incentive."
Not that he needs it. Plenty is on the line for Ziegler. He told friends at the beginning of the summer that he has two chances to qualify for the 2010 Masters – the British Amateur and U.S. Amateur. The Walker Cup has been on Ziegler's mind ever since he represented the U.S. at the Palmer Cup earlier this summer in his native Colorado.
---
Video
U.S. Amateur: Take 5 (Thursday)
---
Ziegler lost in the Round of 16 at the British Amateur, but is two wins away from earning one of the Masters invitations that goes to the U.S. Amateur finalists. Three more match-play wins and Ziegler will be guaranteed a spot on the Walker Cup team.
Ziegler made birdie on three of the final six holes Thursday, including Nos. 17 and 18, to force extra holes. He hit a 3-wood into a greenside bunker on the short, par-4 17th, then hit a difficult bunker shot to 10 feet and made the putt. He hit 7-iron to 10 feet on Southern Hills' 18th hole.
Ziegler is good at making comebacks, which makes him a dangerous match-play opponent. He won the final three holes in the final of this year's Colorado Match Play to win, 1 up. He also claimed the Colorado Stroke Play, becoming the first player since PGA Tour player Brandt Jobe to win both in one season.
Ziegler hasn't performed well in national events, though, missing the 36-hole cut at both the Southern Amateur and Western Amateur.
Van Sickle never led against An, but had a 6-foot, uphill par putt to win on the 18th hole. He pushed it right. Van Sickle made a 15-foot par putt on the first extra hole, but hooked his tee shot into a creek to lose on the 20th.
Woltman missed a 4-foot putt on the fourth extra hole after a radio went off while he was standing over the putt. He played nearly flawlessly before that. He was 2 up after eight holes, and didn't make a bogey on the final 10 holes of regulation, but Ziegler was able to draw all square thanks to four birdies over that stretch.
"That's what I play for," Ziegler said. "It was just about impossible. He played so steady, so well, and I feel very fortunate to come out on top."
Woltman, who was 2 up through 16, and Van Sickle weren't the only Walker Cup candidates to lose in the Round of 16.
Cameron Tringale was 1 up through six holes, before losing, 4 and 2, to Sweden's David Lingmerth, who will face Ben Martin in the quarterfinals. Lingmerth won two of three matches at the NCAA Championship as he helped Arkansas advance to the final.
---
Photo Gallery
U.S. Amateur (Rd. of 16)
Plenty of action at the U.S. Amateur Thursday with Rounds of 32 and 16.
---
Mark Anderson was 1 up through nine holes, but lost, 1 down, to fellow South Carolina resident Phillip Mollica. Anderson missed an 8-foot birdie putt on No. 18 that would've sent the match to extra holes. Mollica is a two-time champion of the Monroe Invitational and won the 2007 North & South Amateur.
Mollica will face Fresno State's Bhavik Patel in the quarterfinals. Patel won No. 18 with par to beat 16-year-old Marcel Puyat, 1 up. Puyat was 2 up after making birdie on No. 15 but made bogey on the final three holes.
Friday's other quarterfinal match will be a classic Big 12 rivalry as Texas' Charlie Holland will face Oklahoma State's Peter Uihlein.
Uihlein had to scramble to take down Connor Arendell after taking a 3-up lead after 10 holes. Arendell birdied Nos. 11 and 12 to get within 1 down, but Uihlein made a 25-foot, downhill birdie putt from off the green on the par-5 13th to get back to 2 up. Uihlein lost the next hole when he hit his approach into a greenside bunker, then saved par from a fairway bunker on No. 15 and after hitting into trees right of the 16th fairway, getting up-and-down from 50 yards on the latter.
Results from the second and third rounds of match play at the U.S. Amateur, played Aug. 27 at the par-70 Southern Hills CC in Tulsa, Okla.:
ROUND OF 16
Charlie Holland def. Christopher Ross, 2 and 1
Peter Uihlein def. Connor Arendell, 2 and 1
Ben Martin def. Nico Geyger, 2 and 1
David Lingmerth def. Cameron Tringale, 4 and 2
Phillip Mollica def. Mark Anderson, 1 up
Bhavik Patel def. Marcel Puyat, 1 up
Steve Ziegler def. Dan Woltman, 22 holes
Byeong-Hun An def. Mike Van Sickle, 20 holes
ROUND OF 32
Charlie Holland def. Tim Jackson, 1 up
Christopher Ross def. Travis Woolf, 2 and 1
Peter Uihlein def. Connor Driscoll, 2 and 1
Connor Arendell def. Dodge Kemmer, 3 and 2
Ben Martin def. Chris Ward, 19 holes
Nico Geyger def. Matt Smith, 3 and 2
David Lingmerth def. Bud Cauley, 2 and 1
Cameron Tringale def. Bronson Burgoon, 1 up
Mark Anderson def. Zach Barlow, 1 up
Phillip Mollica def. Cameron Wilson, 1 up
Marcel Puyat def. Scott Langley, 4 and 3
Bhavik Patel def. Brad Revell, 2 up
Steve Ziegler def. Will Strickler, 1 up
Dan Woltman def. Glenn Northcutt, 7 and 5
Mike Van Sickle def. Trent Whitekiller, 6 and 5
Byeong-Hun An def. Brett Kanda, 4 and 3
ROUND OF 64
Tim Jackson def. John Kostis, 5 and 4
Charlie Holland def. Morgan Hoffmann, 19 holes
Christopher Ross def. Corey Nagy, 5 and 4
Travis Woolf def. Brady Johnson, 4 and 3
Peter Uihlein def. James Sacheck, 19 holes
Connor Driscoll def. Jonathan Randolph, 3 and 1
Dodge Kemmer def. Eric Steger, 6 and 5
Connor Arendell def. David Chung, 2 and 1
Ben Martin def. Tyson Alexander, 21 holes
Chris Ward def. Brian Harman, 19 holes
Nico Geyger def. Derek Ernst, 1 up
Matt Smith def. Andrew Funk, 4 and 3
Bud Cauley def. Rickie Fowler, 3 and 1
David Lingmerth def. Scott Strohmeyer, 3 and 2
Cameron Tringale def. John Peterson, 2 up
Bronson Burgoon def. Joe Juszczyk, 5 and 4
Mark Anderson def. Justin Bardgett, 2 up
Zach Barlow def. Nathan Smith, 2 up
Phillip Mollica def. Travis Ross, 2 up
Cameron Wilson def. Matt Thompson, 19 holes
Scott Langley def. David Sheman, 2 and 1
Marcel Puyat def. Fielding Brewbaker, 3 and 1
Brad Revell def. Matthew Broome, 19 holes
Bhavik Patel def. Patrick Rada, 3 and 2
Will Strickler def. Brenton Flynn, 2 and 1
Steve Ziegler def. Jackson Beindorf, 5 and 3
Dan Woltman def. Talor Gooch, 3 and 2
Glenn Northcutt def. Jonathan Fly, 2 and 1
Trent Whitekiller def. Wesley Bryan, 19 holes
Mike Van Sickle def. John Murphy, 6 and 4
Brett Kanda def. Kevin Tway, 1 up
Byeong-Hun An def. Alex Moon, 2 and 1
---
---
---
---
---
---
---
---
---
---
---
---
---
---
---
---
---
---
---
---
---