Fathers give sons boost at U.S. Am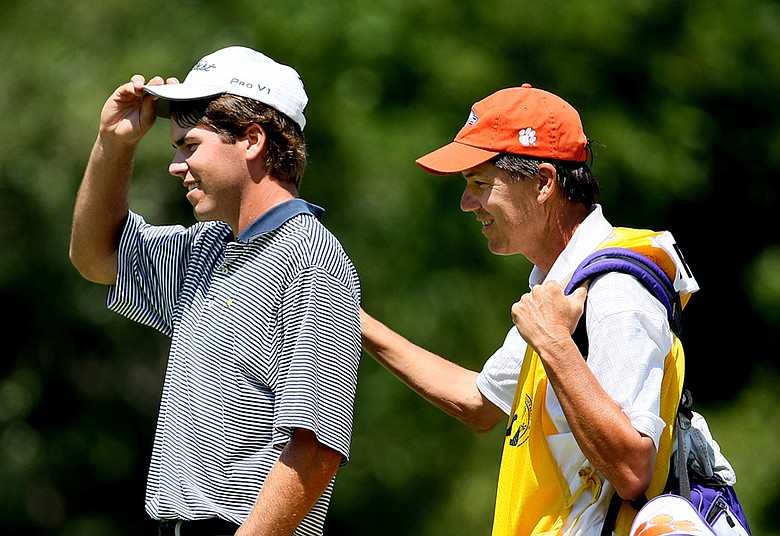 Friday, August 28, 2009
TULSA, Okla. – Ben Martin did his father a huge favor Friday in the quarterfinals at the U.S. Amateur. He turned what could have been a heartbreaking error into a funny footnote.
Jim Martin is caddying for his son this week at Southern Hills. On the fifth hole, he raked his son's ballmark before Ben played out of a bunker. The mark was nowhere near Ben's ball, but he lost the hole because his caddie tested the surface of a hazard.
"It'd be a haunting memory for the rest of my life," said Jim Martin, when asked how he would've felt if his son had lost. Lucky for Jim, his son beat Sweden's David Lingmerth, 2 and 1.
"I told him, 'I've never felt this bad in my life,' " Jim Martin said. "... He said, 'Forget about it. Let's play.' Then he won the next hole."
Now Ben Martin is one victory away from a Masters invitation. The Martins live in Greenwood, S.C., about 60 miles from Augusta. Father and son have gone to the Masters together since 1996.
Jim Martin wasn't the only proud papa on Friday.
Byeong-Hun An's father, Jae-Hyung An, is also on the bag this week. Bhavik Patel and Charlie Holland both learned the game from their dads.
The Hollands shared a special moment two years ago when Charlie won the Texas State Amateur. His father, Malcolm, was president of the Texas State Golf Association and got to present the trophy to his son.
"That was a cool deal," Charlie Holland said after his 19-hole victory over Peter Uihlein. "He's always been there for me."
---
Video
U.S. Am: Meet the semifinalists
---
Malcolm Holland is a good player in his own right; he tied for ninth at last year's Texas Mid-Amateur at Dallas' Lakewood Country Club, the Hollands' home course. He's shot 65 there on several occasions, a number his son didn't match before this year. Malcolm loved to give Charlie a hard time about that.
Holland finally got his 64 at Lakewood last month as he regained his form after slumping during the college season. You can guess who Charlie called first after finishing the round.
"You've got to rub it in a little bit, because it makes him mad," Charlie Holland said with a laugh.
Bhavik Patel's father, Bobby, isn't an accomplished player (he's about a 10 handicap), but he served as his son's first teacher, between the ages of 6 and 11. Now, Bhavik is his own teacher.
Bobby must have taught his son well, because the cabinet he built to hold Bhavik's trophies is full with winnings from tournaments throughout California.
He may have to make room for the Havemeyer Trophy. Bhavik is two victories from the biggest prize in amateur golf after a 1-up victory over Phillip Mollica.
"This is like a dream come true," Bobby Patel said. "I've been waiting for this for so long."
The Ans had to wait to earn a spot in the semifinals. It took Byeong-Hun An 21 holes to beat Stanford's Steve Ziegler on Friday.
Jae-Hyung An helped his son gauge the wind and read putts, most importantly on No. 16, where Byeong-Hun An made a 25-foot birdie putt from just off the green to go 2 up.
"He helped me with that one, he told me it's not going to break that much," Byeong-Hun An said. "I thought it was going to break a lot to the right."
Not that fatherly advice is always valuable.
"He tried to slow me down a little (in extra holes)," Byeong-Hun An said, "... but I mean I didn't listen to him. Sorry, Dad."
Whether they were ignored or not, Friday was a special day for four fathers at the U.S. Amateur.
Golfweek.com readers: We value your input and welcome your comments, but please be respectful in this forum.
---
---
---
---
---
---
---
---
---
---
---
---
---
---
---
---
---
---
---
---
---