Test awaits at Golfweek's Conference Challenge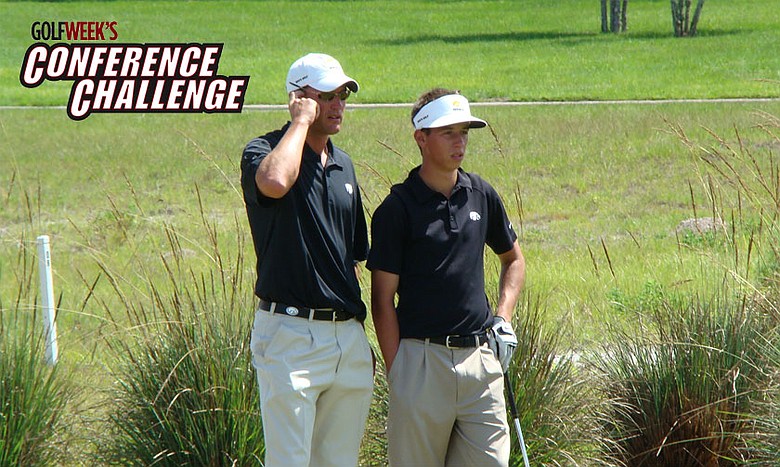 Saturday, August 29, 2009
RIVERSIDE, Iowa – Fifteen college golf teams from fifteen different conferences brought their sticks to Eastern Iowa this week to kick off the college golf season at Golfweek's Conference Challenge. Styx is also here to help get things going, but that just happens to be a coincidence.
What we know so far after a brisk, gusty Saturday morning practice round at two-year-old Blue Top Ridge – a picturesque par-72 Rees Jones design that sits across the parking lot from Riverside Casino, where the '70s band Styx will be performing tonight ("Mr. Roboto," anyone?) – is that this Challenge is also "a full test," as Cal coach Steve Desimone put it.
"It's a great course, and I think it's going to test the boys a little more than they think," said Illinois State coach Ray Kralis.
---
Video
Golfweek's Conference Challenge
---
Iowa junior Vince India actually passed the test last week. Following a 78-74 start, India closed with a 4-under 68 to come from 11 shots back to win the Iowa Open at Blue Top Ridge. India said he "just kind of went out there and freewheeled it," posting a score that could have been at least three shots better considering a couple missed birdie putts from within 5 feet and a three-putt on the par-4 17th for his only bogey.
"I don't want to sound annoying, but it could have been a lot lower," India said. That's not to foreshadow a sea of red numbers here this week on the banks of the Iowa River, however.
"It's a really good test of golf," said India, whose 68 for the moment remains the competitive course record.
India said the Hawkeyes, coming off their best season of the last decade in which they advanced to the NCAA Championship, play the course about two times per week, and also hit balls from the training center in the winter. Blue Top Ridge is about a 15-minute drive from the University of Iowa campus in Iowa City, where last night students were breakdancing in the streets.
"If the wind blows out here, something over par will (win)," India said.
Oh, it is blowing all right. Water bottles, not entirely empty, flew off one table early Saturday afternoon on the 12th hole. About half the field wore pullovers and rain pants to battle the wind chills.
Florida State coach Trey Jones wondered aloud if this was the type of place where the wind ever stopped, hardly a curious question while standing on the longest course in the Hawkeye State, built to play up to 7,505 yards, though don't expect to see it over 7,300 the next three days.
The poster child of this discussion is without question the 665-yard par-5 16th hole, which if paved might be considered to be the world's largest skateboard ramp. The longest hole in Iowa, it's just one of the reasons director of golf Bryan Haas says while players will enjoy the relatively flat front nine, they will "certainly remember" the back.
Florida State junior Drew Kittleson hit driver, 3-wood, 7-iron to reach the green, though he is one of the longest players in the field and the hole played dead into the wind Saturday. At least two players in the field chose 5-wood to hit their third shots.
---
Photo Gallery
GW's Con. Challenge
Scenes from the practice round at Golfweek's Conference Challenge Aug. 29 at Blue Top Ridge in Riverside, Iowa.
---
Kittleson, who last year at this time was making his run to Augusta National at the U.S. Amateur, expected 18 straight fairways in the middle of a cornfield, more or less. He happily admitted his error just a few holes into his practice round and at the same time the fall season.
"I always think they can do so many more cool things with college golf, sometimes things get a bit monotonous," said Kittleson, speaking on the new venue and the format of the Conference Challenge, every team featured being from a difference conference. "So this is good to see something different."
Vanderbilt coach Tom Shaw stood at the top of one Blue Top Ridge's several ridges, looking out at the surrounding landscape.
"It's great," he said. "The views from some of the tees are phenomenal."
As far as the view of his team? Pretty much just like every other coach here this week. "We don't really know what to expect," he said. "We've only been in classes a couple days."
Texas-Arlington's Zack Fischer is just fine with that. "Coming off the summer, sometimes you can fall out of your routine," he said. "It's cool because we definitely don't see a lot of these schools (during the season), and we're already starting."
Added Fischer, almost as if he knew he had to: "It's going to be putting all these guys to the test."
Golfweek.com readers: We value your input and welcome your comments, but please be respectful in this forum.
---
---