An, 17, becomes youngest U.S. Am champ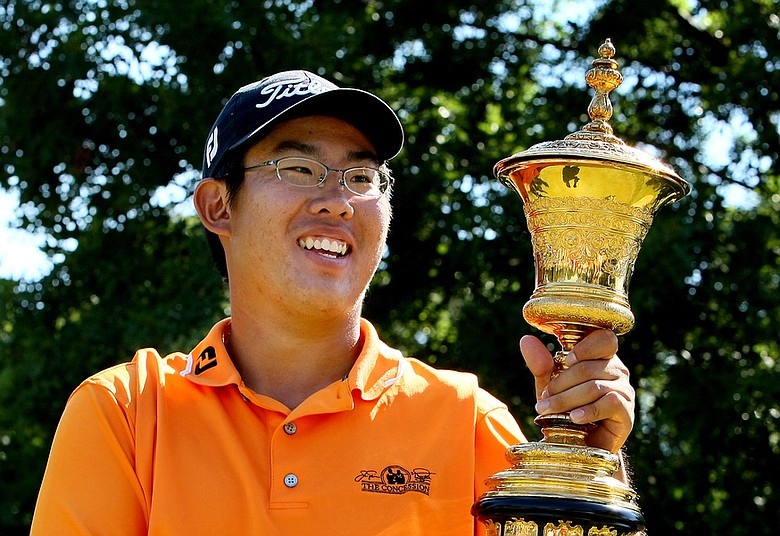 Sunday, August 30, 2009
TULSA, Okla. – Byeong-Hun An had one request as he walked into Southern Hills' clubhouse after winning the U.S. Amateur. He wanted a Shirley Temple.
The non-alcoholic beverage was an appropriate request from the youngest champion in the tournament's history, who can't legally imbibe, but needed something to quench his thirst after a long, difficult day at Southern Hills.
An beat Ben Martin, 7 and 5, on Sunday, but both players struggled in the final because of pressure, typical USGA conditions and an inconsistent breeze.
In the final, a hole was halved with double bogeys, another was won with bogey, and pars were good enough to win many holes. An played 31 holes Sunday in 9 over par, while Martin was 15 over.
"Like Ben, ... I didn't play too well, actually," An said. "He made more mistakes than me. I think that's how it went."
Struggles or not, the 17-year-old An became the youngest U.S. Amateur champion in history, besting Danny Lee's record from last year. An is also the second consecutive Korean-born champion.
He will add the Havemeyer Trophy to an impressive family trophy case.
Both of his parents won Olympic medals in table tennis. An's father, Jae-Hyung An, won bronze in doubles for Korea, while his mother, Zhi Min Jiao, won bronze in singles and silver in doubles while representing China. She still lives in Beijing, and received the good news about her son's victory via an early-morning phone call. It was around 4 a.m. in China when An wrapped up his victory.
---
Video
U.S. Amateur: Finals highlightsAmateur Summer 2009: U.S. Amateur Recap
---
Zhi Min Jiao will get to see the trophy when she visits her son and husband in Florida in about 10 days. An hasn't seen his mother since January.
He lives in Bradenton, Fla., with his father and grandmother. They moved to the United States three-and-a-half years ago so An could attend the IMG Academy in Bradenton, Fla. The family still lives on Florida's Gulf Coast, though An left the academy more than a year ago.
He said the family moved to Florida because the weather and practice facilities were better than those in his native Korea. This victory validated that decision.
"100 percent," An said. "It was a good decision, I think. Thanks to my dad for telling me to come over here and just play golf. It was definitely worth it."
This was just An's second victory in three years, but they don't get any bigger. An's last victory before this week was the 2006 AJGA Nike Golf Junior at Marshallia Ranch.
He clinched the Amateur with a clutch birdie at the par-3 11th hole in the afternoon after losing the previous two holes with three-putts to fall to 4 up with eight holes remaining.
Martin hit first on the par-3, placing his tee shot within 10 feet of the hole. An followed by hitting his tee shot to 15 feet, and made the birdie putt before Martin missed his try. An won the 12th and 13th holes with pars to close out Martin.
An won't have long to rest, as he is playing this week's AJGA Junior Players Championship, which begins Friday. An will have to deal with sky-high expectations when he tees it up at TPC Sawgrass as he becomes the first U.S. Amateur champ to play an AJGA event post-victory.
---
Photo Gallery
U.S. Amateur (Finals)
Byeong-Hun An outlasted Ben Martin to win the U.S. Amateur.
---
"I'll enjoy this moment right now, but starting next week, ... I'll go back to the same mentality I had a few days ago before I played this tournament," he said. "I'll try to ignore (the expectations). I've still got a long career to go. It's not done."
An, who has made a verbal commitment to attend Cal in 2010, also said that he has no plans to skip college to turn pro.
Martin, a fifth-year senior at Clemson, was 3 down after the morning round, but won the 19th hole with par. He made bogey on six of the next seven holes, hitting just one fairway in that stretch. He hit just three greens in regulation in the 13 holes of the afternoon, making eight bogeys and five pars.
An shot 75 in the morning round, but had a 3-up lead over Martin, who shot 77.
"I just didn't have anything out there today," Martin said. "It was just a struggle. ... I was just kind of out there searching for something and never found it."
Final results from the U.S. Amateur, played Aug. 24-30 at the par-70 Southern Hills CC in Tulsa, Okla.:
FINAL
Byeong-Hun An def. Ben Martin, 7 and 5
SEMIFINALS
Ben Martin def. Charlie Holland, 5 and 4
Byeong-Hun An def. Bhavik Patel, 3 and 2
QUARTERFINALS
Charlie Holland def. Peter Uihlein, 19 holes
Ben Martin def. David Lingmerth, 2 and 1
Bhavik Patel def. Phillip Mollica, 1 up
Byeong-Hun An def. Steve Ziegler, 21 holes
ROUND OF 16
Charlie Holland def. Christopher Ross, 2 and 1
Peter Uihlein def. Conor Arendell, 2 and 1
Ben Martin def. Nico Geyger, 2 and 1
David Lingmerth def. Cameron Tringale, 4 and 2
Phillip Mollica def. Mark Anderson, 1 up
Bhavik Patel def. Marcel Puyat, 1 up
Steve Ziegler def. Dan Woltman, 22 holes
Byeong-Hun An def. Mike Van Sickle, 20 holes
ROUND OF 32
Charlie Holland def. Tim Jackson, 1 up
Christopher Ross def. Travis Woolf, 2 and 1
Peter Uihlein def. Connor Driscoll, 2 and 1
Connor Arendell def. Dodge Kemmer, 3 and 2
Ben Martin def. Chris Ward, 19 holes
Nico Geyger def. Matt Smith, 3 and 2
David Lingmerth def. Bud Cauley, 2 and 1
Cameron Tringale def. Bronson Burgoon, 1 up
Mark Anderson def. Zach Barlow, 1 up
Phillip Mollica def. Cameron Wilson, 1 up
Marcel Puyat def. Scott Langley, 4 and 3
Bhavik Patel def. Brad Revell, 2 up
Steve Ziegler def. Will Strickler, 1 up
Dan Woltman def. Glenn Northcutt, 7 and 5
Mike Van Sickle def. Trent Whitekiller, 6 and 5
Byeong-Hun An def. Brett Kanda, 4 and 3
ROUND OF 64
Tim Jackson def. John Kostis, 5 and 4
Charlie Holland def. Morgan Hoffmann, 19 holes
Christopher Ross def. Corey Nagy, 5 and 4
Travis Woolf def. Brady Johnson, 4 and 3
Peter Uihlein def. James Sacheck, 19 holes
Connor Driscoll def. Jonathan Randolph, 3 and 1
Dodge Kemmer def. Eric Steger, 6 and 5
Connor Arendell def. David Chung, 2 and 1
Ben Martin def. Tyson Alexander, 21 holes
Chris Ward def. Brian Harman, 19 holes
Nico Geyger def. Derek Ernst, 1 up
Matt Smith def. Andrew Funk, 4 and 3
Bud Cauley def. Rickie Fowler, 3 and 1
David Lingmerth def. Scott Strohmeyer, 3 and 2
Cameron Tringale def. John Peterson, 2 up
Bronson Burgoon def. Joe Juszczyk, 5 and 4
Mark Anderson def. Justin Bardgett, 2 up
Zach Barlow def. Nathan Smith, 2 up
Phillip Mollica def. Travis Ross, 2 up
Cameron Wilson def. Matt Thompson, 19 holes
Scott Langley def. David Sheman, 2 and 1
Marcel Puyat def. Fielding Brewbaker, 3 and 1
Brad Revell def. Matthew Broome, 19 holes
Bhavik Patel def. Patrick Rada, 3 and 2
Will Strickler def. Brenton Flynn, 2 and 1
Steve Ziegler def. Jackson Beindorf, 5 and 3
Dan Woltman def. Talor Gooch, 3 and 2
Glenn Northcutt def. Jonathan Fly, 2 and 1
Trent Whitekiller def. Wesley Bryan, 19 holes
Mike Van Sickle def. John Murphy, 6 and 4
Brett Kanda def. Kevin Tway, 1 up
Byeong-Hun An def. Alex Moon, 2 and 1
---
---
---
---
---
---
---
---
---
---
---
---
---
---
---
---
---
---
---
---
---