East: Pioneers pave way with title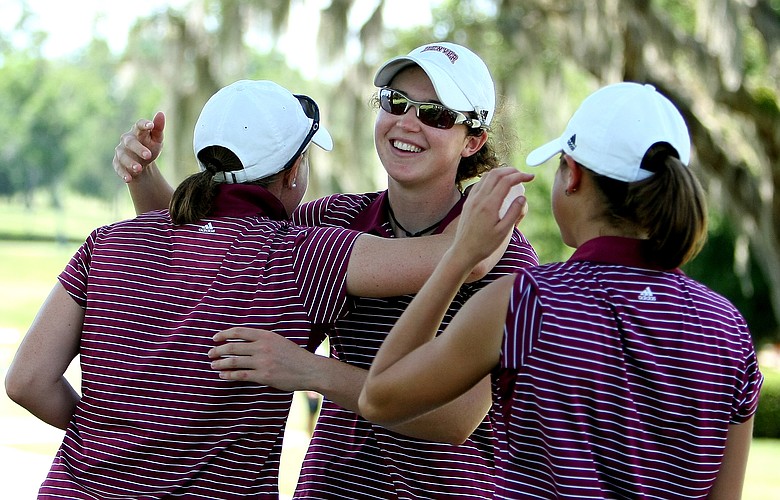 Saturday, May 9, 2009
GAINESVILLE, Fla. — When Denver got word they were being shipped across the country to the NCAA East Regional, the players didn't pout or worry that they weren't getting any respect.
Instead, they held an Ultimate Frisbee draft.
"We're a little unique," coach Sammie Chergo said, smiling.
With a healthy mix of fun and focus, Denver won the program's first NCAA regional title Saturday at the University of Florida's Mark Bostick Golf Course. The sixth-seeded Pioneers posted a 1-under 279 – the only sub-par round of the tournament – to erase an eight-shot deficit and top Alabama, the third seed, by four shots.
Senior Dawn Shockley notched the round of the tournament – a 4-under 66 that included five birdies – to win the individual title by two shots over Central Florida senior Stephanie Connelly. Senior Katie Kempter shot 68, and freshman Sarah Faller and junior Stephanie Sherlock chipped in 72 and 73, respectively.
Any thoughts that the Pioneers couldn't hang with SEC and ACC powerhouses were squashed. After all, why stress about golf when the day is still young?
"No one on our team ever gets too jacked up about golf," said Shockley, who was the Colorado high school basketball player of the year as a senior at Estes Park High. "You've got to have a balance because golf can be a lot."
That's why, instead of pounding range balls after their rounds, the Pioneers drove a half-mile down SW 2nd Ave., from the Mark Bostick Golf Course to UF's football facility. There, they put on custom-made T-shirts, marked off the field and played Ultimate Frisbee. Even coach Sammie Chergo suited up.
"It's very easy for us to leave our games at the course," said senior Katie Kempter. "That's a huge part of our team."
When Chergo started the program from scratch in 1997, she recruited players who were well-rounded in a number of sports. If golf wasn't pursuit No. 1, that was OK. Her current squad features former softball, soccer, basketball and hockey players. Kempter even admitted to being a "marching band geek" in high school.
It's a no-nonsense formula that has clicked, especially in the last few years. Denver won five events in the 2006-07 season, then followed with five more titles and a sixth-place showing at the NCAA Championship last season.
This year, Denver has won three times, including its sixth consecutive Sun Belt Conference title.
Now, they're heading back to the Big Dance knowing they belong.
"To see what's been building, it's so rewarding for me," Chergo said. "But for them, too, for how they've grown with this program."
• • •
NO TIGER CHARGE: Auburn junior Candace Schepperle left Mark Bostick Golf Course in tears, as the second-seeded Tigers failed to advance to the NCAA Championship.
Auburn started the final round six shots out of the eighth position, but couldn't mount a comeback and fell four shots shy of Georgia, which earned the last ticket to Caves Valley.
It was a tough pill to swallow for a team that won four spring events, including the SEC Championship.
"It's pretty rotten," coach Kim Evans said. "I've coached a long time, and this came out of left field."
The Tigers were two shots behind Georgia with Schepperle on the 15th hole, but she made double bogey to end any hopes of a rally. The pain of not qualifying as a team was made even worse for the player-of-the-year candidate – her closing 75 was two shots from advancing to the national championship as an individual.
"My heart is broken for her," assistant coach Courtney Trimble said.
• • •
ROCKY ROAD: After a fall flop that included a 15th- and 16th-place finish, Tennessee juniors Ginny Brown and Diana Cantu called a players' only meeting before winter break and delivered a stern message.
"I said, 'This is not allowed at Tennessee anymore,' " Cantu said. "We were down, but we knew we were way better than we were playing."
The Lady Vols responded, rising 30 spots in the Golfweek/Sagarin College Rankings in the spring, and are now heading to the national championship.
Led by freshman Nathalie Mansson, who tied for third, Tennessee posted a final-round 288 – the Vols' best score of the event – to finish third. Quite an accomplishment for a team that finished 16th at the East Regional last year.
"This has been a remarkable turnaround," coach Judi Pavon said. "It's amazing how they were able to handle the pressure."
• • •
SHORT SHOTS: Duke improved its score each round and tied for sixth. Senior Amanda Blumenherst hit 15 greens in regulation en route to a 69 to lead the Blue Devils to their 12th consecutive national championship. Senior Jennie Lee tied for 11th, her best-career finish at a regional. . . .First-round leader East Carolina, the No. 12 seed, dropped to ninth, three shots out of a trip to the NCAA Championship. "We got a little timid just thinking about nationals too much. Next time, we'll be able to just go with it," junior Abby Bools said. The Pirates host the East Regional in 2010. . . . Top-seeded Virigina improved 10 shots from Round 2 and finished fourth.. . . . In its first year back since Hurricane Katrina hit New Orleans in 2005, Tulane advanced with a final-round 288 and finished fifth. "This is unreal," said Samantha Troyanovich, one of three freshmen on the team. "I kind of have the chills."
Golfweek.com readers: We value your input and welcome your comments, but please be respectful in this forum.
---
---