Pete Dye River Course of Va. Tech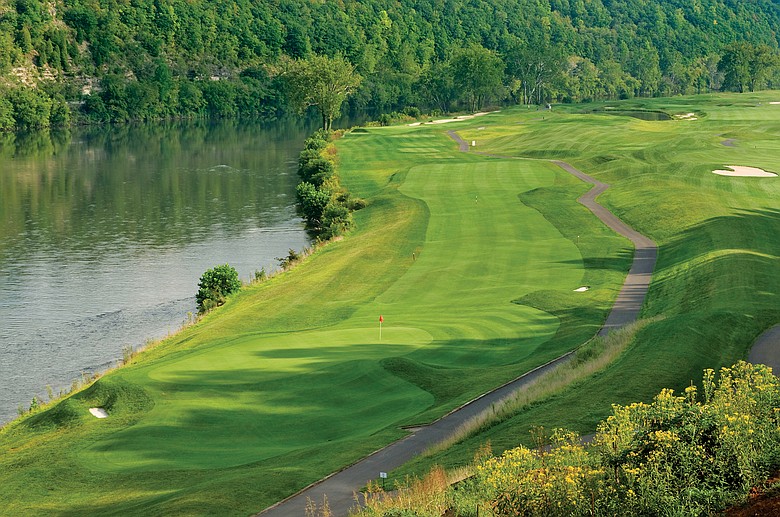 Saturday, May 30, 2009
1. Ease and intimacy of routing: 7
Each of the returning nines is a bowtie-shaped double loop, with the water on both sides of play for par 3s, 4s and 5s and balance around the compass for each par category. The nines start from a 40-foot elevated tee, then stay low and climb out after the last hole on each side. The course is laid out between the river and a steep slope with housing atop; the course drains inward down the middle to a series of ponds that are in play.
2. Quality of feature shaping: 5
At times it's literally overcooked, as if someone forgot to turn the flame down to simmer once the pudding came to a boil. And the bunkers are all underscaled – too much so for my taste on such a big site.
3. Natural setting and overall land plan: 7
Beautiful natural setting, with the front nine more elegant because of a bend in the river; the back nine is more linear and less defined in routing and scarred due to aggressive overclearing of an abutting hillside that fronts a real-estate development.
4. Interest of greens and surrounding chipping contours: 7
Simple surfaces, not decks within decks, and a premium on iron play because of shaping that kicks the ball away from greens.
5. Variety and memorability of par 3s: 8
Good variety. The short seventh, downhill and 159 yards into the wind to the most tightly bunkered green on the course, is the testiest. The 17th, 243 yards and into a left crosswind, is open to run-ups on that side but closed on the right side by the river.
6. Variety and memorability of par 4s: 7
Dye generally shuns drivable par 4s, preferring instead (presuming you're playing from the correct set of tees) to divide his par 4s equally between those that are shorter (drive/very short iron) and longer (driver/long iron or hybrid). That's the case here, with maddening deep, small bunkers placed strategically inside doglegs that are in play for each player (again, presuming the proper tees).
7. Variety and memorability of par 5s: 6
Good mix of lengths and directions. Ninth hole is squeezed (unavoidably) between the river and the first fairway. Second-shot landing areas generally are open, with the angle of play dictated less by hazards than by the remaining angle into the flag.
8. Basic conditioning: 8
Superintendent Mark Cote has cultivated an impressive stand of tight, L-93 bentgrass on greens, fairways and tees.
9. Landscape and tree management: 6
Loss of tree coverage on the hillside along the back nine actually undercuts a proper aesthetic and leaves that half of the course denuded and undefined.
10. "Walk in the park" test: 8
A lovely walk along the river's edge, with just enough crossovers and elevation shifts to keep things interesting.
Overall rating: 6
Currently ranked by Golfweek among the top 20 of all U.S. university courses. Too bad it's not closer to the main campus, as it deserves more exposure and more play than the 15,000 rounds it's now getting.
Golfweek.com readers: We value your input and welcome your comments, but please be respectful in this forum.
---
---
---
---
---
---
---
---
---
---
---
---
---
---
---
---
---
---
---
---
---