One-on-one with Pebble's cigar specialist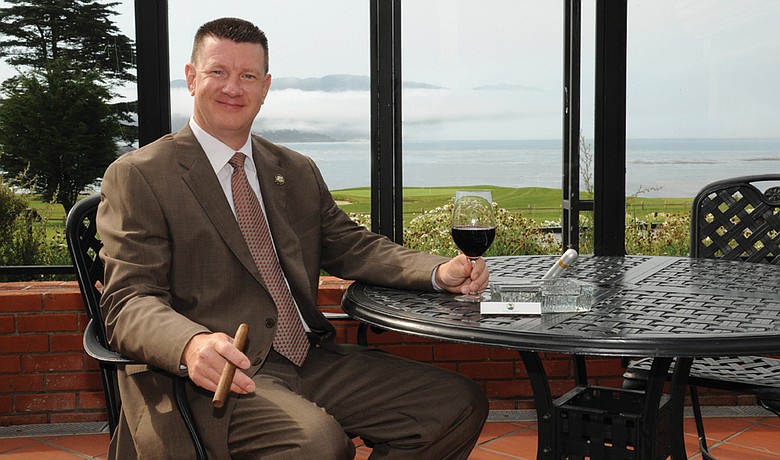 Tuesday, November 17, 2009
There are two kinds of people who smoke cigars, according to Jeff Wallace, the assistant food and beverage manager at Pebble Beach Resorts: "Those who know what they want, and those who have absolutely no idea."
Pebble Beach generally caters to the former group, but there are times, particularly during the AT&T Pebble Beach National Pro-Am, when the latter group (oftentimes 20- and 30-somethings, including a surprising number of women) gathers in numbers, and the staff's "Cigar 101" training comes in handy. Here are some of Wallace's suggestions for those golfers who don't know your ash from your tip.
Start off easy
"The biggest concern with the novice or very occasional smoker is: Can they walk after [smoking our recommended cigar]? Is it too strong for them? Will they wake up with a headache after a cigar and two drinks? If you only smoke a cigar every three months, even a medium or mild cigar can give you a rush. With the smaller, sweeter cigars, you can smoke them in 20 minutes instead of an hour or more, and you don't feel like you have to have a single-malt scotch or cognac with it. You can drink a Bud Light if you want."
Horses for courses
"We offer different cigars at different places around the resort. The cigars that are sold at the starters and on the [beverage] carts are middle range. They're in tubes for easy storage. Most take 45-60 minutes to smoke and don't require a lot of attention. You can put it down on the fringe. Our menu in Club XIX is high-end. When you're enjoying a three-hour meal and the check might be $250, you don't mind spending $65 to $70 for a great smoke."
Ask around
"There are some great books about cigars, and the people who rank cigars for Cigar Aficionado know their stuff. Maybe an even better way to learn is to talk to someone who likes smoking – which cigars they like, and why. Cigar smokers tend to be very open with their opinions. And, just like the golf course, you can learn a lot about a person over a drink and a cigar. Of course, if you have a local cigar shop, they're the best place to start."
Smoke around
"I'm a wine enthusiast, and I prefer to try a wine myself rather than have someone tell me what I should or shouldn't like before. Same thing with cigars. They aren't a huge investment. Trial-and-error is the fun way to learn what you like. A cigar changes in flavor as you smoke it, so don't give up on one until you're halfway through. Also, most people are open to letting you try a puff. It's a common thing. Take advantage of that…if you're not germ-phobic."
Here are a few of Jeff Wallace's favorite cigars available at Pebble Beach:
• Gurkha Estate Reserve Torpedo ($39) "One of our three pre-embargo Cuban offerings. I had this one on my birthday."
• Arturo Fuente Opus X Special Edition "God of Fire" ($69) "Outstanding. No one who orders it isn't thrilled."
• La Aurora Ruby ($35) "It's our most popular on-course cigar. It's really a unique-looking cigar that looks like a torpedo at both ends. People love it at $35, myself included."
Golfweek.com readers: We value your input and welcome your comments, but please be respectful in this forum.
---
---
---
---
---
---
---
---
---
---
---
---
---
---
---
---
---
---
---
---
---