Junior Boys
Busy Thanksgiving ahead at Polo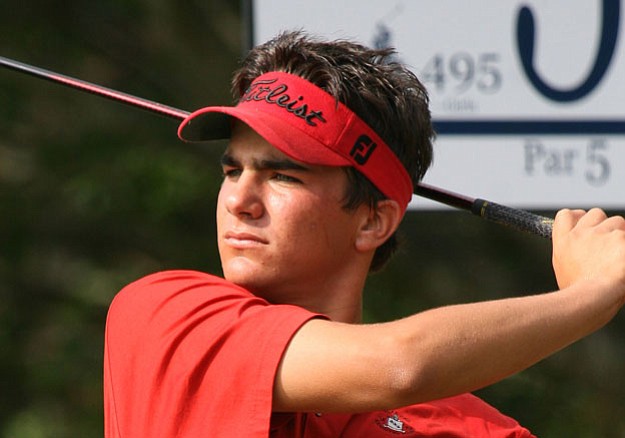 Wednesday, November 25, 2009
The players that advance to the finals of the AJGA's Polo Golf Junior Classic will have earned their turkey Thursday at PGA National.
Because of rain that delayed and ultimately suspended play Wednesday, only the first-round matches are in the books. The schedule for Thanksgiving includes the remainder of all second-round matches, plus both the quarterfinal and semifinal rounds.
"The weather has been tough for all of the players out here," said Grace Na, who advances to match play for the first time in here AJGA career, defeating Stephanie Meadow, 2 up, in the first round. "It's hard to focus with the rain coming down but at the same time it is a fair format since you are playing against someone in the same conditions."
In the boys' divison, co-medalists Curtis Thompson and Emiliano Grillo both advanced to the second round and were leading their matches when play was called Wednesday.
Corey Whitsett, who qualified for match play via a sudden-death playoff Tuesday and is playing in his first competitive tournament since injuring his back earlier this year, also advanced to Round 2, where he is currently 7 up thru eight holes over Franco Castro despite not having made a birdie.
"It's great to get back out there and compete, it's what I do," Whitsett said. "I had a great first match this morning and am just playing some good golf."
On the girls' side, medalist Nicole Zhang fell to Tiffany Lim, 4 and 3; Rolex Junior Player of the Year Victoria Tanco and Alexis Thompson both advanced with convincing victories and also lead their second round matches, which will resume at 8:30 a.m. Thursday.
---
Scores with relation to par from the first round of match play at the AJGA Polo Golf Junior Classic, played Nov. 25 at the par-72,6,776-yard PGA National Resort & Spa (Haig) in Palm Beach Gardens, Fla. (Note: Second round suspended due to weather):
BOYS
FIRST ROUND
Curtis Thompson def. Anton Arboleda, 2 and 1
Matthew Ceravolo def. Wyndham Clark, 5 and 3
Jordan Spieth def. Tanner Kesterson, 2 and 1
Jeff Wibawa def. Kramer Hickok, 4 and 3
Cory Whitsett def. Theodore Lederhausen, 2 up
Franco Castro def. Motin Yeung, 1 up
Richard Werenski def. Jay Hwang, 4 and 3
Bobby Wyatt def. M.J. Maguire, 5 and 4
Emiliano Grillo def. Patrick Rodgers, 1 up
Sean Kelly def. Seiji Liu, 3 and 2
Oliver Schniederjans def. Ji Soo Park, 4 and 3
Stephen Behr Jr. def. Austin Cody, 4 and 3
Denny McCarthy def. Niclas Carlsson, 2 and 1
Clancy Waugh def. Oscar Lengdén, 19 holes
David Mills def. Jim Liu, 19 holes
Cameron Wilson def. Andrew Levitt, 1 up
• Click here for stroke-play qualifying scores
• • •
GIRLS
FIRST ROUND
Tiffany Lim def. Nicole Zhang, 4 and 3
Alison Lee def. Ani Gulugian, 20 holes
Austin Ernst def. Gabriella Then, 5 and 4
Victoria Tanco def. Kyle Roig, 6 and 5
Casey Grice def. Szu-Han Chen, 2 up
Simin Feng def. Madelene Sagström, 1-up
Doris Chen def. Michelle Butler, 4 and 2
Kelly Shon def. Mariah Stackhouse, 2 and 1
Kristen Park def. Jessica Korda, 19 holes
A.J. Newell def. Luz Alejandra Cangrejo, 19 holes
Emma Talley def. Tanaporn Kongkiatkrai, 1 up
Marijosse Navarro def. Ashlan Ramsey, 1 up
Alexis Thompson def. Yueer Cindy Feng, 6 and 4
Beverly Vatananugulkit def. Laetitia Beck, 4 and 3
Grace Na def. Stephanie Meadow, 2 up
Sarah Brown def. Jessica Vasilic, 2 and 1
• Click here for stroke-play qualifying scores
– Information from the AJGA used in this report
Golfweek.com readers: We value your input and welcome your comments, but please be respectful in this forum.
---
---
---
---
---
---
---
---
---
---
---
---
---
---
---
---
---
---
---
---
---