Junior Boys
Dream matches set at Polo Golf Jr. Classic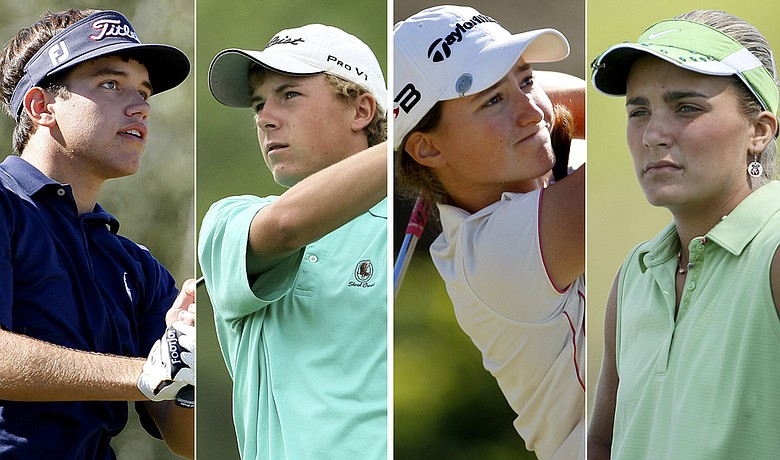 Thursday, November 26, 2009
It turned out to be quite a Thanksgiving at PGA National.
Rolex Junior Player of the Year Jordan Spieth and 2007 U.S. Junior Amateur champ Cory Whitsett advanced to the semifinals of the Polo Golf Junior Classic on Thursday in Palm Beach Gardens, Fla., and will square off Friday morning with a trip to the championship match on the line.
"I'm pretty excited," Spieth said. "For me, I need to focus on the match and not think about this being a kid that I have played in high school golf."
Oliver Schniederjans and Cameron Wilson will play in the other semifinal match.
In the girls' division, two-time Rolex Junior Player of the Year Victoria Tanco and Golfweek's top-ranked junior Alexis Thompson also moved on to the semifinals. Thompson will face A.J. Newell, while Tanco will play Kelly Shon.
Tanco was 1 down with four holes to play in her quarterfinal match with Tiffany Lim, but won No. 15 with a birdie to square the match, then took a 1-up lead by winning No. 16 with a par. She won match, 1 up, with a par on No. 18.
Thompson cruised on Thursday, winning her second round match, 4 and 2, over Beverly Vantananugulkit and knocking off Grace Na, 5 and 4, in the quarterfinals. Thompson has yet to reach the 17th hole in any of her matches.
Spieth lost just one hole in his 6-and-5 victory over Jeff Wibawa in the second round, then built a 5-up lead through 12 holes in his quarterfinal match with Matthew Ceravolo, before winning, 3 and 2.
Whitsett won six consecutive holes to gain a 7-up advantage on second round opponent Franco Castro before defeating him, 5 and 4. Whitsett rolled in the quarterfinals, too, beating Bobby Wyatt, 2 and 1.
Schniederjans knocked off medalist Emiliano Grillo, 1 up, to reach the semifinals. Wilson, meanwhile, was 2 down after three holes in his quarterfinal match against Denny McCarthy, but won Nos. 4-6 and Nos. 9-10 to build a 3-up advantage. He went on to win, 5 and 3.
---
Results from the quarterfinals at the AJGA Polo Golf Junior Classic, played Nov. 26 at the PGA National Resort & Spa (Champion) in Palm Beach Gardens, Fla.:
BOYS
QUARTERFINALS
Jordan Spieth def. Matthew Ceravolo, 3 and 2
Cory Whitsett def. Bobby Wyatt, 2 and 1
Oliver Schniederjans def. Emiliano Grillo, 1 up
Cameron Wilson def. Denny McCarthy, 5 and 3
SECOND ROUND
Matthew Ceravolo def. Curtis Thompson, 20 holes
Jordan Speith def. Jeff Wibawa, 6 and 5
Cory Whitsett def. Franco Castro, 5 and 4
Bobby Wyatt def. Richard Werenski, 1 up
Emiliano Grill def. Sean Kelly, 3 and 2
Oliver Schniederjans def. Stephen Behr Jr., 4 and 3
Denny McCarthy def. Clancy Waugh, 3 and 2
David Mills def. Cameron Wilson, 6 and 5
FIRST ROUND
Curtis Thompson def. Anton Arboleda, 2 and 1
Matthew Ceravolo def. Wyndham Clark, 5 and 3
Jordan Spieth def. Tanner Kesterson, 2 and 1
Jeff Wibawa def. Kramer Hickok, 4 and 3
Cory Whitsett def. Theodore Lederhausen, 2 up
Franco Castro def. Motin Yeung, 1 up
Richard Werenski def. Jay Hwang, 4 and 3
Bobby Wyatt def. M.J. Maguire, 5 and 4
Emiliano Grillo def. Patrick Rodgers, 1 up
Sean Kelly def. Seiji Liu, 3 and 2
Oliver Schniederjans def. Ji Soo Park, 4 and 3
Stephen Behr Jr. def. Austin Cody, 4 and 3
Denny McCarthy def. Niclas Carlsson, 2 and 1
Clancy Waugh def. Oscar Lengdén, 19 holes
David Mills def. Jim Liu, 19 holes
Cameron Wilson def. Andrew Levitt, 1 up
• • • 
GIRLS
QUARTERFINALS
Victoria Tanco def. Tiffany Lim, 1 up
Kelly Shon def. Simin Feng, 5 and 4
A.J. Newell def. Emma Talley, 2 and 1
Alexis Thompson def. Grace Na, 5 and 4
SECOND ROUND
Tiffany Lim def. Alison Lee, 1 up
Victoria Tanco def. Austin Ernst, 4 and 2
Simin Feng def. Casey Grice, 6 and 5
Kelly Shon def. Doris Chen, 3 and 2
A.J. Newell def. Kristen Park, 19 holes
Emma Talley def. Marijosse Navarro, 5 and 4
Alexis Thompson def. Beverly Vantananugulkit, 4 and 2
Grace Na def. Sarah Brown, 2 and 1
FIRST ROUND
Tiffany Lim def. Nicole Zhang, 4 and 3
Alison Lee def. Ani Gulugian, 20 holes
Austin Ernst def. Gabriella Then, 5 and 4
Victoria Tanco def. Kyle Roig, 6 and 5
Casey Grice def. Szu-Han Chen, 2 up
Simin Feng def. Madelene Sagström, 1-up
Doris Chen def. Michelle Butler, 4 and 2
Kelly Shon def. Mariah Stackhouse, 2 and 1
Kristen Park def. Jessica Korda, 19 holes
A.J. Newell def. Luz Alejandra Cangrejo, 19 holes
Emma Talley def. Tanaporn Kongkiatkrai, 1 up
Marijosse Navarro def. Ashlan Ramsey, 1 up
Alexis Thompson def. Yueer Cindy Feng, 6 and 4
Beverly Vatananugulkit def. Laetitia Beck, 4 and 3
Grace Na def. Stephanie Meadow, 2 up
Sarah Brown def. Jessica Vasilic, 2 and 1
Golfweek.com readers: We value your input and welcome your comments, but please be respectful in this forum.
---
---
---
---
---
---
---
---
---
---
---
---
---
---
---
---
---
---
---
---
---