College Women
College preview: Women's individuals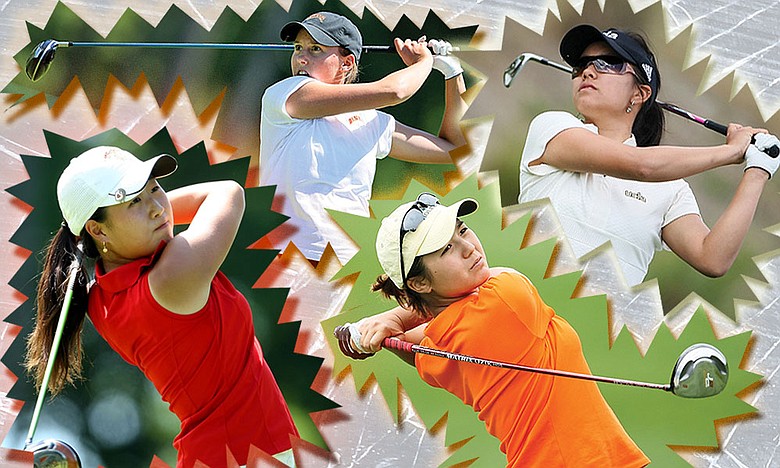 Tuesday, September 8, 2009
Golfweek's preseason top 10 individuals: Women
1. Jennifer Song (USC, sophomore)
2008-09 Golfweek rank: 1
Notable: Incredibly disciplined player finished runner-up five times as a freshman, including all three postseason tournaments.
She more than made up for that frustration over the summer, however, becoming only the second player to win the U.S. Women's Amateur and Women's Public Links in the same year. Golfweek's College Player of the Year also was low amateur for the second time at the U.S. Women's Open, tying for 13th.
"I think I've grown tremendously (over the summer)," Song said. "When I had a lot of second-place finishes, I cried a lot at home. I've been able to control my emotions stronger."
• • •
2. Carlota Ciganda (Arizona State, sophomore)
2008-09 Golfweek rank: 2
Notable: Arrived at ASU in the spring and won two postseason titles: Pac-10 Championship and NCAA West Regional. Then the first-team All-American helped Sun Devils win the NCAA Championship. Lost to former teammate Azahara Munoz in Ladies' British Amateur final, a championship she won in 2007.
• • •
3. Stephanie Kono (UCLA, sophomore)
2008-09 Golfweek rank: 6
Notable: Steady first-team All-American won UCF Challenge and was medalist at Collegiate Match Play Championship; lost to Song in quarterfinals of U.S. Women's Amateur.
• • •
4. Lizette Salas (USC, junior)
2008-09 Golfweek rank: 4
Notable: Breakthrough sophomore season included nine top-10 finishes and two victories. Pac-10 Player of the Year suffered a back injury at NCAA Championship that carried over to the summer but should be ready for the fall.
• • •
5. Candace Schepperle (Auburn, senior)
2008-09 Golfweek rank: 5
Notable: Though Schepperle did not win a tournament, she never finished outside the top 10 in 11 events last season. Advanced to quarterfinals of U.S. Women's Amateur; made cut at U.S. Women's Open.
• • •
6. Kimberly Kim (Denver, freshman)
2008-09 Golfweek rank: N/A
Notable: 2006 U.S. Women's Amateur champion advanced to finals of U.S. Women's Amateur Public Links and U.S. Girls' Junior this summer; her four AJGA titles include '09 Rolex Girls Junior.
• • •
7. Jodi Ewart (New Mexico, senior)
2008-09 Golfweek rank: 9
Notable: Three-time Mountain West Conference Player of the Year tied for 10th at Irish Open thanks in part to a second-round ace; '09 season included two victories and seven top-5 finishes.
• • •
8. Caroline Hedwall (Oklahoma State, sophomore)
2008-09 Golfweek rank: 15
Notable: Swede won her first college tournament, the Duramed Fall Preview, and posted four more top-6 finishes to earn first-team All-American honors. Twin sister Jacqueline plays for LSU.
• • •
9. Belen Mozo (USC, senior)
2008-09 Golfweek rank: 10
Notable: Lively Spaniard had up-and-down year with only three top 10s. Underwent shoulder surgery over the summer and likely won't return until spring.
• • •
10. Stephanie Sherlock (Denver, senior)
2008-09 Golfweek rank: 20
Notable: Canadian led Denver with a 73.38 scoring average, winning the Ron Moore Intercollegiate for her sixth career title. All-around athlete lettered in golf, basketball and hockey in high school.
• • •
Second team
Cydney Clanton, Auburn, junior
Laura Kueny, Michigan State, senior
Maude-Aimee LeBlanc, Purdue, junior
Calle Nielson, Virginia, junior
Megan McChrystal, LSU, junior
Juliana Murcia, Arizona State, senior
Natalie Sheary, Wake Forest, junior
Marta Silva, Georgia, sophomore
Allie White, Ohio State, sophomore
Glory Yang, UCLA, junior
• • •
Third team
Pia Halbig, California, junior
Jennifer Johnson, Arizona State, freshman
Tiffany Lua, UCLA, freshman
Carolina Masson, Oklahoma State, sophomore
Sydnee Michaels, UCLA, senior
Whitney Neuhauser, Virginia, senior
Catherine O'Donnell, N. Carolina, sophomore
Jaclyn Sweeney, Arizona State, junior
Sally Watson, Stanford, freshman
Jessica Yadloczky, Florida, junior
• • •
Top 10 freshmen
1. Kimberly Kim, Denver
2. Jennifer Johnson, Arizona State
3. Tiffany Lua, UCLA
4. Sally Watson, Stanford
5. Lindy Duncan, Duke
6. Kristina Wong, Stanford
7. Victoria S. Park, Oklahoma State
8. Isabelle Lendl, Florida
9. Brittany Altomare, Virginia
10. Stacey Kim, Duke
Other frosh to watch: Amy Anderson, North Dakota State; Emilie Burger, Georgia; Kimberly Kaufman, Texas Tech; Stephanie Kim, Wake Forest; Jennifer Kirby, Alabama;
Amelia Lewis, Florida; Erica Popson, Tennessee; Madison Pressel, Texas; Jane Rah, Oklahoma State; Haley Stephens, Texas
Golfweek.com readers: We value your input and welcome your comments, but please be respectful in this forum.
---
---
---
---
---
---
---
---
---
---
---
---
---
---
---
---
---
---
---
---
---