N'wide: Fewer events, smaller purses in '11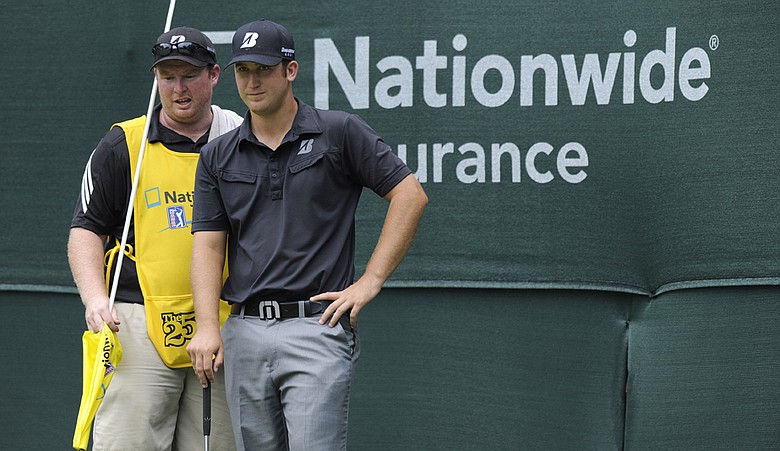 Thursday, December 16, 2010
The Nationwide Tour will play fewer events in 2011, and for less money, but it continues to hold reasonably steady in light of the nation's economic struggles.
The tour announced its 2011 schedule Wednesday. There are 26 events on the docket for the upcoming season, three fewer than in 2009 and 2010. Next year's total purse will be $16,075,000, approximately $2.25 million less than this past season. The average purse is only down about $13,000 per event (to approximately $618,000).
Nationwide Tour: By the Numbers
Number of events
2011: 26
2010: 29
2009: 29
Total purse
2011: $16,075,000
2010: $18,325,099
2009: $18,500,099
Average purse
2011: $618,269
2010: $631,899
2009: $637,934
Despite the slight decrease in the number of events and prize money, Nationwide Tour president Bill Calfee expressed pleasure with the schedule. 
"I think (the schedule) is good, positive," Calfee told Golfweek. "I think we're really looking at less almost as more, in some instances. We want to make sure we have really solid, stable, good events that can grow over the long term.
"I'm pretty pleased with where we are, all things considered."
The most noticeable absence on the schedule is the Down Under events that traditionally start the season. The contract between the Nationwide Tour and PGA Tour of Australasia to co-sanction the events was not renewed after expiring this year. 
The loss of those events means fewer playing opportunities for Nationwide Tour members, but also eliminates expensive travel to Australia and New Zealand. It also closes a pathway for Australians to gain Nationwide Tour membership. Michael Sim, the 2009 Nationwide Tour player of the year, is one of several Australians to gain tour status through good play in the co-sanctioned events.
The 2011 Nationwide Tour will begin Feb. 24 with the Panama Claro Championship. The Pacific Rubiales Bogota Open will be played in Colombia the following week. There was talk of the Nationwide Tour adding Latin American events to offset the loss of its Down Under swing, but those events couldn't be organized in time for the 2011 season, Calfee said. Latin American events likely will be added in later seasons, though.
The tour also will be televised less next year. According to the new schedule, 12 events will be shown on Golf Channel in 2011, five fewer than this year. Calfee said one or two events may add television at a later date. Events pay the production costs to be televised, so some eliminated television as they deal with tighter budgets.
The tour will not be televised until April 14, the first round of the Fresh Express Classic near San Francisco. The tour's first three events will not be televised.
The first domestic event will be the Chitimacha Louisiana Open March 24-27 in Lafayette, La. As usual, the tour will get off to a slow start, then finish with a flourish.
The tour will conduct just five events before May. It will conclude with 15 events in 16 weeks. The final full-field event will be the Winn-Dixie Jacksonville Open, which debuted this year, at TPC Sawgrass. The season will conclude the following week with the Nationwide Tour Championship Oct. 27-30 at Daniel Island Club in Charleston, S.C.
The slow start to the season means players will have to look to other tours to fill their schedule. Nationwide Tour rookie Richard Lee, who lives in Scottsdale, Ariz., said he'likely play Monday qualifiers for the PGA Tour's West Coast events, and possibly mini-tour events.
When players do get Nationwide Tour starts, they'll be playing for slightly less money. The decrease in the Nationwide Tour's average purse can mostly be attributed to the Soboba Classic's purse reduction from $1 million to $750,000.
The tour now has just one $1 million event, the Nationwide Tour Championship. When the Soboba event was announced in October 2008, it was scheduled to be one of three $1 million events. However, the Nationwide Players Cup had to reduce its purse during the 2009 season, and was not played this season.
The Ford Wayne Gretzky Classic, the tour's third-richest event in 2010 ($800,099 purse), is not on the 2011 schedule. The Gretzky event lost its title (Ford) and presenting (Samsung) sponsors, but could return if new support is found, Calfee said.
The Gretzky is one of four events not scheduled to return in 2011, along with the the New Zealand Open, Moonah Classic in Australia and Fort Smith Classic, which drew headlines this year when John Daly played on a sponsor exemption. 
The loss of the Down Under events will ease the travel expenses of Nationwide Tour players. One agent estimated that the trip Down Under costs players between $5,000 and $10,000, a financial burden for many. 
"I was looking forward to going down there to see what it's like, but it is what it is," Lee said. "At first I was disappointed, but it is an expensive trip as well."
The Nationwide Tour announced one new event for 2011, the Midwest Classic, which will be held Aug. 18-21 at Nicklaus Golf Club in Overland Park, Kan.
Calfee expects more Latin American events to be added in the near future.
"There are a few markets that we think have potential –Argentina, Brazil, Chile, we might even look at another event in Colombia," Calfee said. "I think we would like to get into one or two other countries in 2012 and '13. We had some discussions this year, but we just couldn't pull it together in time."
Golfweek.com readers: We value your input and welcome your comments, but please be respectful in this forum.
---
---
---
---
---
---
---
---
---
---
---
---
---
---
---
---
---
---
---
---
---