At Golfest, par-3 contestants come up short
The fastest way for golfers to lower their scores, the maxim goes, is to improve their short games. Well, America, it's obvious that you haven't been working on your short game.
That's not a revelation, but the point was driven home for me Jan. 23 while working at Golfweek's Golfest at ChampionsGate Golf Club near Orlando, Fla. Golfest is a chance for the industry's top equipment brands to show off their newest toys to consumers, often before the products are available at retail. The event also has various contests, including the six-hole Par-3 Challenge, where participants earned points based on how close they hit the ball to the pin.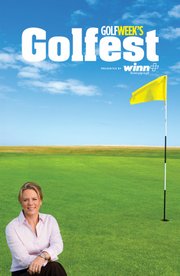 My job was to shag balls on the first green and tell the person working the first tee how many points each player had earned, based on where their shots came to rest in circles surrounding the flagstick. We developed some rudimentary hand signals: I'd raise my left arm for 7 points, my right arm for 5, cross my arms above my head for a 3, and make baseball's safe sign if players missed the circles altogether.
I joked that with all of the gesticulating, I might look like Peyton Manning signaling audibles. Fact is, by the time anyone had gotten a ball inside one of the circles, I had forgotten the hand signals.
The gates opened at 9 a.m., and for the next seven hours there was a line of contestants at the first tee. Players faced a 77-yard shot, and the scoring circles admittedly made for a tight target. But it quickly became apparent that simply hitting the relatively generous green – roughly 10 yards wide by 14 yards deep – would rank as a noteworthy accomplishment.
During one 30-minute stretch, from 11:35 a.m. to 12:05 p.m., I counted 24 players, each of whom had three shots at the target. Of those 72 shots, only seven hit the green and just one stopped inside the circle, that for seven points. It wasn't until three hours and 10 minutes into the competition that a player hit the green on all three shots. That happened just twice all day.
It was obvious that some players had no chance from the minute they stepped on the tee. Far more surprising were the players who appeared to know what they were doing, but still couldn't sniff the green. One guy punched three wedges into the face of a bunker 30 yards short of the green. (Who knew that bunker was so strategically placed?) Another hit one in that same bunker, then flew the next ball at least 50 yards over the green, ending up closer to the second green than the first. That's the first time I ever saw someone catch a flyer off the tee.
Shouts of "Fore!" were common, and when I wasn't ducking errant shots from nearby holes, I was warning the players behind me on the second tee to take cover.
One recurring theme was that players continually came up well short. Even though this 77-yard pitch was playing downwind much of the day, contestants routinely came up 20, 30, even 40 yards short. Just as players overestimate the distances that they drive the ball, so too do they apparently have a (wildly) inflated opinion of how far they hit their wedges. Or perhaps they forget that even on short pitches, you still have to strike the ball crisply.
About 60 yards from the par-3 course, Annika Sorenstam was giving a clinic to Golfest attendees. It occurred to me that maybe we should have asked her to spend some time on the first tee teaching players how to hit short wedge shots.
Latest Related Headlines