Excited Mickelson can't wait to start season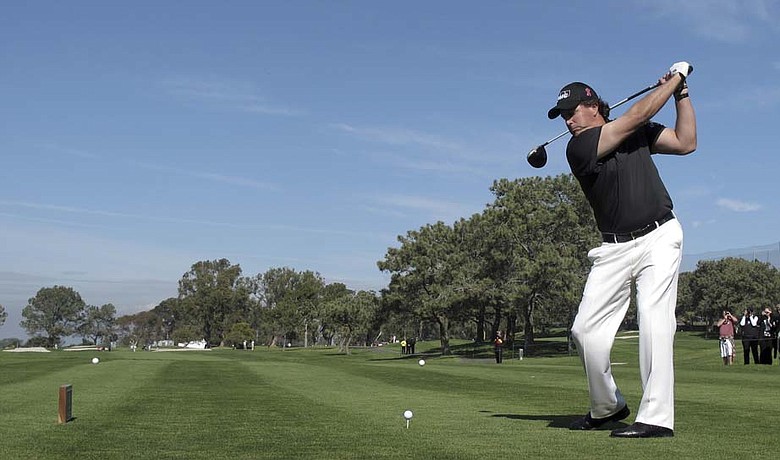 Wednesday, January 27, 2010
SAN DIEGO – Phil Mickelson held his season-opening news conference Wednesday and wore out the verb excited. During the 27-minute session, he used a variation of the word 10 times. And that was just while answering the first four questions.
He's jacked up because he finished last year on an uptick and because he has improved his putting, driving and body. What's more, the breast cancer of wife Amy and mother Mary appear under control to the point he says, "Things are going very well." Mickelson came to Torrey Pines after spending Monday and Tuesday in Houston, where Amy underwent further treatment.
"Taking some weaknesses and turning them into strengths gives me the confidence or the belief this could be an exceptional year," Mickelson said.
He'll play four of the next five weeks. He originally had planned to play all of them but now will skip the WGC-Accenture Match Play to take a family vacation that was rescheduled because of medical procedures during the offseason. That means the Match Play will be held without the players ranked Nos. 1-2 in the world, a worst-case scenario.
Reader poll
0

28%

1

35%

2

24%

3

8%

4

4%
336 total votes.
Tiger Woods, of course, is the other, out indefinitely in the wake of a sex scandal. Mickelson would not discuss the Woods situation other to say that "golf needs him to come back as soon as possible, but right now he has a lot more important things going on in his life."
Mickelson himself spent two intense weeks instead of the usual one preparing for a new season, working with gurus Butch Harmon, Dave Stockton and Dave Pelz. He also spent more time than usual in the gym and testing equipment, the latter because of a USGA-mandated change from square to V-shaped grooves he disagrees with.
"A ridiculous change," he said. "It costs each manufacturer millions of dollars. I think it's confusing, and I don't agree with it one bit. ... I've sent in grooves that are legal but have not been approved ... and the (Ping) Eye 2 (square) grooves don't conform (but were grandfathered in following a lawsuit settled in the early 1990s), but they are approved for play. All that matters is that it is OK under the rules of golf."
His equipment now includes a ball that spins more, a 6-degree driver and a 64-degree Ping Eye 2 wedge from his college days. He is sticking with a 60-degree Callaway wedge because it provides necessary spin. "I actually net-gained spin this year," he said. "I know that sounds crazy. This year's (Callaway) groove is fractionally more aggressive than the groove I used last year. Plus I'm geting a little more spin (with the new ball)."
Golfweek.com readers: We value your input and welcome your comments, but please be respectful in this forum.
---
---
---
---
---
---
---
---
---
---
---
---
---
---
---
---
---
---
---
---
---