Patrons battle for a spot on 18th green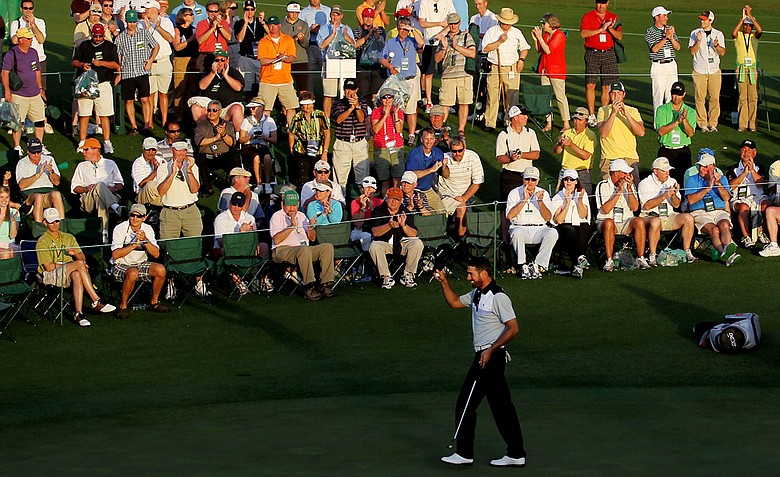 Sunday, April 10, 2011
AUGUSTA,Ga. – It's Sunday at Augusta National, but the Masters doesn't really start until the back nine, as the late afternoon sun sets on those in contention.
---
Photo Gallery
Photos: Masters Saturday
Around Augusta National on Saturday . . .
---
It could be argued, however, that Masters Sunday really starts at Gate 6A off Berkmans Road, where thousands of patrons lined up trying to get the best seat to watch the conclusion of the 75th Masters.
With the gates scheduled to open anytime after 7:30, as many as 100 people line up on the Augusta National side of Berkmans Road. They are allowed to stand in front of the first barrier of turnstiles that guard the property. Across the street, more than 1,000 people packed in like sardines wait their turn to cross, which won't happen until at least 7:15, more than three hours before the first final-round tee time.
Inside the gates, security is readying for the "Augusta Free For All" when the gates open.
There are also lines of patrons near the large scoreboard that is on the right side of the fairway on No. 1, near "the tree" and the pro shop.
The group near the pro shop are friends of members and queue up like everyone else. In that group, there are also photographers waiting to make a dash to the 18th green to secure prime real estate for the end of the day.
Of course, the members already have their seats staked out, before the gates open. Each member has a total of four seats they can set up around the 18th green without the rush of the patrons disturbing them.
A security guard calls out a four-minute warning to the friends of members group at around 7:30, but the group won't actually be released to set up their chairs until 7:57.
According to one of the green jackets, a maintenance issue is postponing the opening.
At about 7:15 the group off of Berkmans Road is allowed in through the front gate, and is greeted by jovial workers and metal detectors. Those patrons will wait there until the gates officially open, and then they are told to walk, not run, to try and secure a good seat at No. 18.
Trent Barlow is attending his first Masters. An assistant pro from Ko Olina Golf Club in Oahu, he was the first in line at Gate 6A. Barlow sacrificed sleep Saturday night, and arrived at 3 a.m. to claim the first spot in line.
"What an adrenaline rush," Barlow said as he was standing by his seat around the 18th green.
Barlow would get thrown down on his way in and lose his water bottle before claiming his seat in the fourth row directly behind the 18th green.
Apologizing for not having shaved, Barlow was ecstatic to get a seat so close, but explained that the area filled up quickly.
A member watching the pre-opening said it will be like judgment day, and that the safest place was back by the big tree that fronts the back of the clubhouse.
Augusta National had observers out taking notes of the rush of people so they improve the system next year.
It was never a mob scene, but it definitely qualified as controlled chaos.
All morning, the security guards had one concern: no running. Before the group was released, fans were instructed that running would not be tolerated and that they could be escorted from the grounds if caught running.
No chicken walking, just take a nice calm walk to the green were the words of advice.
When the gates did open, it was possible to be pulled over, just like a police officer to a speeder. Instead of an expensive ticket, you could get your badge punched, designating you as a runner. It's unclear what a second violation would bring, but it seems safe to say you may not be around for the day.
In other circumstances a security guard pulled three patrons over and put them in Augusta National's version of "time out." They were told to stand for at least a minute until the guard told them to slow down and let them proceed.
By 8:04, the prime seats were gone on No. 18.
A member told one colleague that "it got a little ugly," but mostly the system seemed to work better than in years past, according to those involved.
With a chair in place, some people were walking back to meet friends, fist pumping when they located them because they had gotten a seat.
Some people were introducing themselves to their new neighbors, since they will be with each other for at least another 10 hours.
By 8:17, the rush around the 18th green was over, any seats available had been taken.
And it was still hours before the first ball was to be struck.
Golfweek.com readers: We value your input and welcome your comments, but please be respectful in this forum.
---
---