College Women
Full coverage: Women's conference play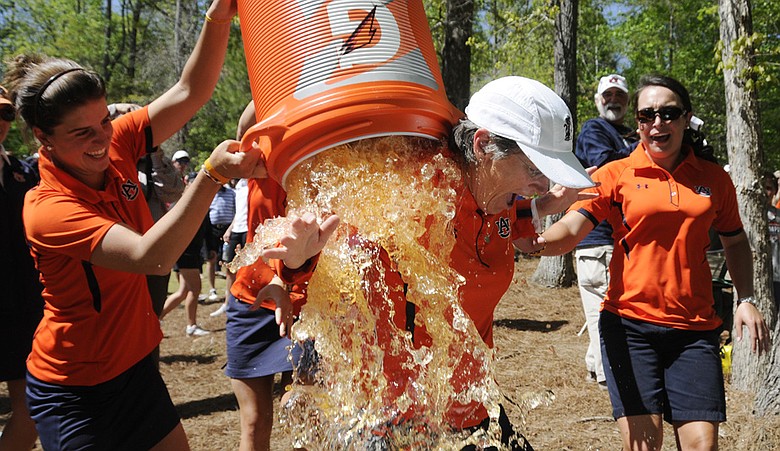 Wednesday, April 27, 2011
Golfweek.com is your one-stop shop for NCAA postseason coverage, starting with women's conference championship play. Check back daily as we bring you news and results from all the conference championships leading into NCAA Regionals.
• Click here for Blog U. and women's college news.
• Follow us: Lance Ringler's College Golf Page on Facebook
Follow on Twitter
APRIL 11-13
Atlantic Sun Conference: Stetson defeated Campbell by 12 shots to win the Atlantic Sun Conference tournament for the third straight year. Alex Buelow led Stetson, earning medalist honors by five shots. SCORES
Big South Conference: Led by medalist Jessica Alexander, Coastal Carolina captured its fifth Big South crown – and its second in the past three years. SCORES
APRIL 14-16
Mountain West Conference: TCU rallied from a three-shot deficit entering the final round to win its second MWC championship in the past five years. UNLV senior Therese Koelbaek won by four shots, and tied the MWC record for largest margin of victory. SCORES
APRIL 15-17
Southeastern Conference: Auburn won its second SEC title in the past three years, finishing 11 shots ahead of Alabama. It's the eighth SEC title in school history for Auburn, who hosted this year's event. Tennessee sophomore Erica Popson won the individual title, holding off top-ranked Marta Silva Zamora of Georgia. SCORES • STORY
Western Athletic Conference: For the third consecutive year, San Jose State won the WAC Championship, this year edging New Mexico State by two shots. Idaho's Kayla Mortellaro won the individual title, finishing at 1-under par. SCORES
APRIL 17-19
Southern Conference: Chattanooga won its second straight So-Con title, beating runner-up College of Charleston by 30 shots. Emma de Groot led the Mocs, finishing three shots ahead of teammate Jordan Britt to earn medalist honors. SCORES
Big East Conference: Notre Dame topped Louisville by 13 shots to win its fourth Big East title, and its first since 2008. St. John's Harin Lee was the individual medalist. SCORES
Big West Conference: On its way to a second-consecutive conference title, UC Davis set a Big West Championship record with its 3-over 867 total. The Aggies were led by Alice Kim, who won medalist honors by five shots. Kim also set a Big West scoring record with her three-round 207 total. SCORES
Conference USA: Texas El Paso won its first conference title in program history, as Teresa Nogues took top individual honors. The Miners, ranked No. 97 by Golfweek, knocked off No. 18 Tulane and No. 43 Tulsa. SCORES
APRIL 18-19
The Summit League: Oral Roberts continued its Summit League domination, capturing a 14th straight conference title. North Dakota State sophomore Amy Anderson won individual medalist honors. SCORES
West Coast Conference (No automatic qualifier): Pepperdine won its 10th straight WCC title as freshman Grace Na won individual honors. Na also is the 10th straight Wave to come out on top of the individual race. SCORES
APRIL 18-20
Sun Belt Conference: Denver won its eighth consecutive Sun Belt title as Arkansas State's Anna Carling took individual medalist honors.
Big Sky Conference: Despite a final-round charge from Northern Arizona, Portland State won its second consecutive Big Sky title, setting a conference-championship record with its 880 total. Portland State sophomore Britney Yada won the individual title for her second career victory. SCORES
Southland Conference: Texas San Antonio won the Southland Championship title for the first time in program history, as freshman Fabiola Arriaga finished tied atop the individual leaderboard. Lamar's Stine Pedersen prevailed on the third hole of a sudden-death playoff. SCORES
Southwestern Athletic Conference: Alabama State won the Southwestern Athletic title by six shots as freshman Amelie Buhl won the individual title. SCORES
APRIL 21-23
Northeast Conference: Fairleigh Dickinson won its fourth straight Northeast Conference title at the LPGA International Legends Course. The Knights finished 36 strokes ahead of runner-up Sacred Heart. Individually, Anna Palsson of Long Island Univ., won medalist honors. SCORES
Ohio Valley Conference: With three players finishing in the top 5 - including medalist Emma Jonsson - Morehead State won its first Ohio Valley Conference Championship. The victory gives the Eagles the Ohio Valley Conference AQ and will send Morehead State to NCAA postseason play for the first time in program history. SCORES
Missouri Valley Conference: Illinois State won its fourth-consecutive Missouri Valley Conference Championship, finishing 19 shots clear of runner-up Wichita State. The tournament was reduced to 36 holes due to inclement weather. Illinois State freshman Brianna Cooper won the individual title by a stroke over teammate Terra Miller. SCORES
APRIL 22-24
Big Ten Conference: Michigan State claimed a five-shot win at the Big Ten Championship, knocking off favorite and defending national champion Purdue. The Spartans were led by Caroline Powers and Lindsey Solberg. Numa Gulyanamitta of Purdue claimed medalist honors. SCORES
Big 12 Conference: Madison Pressel, younger sister of LPGA star Morgan Pressel, led Texas to the Big 12 title, claiming medalist honors by five shots. It's the first Big 12 title for Texas since 2004. SCORES
Colonial Athletic Association: UNC-Wilmington closed in 299, the only sub-300 round of the week, to win the CAA title by five shots. Georgia State's Charlotte Guilleux won individual medalist honors. SCORES
Horizon League: Michele Nash of Butler claimed a two-shot win at the Horizon League Championship over Youngstown's Samantha Formeck. Butler completed the sweep by winning the team title by eight over Detroit, and will advance to the postseason for the first time in school history. SCORES
Ivy League: Michelle Piyapattra of Columbia was a 10-shot winner at the Ivy League Championship, as Yale claimed the team title. SCORES
Mid-American Conference: Sarah Johnson of Eastern Michigan claimed a seven-shot win at the MAC Championship, while Kent State won the team title by 12. It's the 13th consecutive MAC title for Kent State. SCORES
Golfweek.com readers: We value your input and welcome your comments, but please be respectful in this forum.
---
---
---
---
---
---
---
---
---
---
---
---
---
---
---
---
---
---
---
---
---