Next stop for amateurs: Magnolia Lane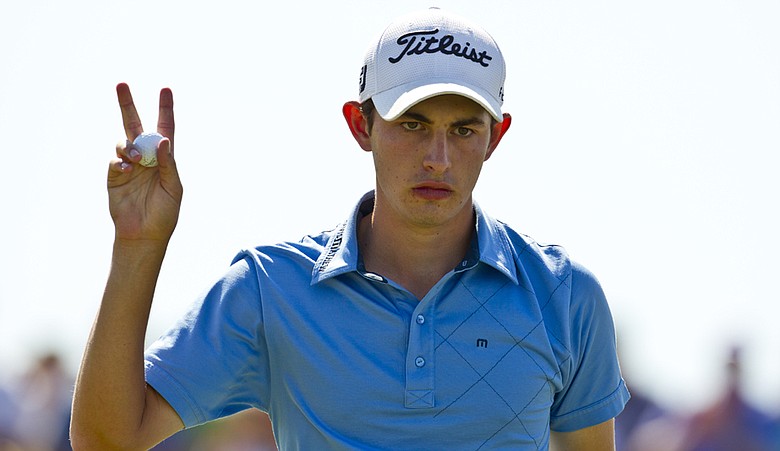 Sunday, April 1, 2012
Corbin Mills once lived in a home with a balcony view of the Vatican.
He celebrated his 10th birthday on the Eiffel Tower.
"He's seen a lot," Mills' father, Stoney, said. Next up? The first tee at the Masters. Mills, a Clemson junior, earned his invitation with a surprise victory at last year's U.S. Amateur Public Links, the first step in a rapid rise from solid college player to world-class amateur.
Mills has lived most of his life in Easley, S.C. – some 120 miles from Augusta National Golf Club – but his journey to the vaunted gates has included its share of international stops.
He began playing golf seriously around age 12. He was living in Rome, where his parents, Stoney and Kristi, served as Christian missionaries.
Their work previously took the family to Cyprus and the Russian mountain republic of Bashkortostan, where Mills played ice hockey in frozen streets.
His nickname, Bino, is a remnant from his time in Italy. One of his regular courses there, Castelgandolfo Country Club, is located inside a volcano's crater.
Mills, in spite of his late start in the game, was a decent junior player when he returned to the U.S. at 13. His athleticism – "When he had T-ball, he'd hit it to the fence just about every time," Stoney said – helped him learn golf quickly. Navigating the game's competitive landscape took time, though.
"I never even realized you could play (the Masters) as an amateur until my senior year in high school," Mills said.
He ranked no better than 116th in Golfweek's college rankings during his first two seasons but reached another level last summer. He dominated the Publinks at Bandon Dunes, winning the stroke- and match-play portions, then won the next week's Players Amateur. They were his first victories since junior golf.
"You wake up one day, and you're like, 'Wow, this really happened,' " Mills said. "It happened so fast."
He won his first college title, the Jerry Pate National Intercollegiate, in the fall, and has been a consistent top-15 presence in the Golfweek/Sagarin College Rankings. He is in the top 10 of the R&A World Amateur Golf Rankings.
The rapid ascent is attributed to increased self-belief and improved putting. He started using a mallet-style putter last summer after borrowing a similar putter from former Clemson teammate Ben Martin, who played the 2010 Masters as an amateur.
Now it's Mills' turn at Augusta. The Masters won't be his only PGA Tour start in April, though. He also is exempt into the next week's RBC Heritage on Hilton Head Island, S.C., via his Players Am victory.
Mills' solid ballstriking – including a ball flight with little sidespin and exceptional distance control – reminds Clemson head coach Larry Penley of PGA Tour winner D.J. Trahan, another former Tiger. And Mills' work ethic is reminiscent of Kyle Stanley, another Clemson alum set to make his Masters debut. Those attributes have had
Penley bullish on Mills for some time.
"We always knew it was going to happen for him," Penley said. "We just didn't know when."
Amateurs at Augusta
Player
Age
Ticket to Augusta
Hometown
Patrick Cantlay
20
U.S. Amateur runner-up
Los Alamitos, Calif.

The skinny: The UCLA sophomore has starts in the year's first three majors.

Kelly Kraft
23
Won U.S. Amateur
Denton, Texas

The skinny: SMU alumus won four amateur titles in '11; will turn pro after the Masters.

Randal Lewis
54
Won U.S. Mid-Amateur
Alma, Mich.

The skinny: No reigning Mid-Am champ has made the cut at Augusta National.

Bryden Macpherson
21
Won British Amateur
Melbourne, Australia

The skinny: Will turn pro after the Masters, with a spot at The Memorial awaiting him.

Hideki Matsuyama
20
Won Asian Amateur
Matsuyama, Japan

The skinny: Two-time Asian Amateur champion was Masters' low amateur last year.

Corbin Mills
21
Won U.S. Amateur Public Links

Easley, S.C.

The skinny: Won U.S. Public Links and Players Amateur in consecutive weeks in 2011.
Golfweek.com readers: We value your input and welcome your comments, but please be respectful in this forum.
---
---
---
---
---
---
---
---
---
---
---
---
---
---
---
---
---
---
---
---
---