Chairman: No comment on female membership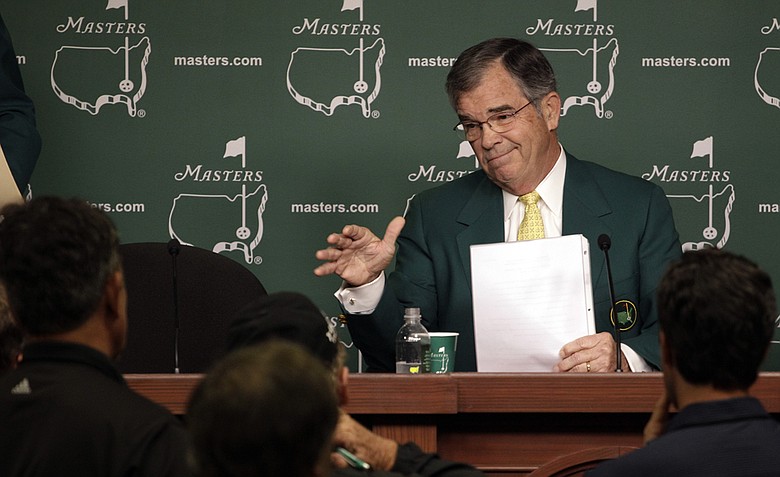 Wednesday, April 4, 2012

AUGUSTA, Ga. – As expected, Augusta National's lack of a known female member was the focus of chairman Billy Payne's pre-Masters press conference. There were several tense moments as Payne faced repeated inquiries about the issue.
---
Photo Gallery
2012 Masters: Wednesday at Augusta National
Check out images of the course after being doused by heavy rain, as well as players getting in work before Thursday's opening round.
---
Augusta National has had a long-standing policy of not addressing membership issues. Payne referred to that policy each time he was asked about female membership. The inquiries came early and often, though, starting with the third question of his press conference.
"Number one, we don't talk about our private deliberations," Payne said. "Number two, we especially don't talk about them when a named candidate is part of the question."
Augusta National's membership came under fire when Martha Burk, chair of the National Council of Women's Organizations tried to stage an ill-fated protest in Augusta during the 2003 Masters. The issue was brought up again this year after Virginia Rometty was named IBM's chief executive in January. The past four CEOs of IBM have been given Augusta National membership. IBM is one of the Masters' sponsors.
Payne tersely told one reporter, "Thank you for your question, sir," after the reporter asked repeated questions about how the club's lack of a female member contrasts with its goal of helping to grow the game. Augusta National has formed a task force of several members to come up with ideas for increasing golf's popularity. When a male reporter asked Payne what the reporter should tell his daughter about the club's membership, Payne said, "I have no advice for you there, sir."
Ten of the 22 questions asked in Payne's press conference pertained to membership. The club didn't divulge much in response to other inquiries:
• The Masters offers exemptions to all players who win events offering full FedEx Cup points. When asked how the PGA Tour's change to a year-round schedule, one in which all of its events would award FedEx Cup points, would impact the Masters invitation criteria, competition committee chairman Fred Ridley said, "It is certainly something we will be considering along with a general review of the qualification criteria, which we do every year."
• When asked about the club's opinion of the belly putter, Ridley said, "We don't really have an opinion, but we certainly will be guided by the decisions and the rulings of the governing bodies like we always have."
• The club has formed a task force to address the state of golf, but Payne would not give specifics on what ideas the group might bring to golf's governing bodies. "I'm sure that I will share a lot of private opinions with them and they will embrace those they think are good enough to take to the next step," he said. "I really don't want to go any further."
Golfweek.com readers: We value your input and welcome your comments, but please be respectful in this forum.
---
---