The Achie Awards: The Masters, Round 3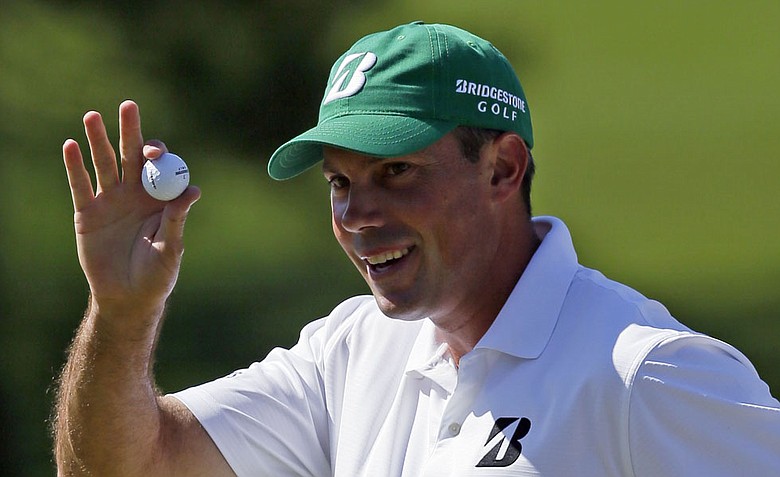 Saturday, April 7, 2012
AUGUSTA,Ga. – Awards from the topsy turvy third round of the Masters, which turned into a day unlike any other:
• Forget-the-first-hole award: Peter Hanson, who went on to take the 54-hole lead, needed four shots to reach the green on the par-4 first hole. He saved a bogey 5, then made nine pars and eight birdies the rest of the way.
---
Photo Gallery
2012 Masters: Round 3 at Augusta
As Saturday's round at 2012 Masters winds down, check out these photos from Augusta National.
---
The first hole is not Hanson's favorite. He made a double-bogey 6 in the second round.
• No. 1-is-no-fun award: Rory McIlroy double bogeyed the opening hole for the second day in a row. How long is this killer par 4? Just 445 yards.
• The hefty-lefty award: When Phil Mickelson says he is confident, as he did after Saturday's 6-under 66, watch out. If Mickelson wins this Masters, it would mean that five of the last 10 Masters have been won by left-handed golfers (one by Mike Weir, four by Mickelson).
• Crazy-eight award: Henrik Stenson, who made a quadruple-bogey 8 on the 18th hole in the first round, has never allowed himself to give up hope. He shot 70 in the third round and trails Hanson by five heading into the final round.
If he had made par on that 18th hole, Stenson would be one stroke back instead of five behind.
• Mr. Popularity award: Matt Kuchar. The fans love Kuchar, who attended Georgia Tech and lives on St. Simons Island in Georgia. Kuchar was tied for the lead midway through the third round, although he faltered with a 1-over 37 on the back nine. Kuchar is four back of Hanson.
• Bogey-bogey-out-of-the-box award: Fred Couples, tied for the 36-hole lead, bogeyed 1 and 2 to quickly drop out of the top spot.
• It-isn't-getting-any-easier-award: After pars at Nos. 3 and 4, Couples double bogeyed the fifth hole. He was 4 over after five holes and eventually shot a 3-over 75.
• The Red Grange award: Legendary football star Red Grange wore No. 77. McIlroy, one of the favorites, melted down with an inexplicable 77 in the third round. Could this be the continuation of a Masters jinx for the 22-year-old Northern Irishman?
• Four-birdies-in-a-row award: Padraig Harrington was 1 over for the day and for the tournament through 12 holes. Then he birdied the next four holes to go to 3 under, where he finished.
• I-can't-believe-I-took-four-putts award: Justin Rose four-putted the 16th green for double bogey after taking a bogey on the par-5 15th. In the process, Rose went from 4 under to 1 under. By contrast, Harrington went birdie-birdie on 15 and 16 to beat Rose by five strokes on those two holes.
• Anything you can do, I can do, too: Gary Woodland followed Rose's four-putt effort with his own four-putt disaster at 16.
• Tough-guy award: "I've never quit anything before," said the injured Woodland, who hurt his left wrist on the eighth hole and insisted on finishing the round. He ignored the advice of his caddie to withdraw, making a series of swings that were mostly one-armed. After the round was over, he withdrew from the tournament.
• Player-of-the-Year award: Hunter Mahan. Okay, the season still has seven months to go, but a Masters victory by Mahan would give him a major, a World Golf Championship victory, and another PGA Tour win in the first four months of the season. Sounds a lot like Player of the Year, although Mahan trails Hanson by five strokes.
• The Louis-Louis award, part three: Louis Oosthuizen, the former British Open champion, is not well known to most Americans. Two shots behind Hanson and one back of Mickelson, he is considered a long shot. "I like my position," said Oosthuizen, who shot a third-round 69.
• The almost-Tiger award: "I was very close. I was almost there," said Tiger Woods after a third-round 72. "I felt a lot more comfortable out there today."
Golfweek.com readers: We value your input and welcome your comments, but please be respectful in this forum.
---
---