Sunday soundbytes: Best quotes from final round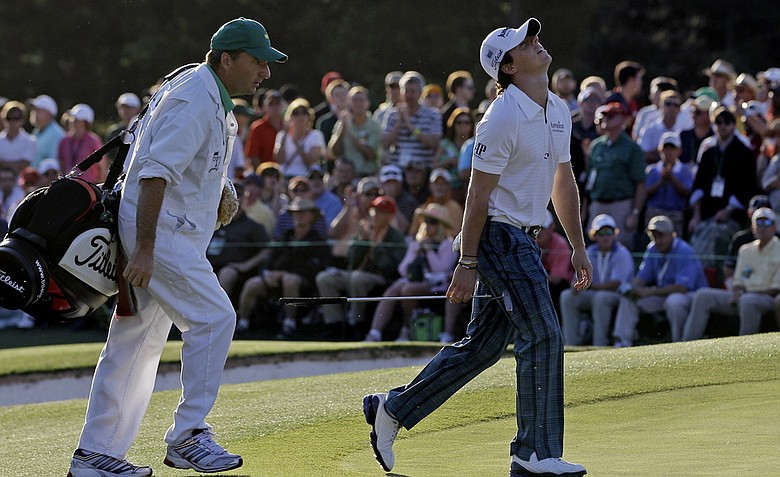 Monday, April 9, 2012
---
Photo Gallery
2012 Masters Champion: Bubba Watson
Congratulations Bubba Watson, champion of the 2012 Masters at Augusta National.
---
---
Video
Hate to be Rude: Bubba Watson
---
---
Photo Gallery
2012 Masters: Round 4 at Augusta
Check out images from Augusta National as the players compete for the Green Jacket in the final round of the Masters!
---
AUGUSTA, Ga. - In one of the most exciting major championships in recent history, Bubba Watson walked off the 10th green with a green jacket and his first major title on Sunday evening.
But Watson wasn't the only story on the course on Sunday.
And since you didn't see most of this on TV, here are some of Sunday's best quotes from the players that experienced it:
• • •
Graeme McDowell on Rory McIlroy's 77-76 finish on the weekend. The two played together on Sunday.
"Rory is not used to kind of being out of contention. It's been six months when the guy is never out of the top 5, and I'm sure he had the wind knocked out of his sails (Saturday). I'm sure he had high hopes this weekend. It's a hard game when the adrenaline leaves the body, it's interesting how the score can just escalate. I saw that a little bit in Houston last week when all of a sudden I had one eye on Augusta and the wind had some out of my sails and everything starts to go wrong, and Rory looked like a man who couldn't really wait to get out of here this year. But he'll be back, and he's tailor-made for this golf course."
• • •
Adam Scott on his hole-in-one on the par-3 16th and buying traditional round of drinks.
"Well, not too many drinkers out her, so it will be a cheap shop, right?"
• • •
Kevin Na on why he shot 75 on Friday. He finished T-12 after a 4-under 68 on Sunday.
"I didn't get my sleep overnight and I came out, I wasn't feeling (like) myself. I hit really poorly and shot 75. . . . I only slept four or five hours. It's not good when you sleep four or five hours and try to play a major."
• • •
Rory McIlroy on getting past his abysmal 2012 Masters.
"I've got 12 months. That's a long time. If you take last year to now, a lot has happened. Obviously, you hope you're coming in here to do a lot better."
• • •
Matt Kuchar on being in contention Sunday and how it relates to his amateur days at Augusta.
"Those amateur days were a real treat. That was a special time. To be an amateur, to have a shot, to be playing well in the Masters was really special, and especially for a first time. When I come back her, I still feel like that same 19-year-old kid, and now to be back and to have a chance to win the title was really exciting."
• • •
Phil Mickelson on his even-par 72 on Sunday.
"What will I take from this day? Third place. It's not what I was hoping for."
• • •
Fred Couples on Bubba Watson
"He's got a great game. He's got a great swing because he's perfect at impact. I mean Johnny Miller used to move his feet all over too, and he was probably the best ball-striker ever. . . . it was funny when Jay Haas and I were watching at the Presidents Cup, because as soon as he hit, we'd go 'Oh, my God' and then the ball would start to hook 20 yards with an 8-iron."
• • •
Peter Hanson on playing in the final group on Sunday
"It's the best thing on Earth. I guess to play the back nine at Augusta in the last group. It's amazing. I have to say even yesterday, when I shot 31 and Phil (Mickelson) shot 30 on the back, with the atmosphere and the noise around the back nine was just fantastic."
• • •
Louis Oosthuizen on Bubba Watson's ball shaping
"He must have a great feel for the game. I mean, it's great knowing you almost have every little shot there is. That's really entertaining to play with him, to see the shots he's taking on and shots that I don't really see or I would ever hit."
• • •
Bubba Watson on winning the Masters
"I've never had a dream go this far, so I can't rally say it's a dream come true. It's just I don't even know what happened on the back nine. (I was) nervous on every shot, every putt. . . I got in these trees and hit a crazy shot that I saw in my head and somehow I'm here talking to you with a green jacket on."
Golfweek.com readers: We value your input and welcome your comments, but please be respectful in this forum.
---
---