PGA chief Steranka to depart at end of '12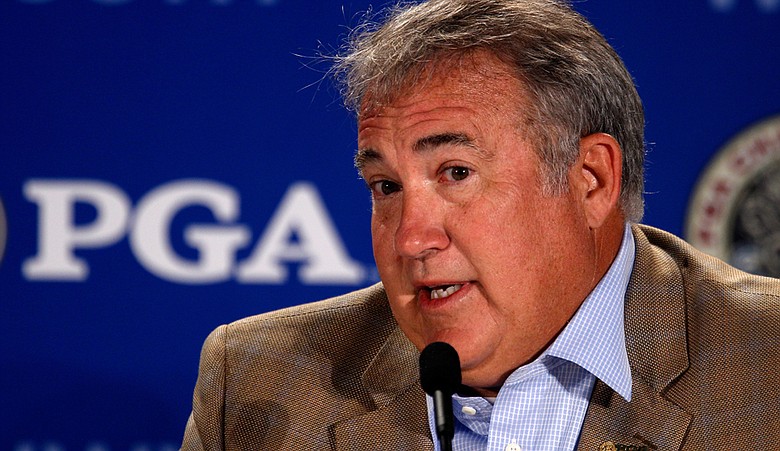 Monday, April 16, 2012
PGA chief executive Joe Steranka, who has championed industry collaboration and led efforts to grow the game, is resigning at the end of 2012, capping a 25-year tenure with the association.
Steranka told Golfweek that he had informed the PGA board of his decision a few weeks ago, saying that it was "very emotional," but believed it to be an appropriate time to plan his exit.
"It's always hard to know when's the best time to step away," Steranka said. "But the PGA is in very good shape, and I can step away and know that the association has very strong financial resources to fund the initiatives that are so important to growing the game."
Still only 53, Steranka's decision surprised some industry leaders, and even he struggled to call it "retirement." He made it clear, however, that he was not leaving to take another job.
"I've been hard at it for a long time, and I'm ready to reap some of the rewards of all that hard work. But I'm not kidding myself. I think I will get bored after a couple of months of just playing golf and reading The Wall Street Journal. I'll be up for something else, but I can take my time to choose."
The PGA is establishing a search committee to find his successor, Steranka said. Details about the committee's members and their instructions are expected to be released in a couple of weeks. He declined to say whether a short list of potential replacements already existed, adding that the PGA would "look internally and outside" for candidates.
Since joining the association in 1988 as director of communications, Steranka steadily has ascended its hierarchy, becoming chief executive in November 2005. In recent years, he has been a major force in marshaling the often disparate elements of the golf industry so it could collectively and more effectively promote its economic and societal contributions before legislators.
He also has been an unrelenting advocate in urging industry members to increase their efforts to grow the game.
PGA Tour players and industry leaders who have worked side-by-side with Steranka were quick to praise his contributions.
"What can I say? Joe's done a great job," said Tim Finchem, PGA Tour commissioner. "I enjoyed working with him for a long time. . . . This is my 25th year at the Tour, so we have known each other a long time. . . . he's been creative, he's an absolute hard worker, and he's been a guy who's in favor of the collaboration of golf organizations to do stuff, which I think is real important."
Added PGA Tour player Joe Ogilvie: "I've always thought Joe should be almost the voice of golf because he's kind of married the charitable impact of golf, what the U.S. golf economy does for everything else and how it multiplies throughout society. He's been able to communicate that better probably than any other golf voice. And that's been pretty impactful."
- Alex Miceli contributed
Golfweek.com readers: We value your input and welcome your comments, but please be respectful in this forum.
---
---
---
---
---
---
---
---
---
---
---
---
---
---
---
---
---
---
---
---
---