College Men
Full coverage: Men's conferences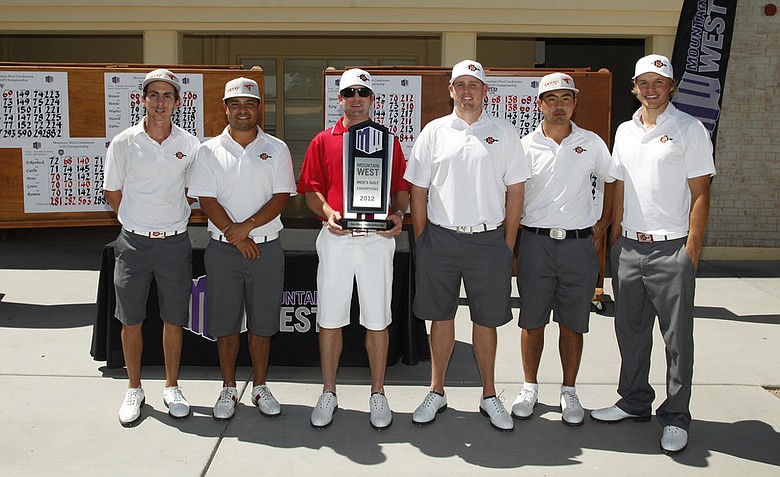 Monday, May 7, 2012
Conference play has begun, and we will be monitoring championships around the country right here. Check back daily for news, results and photos as college postseason gets underway.
• Click here for Blog U. and men's college news.
• Follow us: Lance Ringler's College Golf Page on Facebook
• And on Twitter: @GolfweekRingler, @GolfweekLavner, @Golfweek_Baldry, @GolfweekJules, @GolfweekSMartin
---
Photo Gallery
Big East Men's Championship: Final round
Check out final-round images from Reunion, located just outside of Orlando, Fla.
---
• Southern Conference, April 15-17, Ralston Creek, Daniel Island, S.C.: Chattanooga swept the Southern Conference titles, finishing 19 shots ahead of runner-up Georgia Southern. Senior Stephan Jaeger earned medalist honors. Scores
• Big South Conference, April 16-18, The Patriot GC, Ninety Six, S.C.: Behind Robert Karlsson, Liberty held off Coastal Carolina to win the conference championship. Liberty won the title by 10 shots and an eye-opening 15 shots ahead of third-place Charleston Southern. Meanwhile, Karlsson cleared Daniel Kim of Gardner-Webb by two shots. Scores.
• West Coast Conference, April 16-17, San Juan Oaks, Hollister, Calif.: Saint Mary's won its first ever WCC title, riding Ben Geyer's individual title past San Francisco. The Gaels opened the tournament with an impressive 14 under round and held steady to hold off the Dons by nine shots. Scores.
• Atlantic Sun Conference, April 16-18, 2012, The Legends Course, Braselton, Ga.: North Florida, No. 13 in the latest Golfweek/Sagarin Rankings, held off East Tennessee State by four shots to win the conference title. The Ospreys led wire-to-wire, but watched ETSU cut an overnight 10-shot lead to four. It was UNF's fifth tournament title of the season. Stetson's Sam Ryder took home medalist honors. Scores.
• Southeastern Conference, April 20-22, Sea Island (Seaside), St. Simons Island, Ga.: Justin Thomas and Bobby Wyatt led the University of Alabama to its first conference title since 2008, clearing fourth-ranked Auburn to take the title. Thomas vaulted to the individual title on Sunday - his third of the season. Scores.
• Atlantic Coast Conference, April 20-22, Old North State Club, New London, N.C.: Georgia Tech won its fourth straight conference title, cruising past Virginia and Florida State. The Cavaliers did pick up a victory in Ben Rusch winning the individual title. Scores.
• The Summit League, April 23-24, Primm Valley GC, Primm, Nevada: Indiana Purdue-Indianapolis won for a seventh time this season as it claimed its first Summit League title since 2006. The Thunderbirds won in a one-hole playoff with Southern Utah. IUPUI senior Michael Davan was the individual medalist after shooting a championship- and school-record 205 total (64-71-70). Scores
• Conference USA, April 22-24, Texarkana Country Club, Texarkana, Ark.: The Memphis men's golf team got a little revenge at the Conference USA Championship. The Tigers held off Central Florida by two shots after losing to the Knights by the same margin at last year's championship. UCF's Greg Eason claimed the individual title. Scores | Story
• Southland Conference, April 23-25, Stonebridge Ranch CC, McKinney, Texas: Lamar made it a complete sweep, winning the team title in a playoff with Central Arkansas despite trailing by seven strokes heading into Wednesday's final round. Meanwhile, Lamar's MJ Daffue took the individual title by three strokes. Scores.
• Sun Belt Conference, April 23-25, Robert Trent Jones Golf Trail, Fighting Joe Course, Muscle Shoals, Ala.: North Texas used a stellar second round to cruise to the conference championship, beating Middle Tennessee by eight shots. North Texas' Ty Spinella garnered the individual title with a three-shot win over Middle Tennessee's Hunter Green. Scores.
• Southwestern Athletic Conference, April 23-25, Links on the Bayou, Alexandria, La.: Alabama State won the league title by seven shots over runner-up Jackson State. The Hornets claimed four players in teh top 5, but Jackon State's Clay Myers claimed individual medalist honors. Scores
• Ohio Valley Conference, April 26-28, 2012, Greystone Golf Course, Nashville, Tenn.: Jacksonville State edged Austin Peay State by a single shot to win the fourth OVC Championship in program history. It's the second consecutive league title for the Gamecocks. Austin Peay State's Anthony Bradley won the individual title by three shots. Scores
• Big 12 Conference, April 27-29, Whispering Pines GC, Trinity, Texas: Jordan Russell and Texas A&M pulled off a minor upset, holding off Texas to win the Big 12 Championship on Sunday, while Baylor's Joakim Mikkelsen won the individual title. Story. | Scores
• Big Ten Conference, April 27-29, French Lick (Pete Dye), French Lick, Ind.: Backed by Luke Guthrie's dominating medalist performance, the Illinois men's golf team held off Indiana to win the Big Ten Championship on Sunday. Story | Scores
• Metro Atlantic Athletic Conference, April 28-29, Disney's Magnolia GC, Lake Buena Vista, Fla.: Loyola (Maryland) broke the Metro Atlantic Athletic Championship scoring record by nine shots en route to a fifth-straight team title. It's the 14th conference title in the past 23 years for the Greyhounds. Senior Jay Mulieri won the individual title, joining his older brother Mike as the only pair of siblings to win conference crowns. Scores
• Colonial Athletic Association, April 27-29, Wilmington Country Club, Wilmington, Del.: North Carolina-Wilmington successfully defended its title at the Colonial Athletic Association Championship, winning a back-to-back conference crown for the second time in program history. Delaware's Greg Matthias was medalist. Scores
• Pac-12 Conference, April 27-29, Trysting Tree, Corvallis, Ore.: California finally outlasted No. 7 Oregon in a sudden-death playoff Sunday to win its first Pac-12 Championship in its 50th appearance at the event. It also was a school-record fifth victory this season for Cal. Stanford's Andrew Yun shot consistent rounds of 68-70-69-68 to win the individual title at 13-under 275. Scores | Story
• Atlantic 10 Conference, April 27-29, Heron Bay GC, Coral Springs, Fla.: George Washington set a new 36-hole conference scoring record on the way to its first Atlantic 10 Conference Championship in program history. With the victory, the Colonials ended a six-year streak by Charlotte, who claimed individual medalist Raoul Menard. Scores
• Horizon League, April 27-29, Mission Inn Resort, Howey-in-the-Hills, Fla.: Loyola-Chicago made up a 13-shot deficit in the second ound of the Horizon League Championship, then held its lead through the final round to win its first NCAA berth in program history. Wisconsin-Green Bay's Chad Ebert won the individual title. Scores
• Ivy Group, April 27-29, Galloway National Golf Club, Absecon, N.J.: Penn defeated Dartmouth on the third playoff hole of the Ivy League Championship to claim the title – a particularly impressive feat considering the Quakers entered the final round 16 shots off the lead. The team playoff was the first in the 38-year history of the event, and gave Penn its first league title since 2007. Dartmouth's Peter Williamson won the individual medal for the third time in his career. Scores
• Patriot League, April 28-29, Bucknell GC, Lewisburg, Penn.: Navy won a sixth Patriot League Golf Championship by edging arch rival Army by three shots. The Midshipmen were led by three All-Patriot League performers and five players among the top 16. Army's William Park was the individual medalist. Scores
• Big East Conference, April 29-May 1, Reunion Resort (Watson), Orlando, Fla.: Notre Dame defended its Big East title, adding an eighth conference title to Irish history. Notre Dame has now finished inside the top 3 14 times in 17 Big East starts. Irish senior Max Scodro also repeated as the individual champion. Scores | Story
• Big West Conference, April 29-May 1, La Quinta GC, La Quinta, Calif.: UC Davis narrowly edged Long Beach State to claim a second consecutive Big West Conference title. It's the third conference victory for the Aggies in the past four years. Pacific's Alex Edfort was the individual medalist. Scores
• Missouri Valley Conference, April 30-May 1, Prairie Dunes, Hutchinson, Kan.: Wichita State won a fifth consecutive Missouri Valley Conference title behind the strong play of Hunter Sparks. The Shockers beat runner-up Missouri state by 18 shots as Sparks won the individual title by a single shot. Scores
• America Sky Conference, April 29-May 1, Lake of Isles GC, North Stonington, Conn.: Sacramento State will travel to NCAA regionals for the first time in program history after winning the America Sky Championship by 42 shots over Houston Baptist. Sacramento State also becomes the first school to earn the America Sky automatic qualifier into regional play. Hornet senior Cameron Rappleye recorded his second victory of the season with a two-shot win over teammate Jordan Weir. Scores
• Western Athletic Conference, April 30-May 2, Rio Secco GC, Henderson, Nev.: San Jose State won its first WAC title in program history while senior Jay Myers repeated as the individual champion. The Spartans entered the final nine holes of the tournament with an eight-shot lead and never looked back, finishing six shots ahead of runner-up New Mexico State. Scores
•Mid-American Conference, May 4-6, Rich Harvest Farms, Sugar Grove, Ill.: Kent State claimed a fourth consecutive Mid-American Conference title with a 40-shot victory. The championship was cut to 54 holes because of lightning and rain, leaving the Golden Flashes with a commanding victory over Eastern Michigan. Kent State also claimed the individual winner in Corey Conners. Scores
• Mountain West Conference, May 4-6, OMNI Tucson (Ariz.) National: The San Diego State men's team successfully defended its Mountain West Conference Championship title, defeating runner-up TCU by five shots Sunday at Omni Tucson National Golf Resort. TCU's Johan de Beers was the individual medalist. Scores | Story
• Northeast Conference, May 4-6, LPGA International, Daytona Beach, Fla.: Mount St. Mary's won its first Northeast Conference title in program history as four players finished inside the top 7 on the leaderboard. The Mount entered the final round nine shots ahead of Fairleigh Dickinson and Sacred Heart and doubled that by the end of the day. Sacred Heart's Leo Garcia won the individual title. Scores
Golfweek.com readers: We value your input and welcome your comments, but please be respectful in this forum.
---
---
---
---
---
---
---
---
---
---
---
---
---
---
---
---
---
---
---
---
---