College Men
Men's preview: Ohio Valley Conference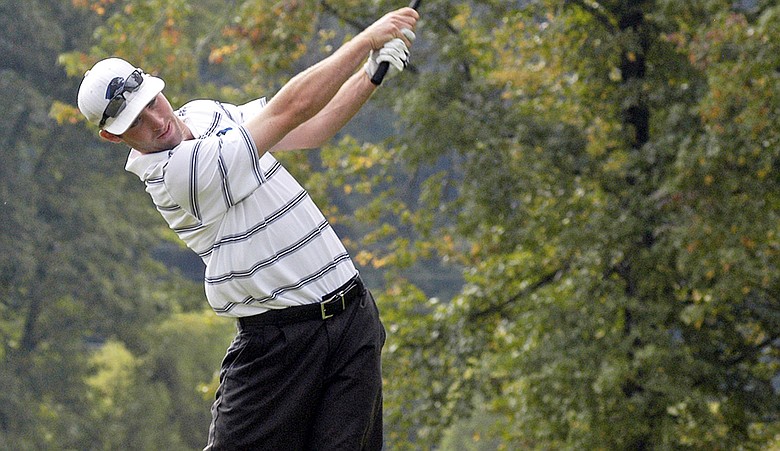 Thursday, February 2, 2012
Like many college golfers, David Lawrence got a lot of letters from universities urging him to take his athletic abilities to their campuses.
However, all of those letters concerned his talents as an outfielder. They weren't really interested in whether or not he could hit a high fade.
Growing up in Moline, Ill., Lawrence played baseball for as long as he can remember. He was a rising star on his high school team, being moved up to the varsity squad early and making a switch from second base to the outfield. That move would prove disastrous, however, as Lawrence blew out his knee while chasing a fly ball during his sophomore year. He was sidelined, made what he thought was a full recovery and he returned to the field, once again taking aim at the opposite-field gap and running down fly balls. At least for a little while.
"Exact same injury," Lawrence said. "I just sat on the couch. Devastated."
Lawrence was given the option to have major reconstructive knee surgery, but he held off, weighing his options. That's when he remembered one of his hidden talents: he was pretty good at golf.
"I had always played with my dad growing up, but we never took it too seriously," Lawrence said. "But after the injury, I wanted to get out and do something, so I started playing more and developed a passion for it."
After giving up baseball and opting against surgery, Lawrence put everything into golf, becoming an Illinois all-stater as a senior, only his second year of organized golf. Because of the short notice, he was hardly recruited to play golf in college.
He finally got some interest from Eastern Illinois head coach Mike Moncel, who "liked the potential that he saw" and gave Lawrence a chance.
Lawrence is now halfway through his senior year with the Panthers, and it's clear that Moncel made the right decision. Lawrence had two victories and a runner-up finish in the fall, earning his first collegiate titles at the Wasioto Winds Fall Kickoff and the SIU-Edwardsville Invitational.
"To be honest, I expected to win this year," Lawrence said. "It was the first time I'd felt that way, but I had a good summer and was feeling great."
Part of that summer success was at the Northern Amateur, where he was tied for the first-round lead after an opening 66.
"That was kind of the wake-up call. . . Just knowing that I could compete with all of these guys that I had spent the past few years reading about."
It's uncertain what the spring holds for Lawrence, who says that he's now used to playing his best golf at the end of the fall.
"Living in Illinois, your game gets as good as it can right at the end of the fall and then winter hits and you're stuck inside for three months, while all the guys in the South are just getting better," he said. "So it usually takes some time to knock the rust off in the spring."
So, the golf seems to have worked out, but is there any part of him that misses the baseball career that he had once dreamed about?
"At the time of the injury, I thought my life was over," Lawrence said. "But it's turned out to be one of the biggest blessings I have."
• • •
Past champions
2007: Jacksonville State
2008: Eastern Kentucky
2009: Austin Peay
2010: Murray State
2011: Jacksonville State
• • •
Conference capsules
Jacksonville State (Golfweek/Sagarin Ranking: No. 83)

After taking second at the Golfweek Program Challenge, where Tomasz Anderson was medalist, Jacksonville State solidly finished fifth, second and third (of 21) to round out the fall. Tom Robson had a pair of top-five finishes to lead Jacksonville State.

Austin Peay (No. 128)

Led by Marco Iten, the well-rounded Governors won twice in the fall, picking up titles at the Bearcat Invite and their own F&M Bank APSU Intercollegiate. All five players finished inside the top 20 at the Bearcat for Austin Peay.

Eastern Kentucky (No. 130)

The Colonels had a pair of runner-up showings, at the Marshall Invite and the Cobra/Puma, where Billy Peel Jr. was medalist. Two other players, Brian Fister and Stuart Witt, each finished as low man twice in the four other events, including a runner-up for Fister at Marshall.

Eastern Illinois (No. 210)

David Lawrence was the highlight of the fall, claiming his first two collegiate victories, but team results were mostly middle-of-the-road, as the Panthers finished fourth, fifth, 11th and fourth in their four fall starts.

Morehead State (No. 215)

The Eagles' best team finish was a sixth-place showing at Wasioto Winds Fall Kick-Off Invite. That was the high point, as Morehead State finished outside the top 10 in its two other starts.

Tennessee-Martin (No. 219)

The fall started out promising for UT-Martin, with a second-place showing at the Wasioto Winds Fall Kick-Off, but it was up and down from there. The Skyhawks finished 11th at the UK Bluegrass Invitational, fourth at Murray State, third at their home event and 13th at Austin Peay.

SIU-Edwardsville (No. 229)

The Cougars closed the fall on a high note, winning their first Division I title in program history at the Double Tree Intercollegiate. Unfortunately, SIU-E finished 10th, 15th, 13th and eighth in their other four starts.

Tennessee Tech (No. 239)

The Golden Eagles' fall was highlighted by a fourth-place finish at the Skyhawk Classic, but it also included finishes of ninth, eighth, ninth and 10th. Tyler Cassetty had third- and fourth-place showings individually to lead Tennessee Tech.

Tennessee State (No. 244)

The Tigers won the National Black College Hall of Fame Invitational for second straight year, but finished 7th at the Fossum Invite, sixth at Murray State and 15th at Austin Peay for a disappointing remainder of the fall.

Murray State (No. 256)

The Racers won the Murray State Invitational by five, but had poor showings in the rest of the fall's events, finishing outside the top 10 in four of their other five starts.

Conference championship

April 25-28, 2012, Greystone Golf Course, Nashville, Tenn.

Lance Ringler's prediction

Jacksonville State. The top seed or best team in this league does not always find the winner's circle, but this year the best team - Jacksonville State - should win the OVC and earn the league's AQ into the postseason. With four finishes in the top five the Gamecocks have a lot of momentum to carry them into the spring.
• • •
Complete coverage
Wondering how your favorite conference is shaping up headed into the spring season? Who is our favorite to pick up the automatic qualifier? Check out our conference-by-conference break down with our complete coverage page here.
• • •
Going social with Golfweek
Want to follow our college gurus on Twitter? Here are some quick links:
• You can follow blogger Asher Wildman here
• You can find Lance Ringler's college Twitter feed here
• Check out Ryan Lavner's witty commentary here
• For the latest on golf in social media, as well as college and junior news, check out D.J. Piehowski on Twitter here.
• And follow all of college golf on Facebook by clicking here
Golfweek.com readers: We value your input and welcome your comments, but please be respectful in this forum.
---
---
---
---
---
---
---
---
---
---
---
---
---
---
---
---
---
---
---
---
---