College Women
Women's preview: Northeast Conference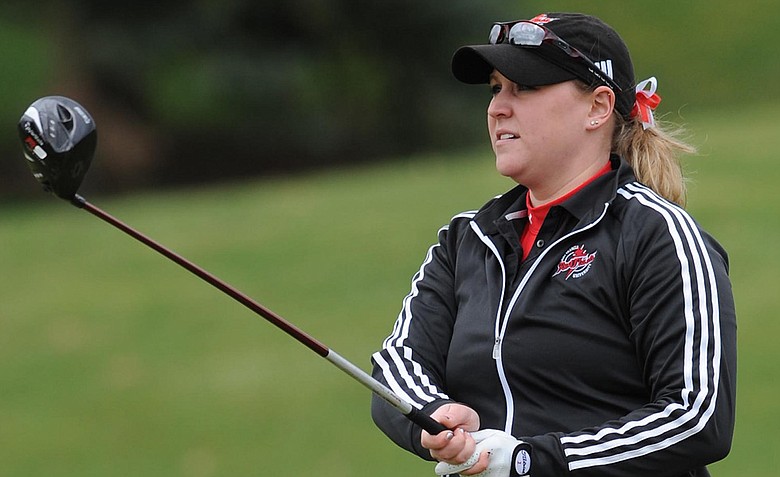 Thursday, February 2, 2012
Chris Cascino didn't see it coming. When he recruited Ann Colligan to his St. Francis program, he wasn't exactly sure what results would follow -- or how immediate they would be.
By last spring's Northeast Conference Championship, however, Colligan had exposed her whole hand. The freshman was the runner-up at the Northeast Conference Championship, and earned subsequent conference Rookie of the Year honors. She won her first collegiate tournament this fall at the Cleveland State Invitational.
"I knew she'd play well and I figured she'd be in the top 5, top 10, but she had a chance to win (conference) on the back nine on Sunday," Cascino remembered. "It was a pleasant surprise."
Cascino said Colligan addressed her biggest weakness -- her putting -- immediately upon arriving at St. Francis. That translated into continued success this fall as she was the low scorer for the Red Flash.
Colligan's short, compact swing reminds Cascino of Steve Stricker's. Her lower-body strength helps her hit a long ball off the tee with neither a fade nor a draw.
"She's a very strong girl," Casicno said. "She played softball in high school and she was a pitcher. She could throw the softball pretty fast and she was a very good hitter and fielder."
Aside from her on-course talent, Colligan also possesses the type-A personality necessary to lead the team off the course. Even though she's only a sophomore, Cascino made her the team captain this year.
"She's not afraid to say what's on her mind, but on the other hand she's very very respectful and she really communicates well with her teammates," he said. "She's not a dictator-type captain. She's a very good leader by example and by the words that she says."
• • •
Top of the class: Sacred Heart
Best player in the fall: Ann Colligan, St. Francis (Pa.)
• • •
Past champions
2007: St. Francis College-PA
2008: Fairleigh Dickinson
2009: Fairleigh Dickinson
2010: Fairleigh Dickinson
2011: Fairleigh Dickinson
• • •
Conference capsules
Sacred Heart (Golfweek/Sagarin Ranking: No. 195)

Won its own event to end the fall, but more impressive was the runner-up finish at the 14-team Yale Invitational. Returned two All-NEC players this year in Carly Bergin and Gabriella Riber.

Fairleigh Dickinson (No. 213)

Coping with the graduation of Michele Holzwarth, last year's Northeast Conference Player of the Year. A young, short roster, but still managed a fifth-place finish at the Lehigh Invitational.

Monmouth (No. 217)

A slow start to the season ended with a third-place finish at the Sacred Heart Fall Classic. Led by junior Kelsi Kavanagh.

St. Francis-Pa. (No. 225)

Sophomore Ann Colligan is a standout on this team with help from freshman Mallory Cortis. Both can score, and it helped the Red Flash to a T-3 at the Cleveland State Invitational, the best finish of the fall.

Central Connecticut State (No. 229)

A team without seniors, the Blue Devils logged a fourth-place finish at Dartmouth and finished fifth at the following tournament, the ECAC Championship. Keep an eye on junior Katie Reid.

Robert Morris (No. 234)

Returned three All-Northeast Conference players from last year's three-win season. Best fall finish was runner-up at one-day Knox College Invitational.

Wagner (No. 239)

Most impressive finish was a fourth at 14-team Mount Holyoke Invitational. Keep an eye on sophomore Ellen Huffman.

Mount St. Mary's (No. 245)

Best fall finish was a sixth place at Holiday Inn Colonial Classic. However, the Mountaineers fell from the first-round lead at that tournament.

St. Francis-N.Y. (No. 250)

Short roster that never found its stride in the fall. Traveling to tournaments outside the Northeast in the spring will help the Terriers get outside of their comfort zone.

Conference championship

April 27-29, LPGA International, Daytona Beach, Fla.

Lance Ringler's prediction

Sacred Heart. This one will be close. Perhaps one of the most competitive league championships we will see. Sacred Heart is just a bit above the rest and with a pair of all conference players returning from last year it might be enough for them to halt Fairleigh Dickinson's run.
• • •
Complete coverage
Wondering how your favorite conference is shaping up headed into the spring season? Who is our favorite to pick up the automatic qualifier? Check out our conference-by-conference break down with our complete coverage page here.
• • •
Going social with Golfweek
Want to follow our college gurus on Twitter? Here are some quick links:
• You can follow blogger Asher Wildman here
• You can find Lance Ringler's college Twitter feed here
• Follow women's college golf with Julie Williams here
• And follow all of college golf on Facebook by clicking here
Golfweek.com readers: We value your input and welcome your comments, but please be respectful in this forum.
---
---
---
---
---
---
---
---
---
---
---
---
---
---
---
---
---
---
---
---
---