College Men
Men's spring preview: America Sky Conference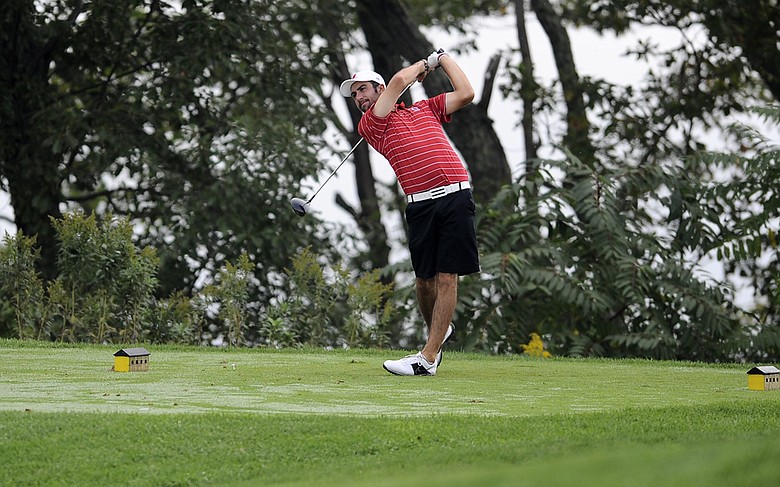 Saturday, January 14, 2012
The turning point for Hartford senior Matt Smith came at the 2010 Classic at Shelter Harbor. When he first arrived in West Hartford, in 2008, he flipped the club at the bottom of the swing, costing him accuracy and consistency. He struggled to crack the lineup as a freshman. "It was a struggle out of the gate," Hartford coach Pete Stankevich said recently.
Then Smith got stronger, physically. He developed maturity and confidence and experience with each humbling tournament. And then, on Oct. 17, 2010, he was embroiled in a playoff for the individual title at Shelter Harbor . . .
"And he didn't miss a shot," Stankevich remembered. "He showed himself what he could do, winning that. It just kind of snowballed from there."
Last summer, Smith won five tournaments around the state, was runner-up at the Connecticut Amateur and shot a new course record (62) at Quinnatisset Country Club in his hometown of Thompson, Conn. When it came time to play again for the Hawks, he shot a career-low 66 in the first round of the season-opening Battle at the Tetons. Since then, he has finished in the top 8 in five of six events.
"You never want to start a career out rough," Stankevich said, "but Matt's career arc is what you want to have. Not all college players have that type of steady progression that he has."
Now, entering his final semester at Hartford, Smith has shifted his focus to playing at the next level. He has many supporters on campus, not least his coach.
"He's just one of those kids that everyone loves," Stankevich said.
• • •
Top of the class: Sacramento State
Best player this fall: Mason Casper, Utah Valley State
• • •
Wildman's Corner
• The America Sky Conference features a famous, if unknown, face in Mason Casper. One of our college gurus, Asher Wildman, takes a closer look at the America Sky. Story.
• • •
Past champions
2011: Weber State
2010: Texas-Pan American
• • •
Conference capsules
Sacramento State (Golfweek/Sagarin Ranking: No. 115)

Led by Cameron Rappleye, who earned his first individual title, the Hornets won their first tournament of the year in October at the Wildcat Invitational. Haven't finished worse than seventh in five starts.

Utah Valley State (No. 143)

No better than eighth (twice) in five starts, so plenty of room for improvement for this young squad (only one senior). Sophomore Mason Casper, the grandson of Hall of Famer Billy Casper, is the highest-ranked player in the conference, at No. 199 in Golfweek's rankings.

Binghamton (No. 165)

Up-and-down fall highlighted by a victory at the Cornel Invitational. Junior David Cellura hasn't finished outside the top 26 in five events.

Seattle (No. 174)

A runner-up and two fifths help the Redhawks to a competitive start in their final season in the conference.

Houston Baptist (No. 189)

Two strong finishes to close the season - 4th at the Connecticut Cup, 2nd at HBU Husky Invitational - perhaps a sign of things to come for Huskies.

Hartford (No. 197)

After slow start, Hawks turned in fourth- and fifth-place finishes midway through the fall. No wins for senior Matt Smith, but five top-8 finishes in six starts is really strong.

Weber State (No. 201)

Tougher schedule than most in conference, and the Wildcats struggled in final two events of fall: 14th at Lone Star Invite, 13th at Aggie Invite. Season-best third at opening event, Battle in the Tetons.

Northern Colorado (No. 235)

Three finishes outside the top 15 shows works to do for Bears, though they did post their best three-round score of the season in the final event of the fall.

North Dakoka (No. 240)

The Sioux hasn't been able to break through in five events this season, and has no finish better than sixth.

Texas-Pan American (No. 261)

Season-best second-place finish at the SSU Tiger Fall Invitational, the final event of the fall, signals the Broncos may have turned the corner.

Conference championship

America Sky Championship, April 30-May 2, Lake of Isles GC, North Stonington, Conn.

Lance Ringler's prediction

Sacramento State. By late April, the Hornets clearly will have been identified as the top team in the conference. The biggest challenge for head coach David Sutherland's squad will be traveling across the country to try to claim the league's first AQ into postseason play.
• • •
Complete coverage
Wondering how your favorite conference is shaping up headed into the spring season? Who is our favorite to pick up the automatic qualifier? Check out our conference-by-conference break down with our complete coverage page here.
• • •
Going social with Golfweek
Want to follow our college gurus on Twitter? Here are some quick links:
• You can follow blogger Asher Wildman here
• You can find Lance Ringler's college Twitter feed here
• Check out Ryan Lavner's witty commentary here
• And follow all of college golf on Facebook by clicking here
Golfweek.com readers: We value your input and welcome your comments, but please be respectful in this forum.
---
---
---
---
---
---
---
---
---
---
---
---
---
---
---
---
---
---
---
---
---