College Women
Women's preview: Atlantic Coast Conference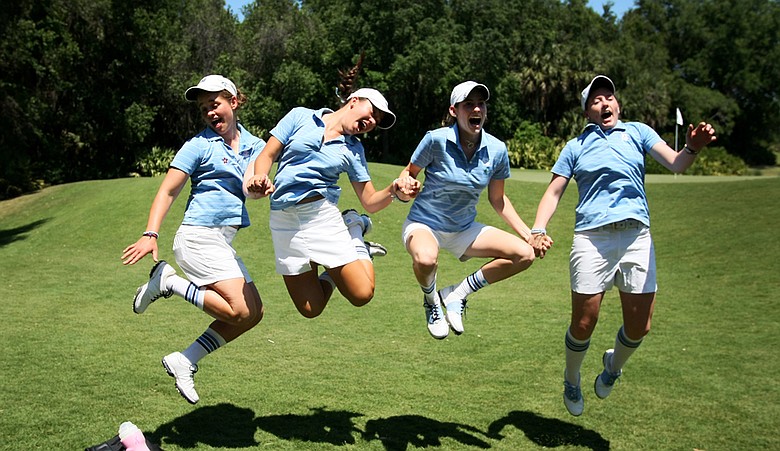 Saturday, January 14, 2012
Don't let the tube socks fool you, North Carolina comes to play.
At least one member of this top-10 team (and sometimes all five) shows up each round in knee-high white tube socks with Tar Heel blue stripes. It speaks to a team dynamic that's sometimes unusual when college golf gets intense.
"We work hard but we want to have a good time," head coach Jan Mann explained. "We want to keep golf in perspective and keep a balance there."
Wardrobe aside, North Carolina seems to have found a magic formula. What the Tar Heels lack in a superstar, they make up in sheer consistency. Two of North Carolina's starting five, Casey Grice and Jackie Chang, finished the fall ranked inside Golfweek's top 50. Senior Allie White comes in at No. 82. Courtney Gunter and Catherine O'Donnell, who battled a thumb injury this fall before undergoing surgery in the offseason, can contribute a solid fourth score, as can Katherine Perry.
Mann, in her third year at the Tar Heel, has yet to see a team like this in Chapel Hill.
"I can't put a finger on one individual that works harder than the other or is the deciding factor for our success," Mann said. "Everybody contributes."
Mann describes the team as a family, but there still are important roles played within it. That of team leader (and perhaps class clown) falls on White, who began her college career at North Carolina, transferred to Ohio State, then returned to North Carolina last season.
"To have been honored to be associated with Allie," Mann said. "...She does keep things in perspective."
• • •
Top of the class: North Carolina
Best player this fall: Lindy Duncan, Duke
• • •
Past Champions
2011: North Carolina
2010: Wake Forest
2009: Wake Forest
2008: Duke
2007: Duke
• • •
Conference preview
North Carolina (Golfweek/Sagarin Ranking: No. 7)

More than lived up to a preseason No. 4 ranking with a runner-up finish at the Cougar Classic and a T-5 at the Mason Rudolph Fall Preview. Every player contributes on this team, and all have the ability to go low.

Duke (No. 13)

Winless streak stretches back to March 2010. Though very capable, junior Lindy Duncan can't carry this team alone – sophomores Aleja Cangrejo and Laetitia Beck have the game to contribute every week, too.

N.C. State (No. 17)

One win and two other top 5s are highlights of N.C. State's best fall in history. Four of the top six players on this roster hail from Canada.

Virginia (No. 29)

Third at the Mason Rudolph Fall Preview, but never finished higher than 12th in the next three starts. Virginia is better than that – expect a much different spring.

Florida State (No. 30)

A less-than-stellar fall season included a T-3 at the Susie Maxwell Berning Classic. Jessica Negron has the most potential on this team, but tends to be more explosive than consistent.

Wake Forest (No. 43)

Cheyenne Woods came into her own this summer, and emerged as an effective leader in the fall. She'll need some back-up, however – the team has yet to score a top 5 this season.

Maryland (No. 56)

This team hit its stride in October with back-to-back wins at the UNCG/Starmount Classic and Lady Pirate Invitational. Thank freshman Juliet Vongphoumy for much of that spark.

Miami (No. 76)

In Year 2 of the Patti Rizzo regime, the Hurricanes already have a T-5 and a T-7 in four starts. Rika Park and Leticia Ras-Anderica are the key players.

Boston College (No. 141)

The fall started slow, but a Rutgers Invitational victory led to a fourth-place finish at the Pat Bradley Invitational. Freshmen Katia Joo and Cristina McQuiston were huge gets.

Clemson

No action out of the Tigers just yet – the newly established team can't begin competition until fall 2013 – but coach J.T. Horton quietly is assembling a force. Signees include top-50 players Ashlan Ramsey, McKenzie Talbert and Jessica Hoang.

Conference championship

April 13-15, Sedgefield CC, Greensboro, N.C.

Lance Ringler's prediction

North Carolina. Duke's streak of winning 13 ACC titles in a row was snapped in 2008 and the Blue Devils should contend this year at Sedgefield CC, but North Carolina will be too deep for any team in the ACC to contend with. The Tar Heels start the spring with six players ranked inside the top 200.
• • •
Complete coverage
Wondering how your favorite conference is shaping up headed into the spring season? Who is our favorite to pick up the automatic qualifier? Check out our conference-by-conference break down with our complete coverage page here.
• • •
Going social with Golfweek
Want to follow our college gurus on Twitter? Here are some quick links:
• You can follow blogger Asher Wildman here
• You can find Lance Ringler's college Twitter feed here
• Follow women's college golf with Julie Williams here
• And follow all of college golf on Facebook by clicking here
Golfweek.com readers: We value your input and welcome your comments, but please be respectful in this forum.
---
---
---
---
---
---
---
---
---
---
---
---
---
---
---
---
---
---
---
---
---