College Men
Men's spring preview: Atlantic 10 Conference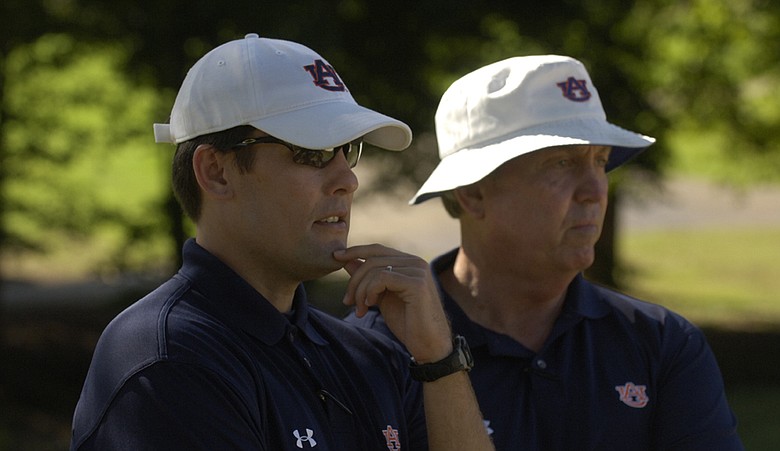 Saturday, January 14, 2012
So far, so good for Charlotte first-year head coach Ryan Cabbage.
Cabbage, who took over the 49ers men's golf program in June, led the team to three top-5 finishes and a No. 47 standing in the Golfweek/Sagarin rankings during the fall.
Heading into the spring, the former Auburn assistant and player has his sights set on a seventh consecutive Atlantic 10 Conference title and the school's first NCAA Championship berth since 2008.
"I'm really looking forward to the spring and what this team has the possibility of doing," said Cabbage, who played at Auburn from 1996-98 before serving 10 seasons as an assistant for the Tigers.
"You can't win unless you have an opportunity to win, and we had opportunities in the fall. I look forward to having those opportunities in the spring and this time being able to close the deal on some of these events."
Charlotte finished no worse than sixth in four of its five fall tournaments, including notching a third-place finish at the Rod Myers Invitational in October.
The 49ers struggled in the first round of the VCU Shootout in September, but turned in a season-best 13-under 275 in the second round.
A final-round 306, however, would drop Charlotte to a share of seventh, but Cabbage is not deterred by the outing.
"This team is very self-motivated and that was one of things that I was very impressed with," Cabbage said.
The 49ers finished T-8 at the NCAA Championship in 2008 after finishing T-3 the previous season. It's that kind of success that Cabbage hopes to recapture.
"I think this team is good enough to get to the NCAA Championship, and we expect to get there," Cabbage said. "But you don't just get there by saying that's what your goal is. You have to work for it every day.
"I feel very fortunate to be in a situation that has high expectations. And that's a credit to the people who were here before me that put the standard where it is. I certainly wouldn't want to be in a situation where a program didn't expect success."
• • •
Top of the class: Charlotte
Best player this fall: Paul Ferrier, Charlotte
• • •
• • •
Wildman's Corner
• Upset brewing? Charlotte will be chasing its seventh straight conference title, but Xavier thinks it may have something to say about that says college guru Asher Wildman. Story.
• • •
Past champions
2007: Charlotte
2008: Charlotte
2009: Charlotte
2010: Charlotte
2011: Charlotte
• • •
Conference capsules
Charlotte (No. 47)

The 49ers notched three top 5 finishes in five events during the fall. Senior Paul Ferrier, the conference's highest-ranked golfer at No. 140 in Golfweek's rankings, placed fifth at the Pacific Invitational in November and led Charlotte with a 72.2 stroke average.

Xavier (No. 104)

Led by senior Sebastian MacLean, a first-team all-conference selection last season, the Musketeers had the most top 5 finishes in the conference during the fall with four in six events.

Dayton (No. 118)

Senior Michael Oberschmidt tied for second as Flyers closed their fall season with a second-place finish at the Dayton Fall Invitational in October. Dayton lost a one-hole playoff to IUPUI to notch its second runner-up finish of the fall.

Richmond (No. 129)

Spiders had second-lowest team stroke average during the fall at 292.1, but did not finish better than sixth in their five events.

Rhode Island (No. 200)

Junior Brandon Chicorka, who earned conference weekly honors three times during the fall, had two runner-up finishes and one third-place finish for the Rams, who placed at least seventh in four of their six fall events.

George Washington (No. 212)

Senior Andres Pumariega earned a share of the Kiawah Classic championship in November, shooting a 2-under, 214 to lead the Colonials to their third fifth-place finish of the fall. Freshman Jack Persons had a share of second place after the first round of the tournament, but ended up tied for 21st.

Temple (No. 224)

The Owls notched just one top 5 finish in five fall events, but improved their finish in every tournament, capping the fall with a third-place finish at the Seton Hall Lincoln Intercollegiate in October

Fordham (No. 243)

After a slow start, the Rams, who played in a conference-high seven events during the fall, closed with three top 5 finishes, including a win at the FDU Golf Invitational in October.

St. Bonaventure (No. 262)

Bonnies had a strong September, finishing no worse than fourth in three of four events.

La Salle (No. 281)

Explorers have finished last in the past two conference championships, but closed the fall season on a positive note by winning the Immaculata Invitational in October.

Saint Joseph's (No. 282)

Hawks didn't break 300-mark during the fall, averaging 305 in six tournaments.

Conference championship

Atlantic 10 Championship, April 27-29, Heron Bay GC, Coral Springs, Fla.

Lance Ringler's prediction

Charlotte. Teams that are on the bubble come late April will have their eyes on the A-10 Championship. A win by any school other than Charlotte would likely take a spot away from the field of at-large bids - that most likely won't happen. The 49ers have won six consecutive conference titles and should win No. 7 this spring.
• • •
Complete coverage
Wondering how your favorite conference is shaping up headed into the spring season? Who is our favorite to pick up the automatic qualifier? Check out our conference-by-conference break down with our complete coverage page here.
• • •
Going social with Golfweek
Want to follow our college gurus on Twitter? Here are some quick links:
• You can follow blogger Asher Wildman here
• You can find Lance Ringler's college Twitter feed here
• Check out Ryan Lavner's witty commentary here
• And follow all of college golf on Facebook by clicking here
Golfweek.com readers: We value your input and welcome your comments, but please be respectful in this forum.
---
---
---
---
---
---
---
---
---
---
---
---
---
---
---
---
---
---
---
---
---