College Women
Women's preview: Atlantic Sun Conference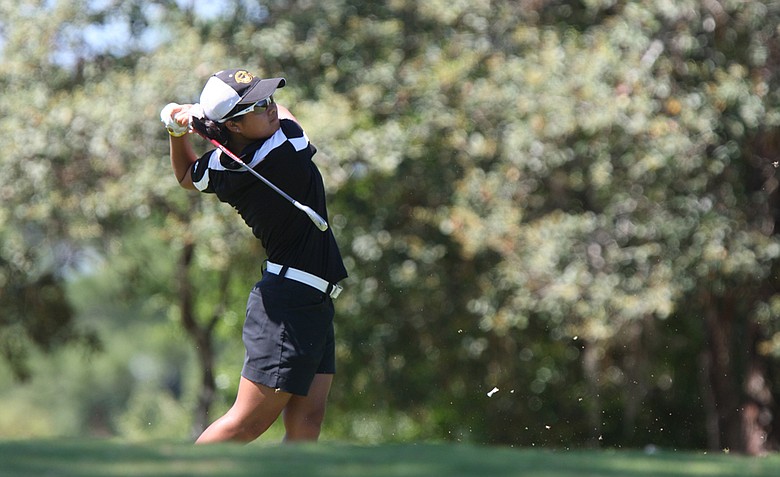 Saturday, January 14, 2012
Kennesaw State's women's golf team received a big boost this winter when the team added freshmen Kaew Preamchuen and Ines Lescudier.
And with less than two months before the Owls begin their spring season, head coach Rhyll Brinsmead is looking for the newcomers to make immediate impacts.
"We're super excited about it," Brinsmead said. "I expect both of them to crack the starting lineup immediately,"
Preamchuen, the younger sister of Kennesaw State junior Ket Preamchuen, was Thailand's player of the year in 2008 and placed sixth at the Gate American Junior Golf Championship in December. Lescudier, a Tulane transfer, was the fifth-ranked player in the French Amateur rankings during the fall.
"They're going to add some much-needed depth," Brinsmead said. "We've gotten through the last couple years with five or six players. This spring, we'll have eight, which is the most I've had in six seasons."
Kennesaw State had an inconsistent fall season, finishing no better than sixth in four tournaments.
The Owls showed potential at the Susan Maxwell Berning Classic in October, shooting season-best rounds of 10-over 298 and 6-over 294 to enter the final round in sixth place. But a 22-over 310 hindered Kennesaw State's climb up the leaderboard and the Owls finished sixth.
"We put ourselves in a good position and then sort of faltered in the final round, and that's something we've talked about a lot," Brinsmead said. "Heading into the spring, we've been working on putting it all together."
Kennesaw State, which is led by junior Ket Preamchuen (75.5 stroke average) and freshman Lea Charpier (76.4), will open the spring at the UCF Challenge Feb. 12 -14 in Sorrento, Fla.
Brinsmead preached consistency to her team during the break and hopes the Owls, ranked No. 70 in the Golfweek/Sagarin rankings, can improve on a runner-up finish at last year's Atlantic Sun Conference Championship.
"I've got eight players who can shoot par on any given day and I honestly believe that," Brinsmead said. "My message to the girls will be that we don't have to go out there and do anything special. If we play consistently, play steady and go out there and play smart golf, I'm pretty confident that we'll walk away with that championship."
• • •
Top of the class: East Tennessee State
Best player this fall: Ket Preamchuen, Kennesaw State
• • •
Past champions
2007: Campbell
2008: East Tennessee State
2009: Stetson
2010: Stetson
2011: Stetson
• • •
Conference capsules
East Tennessee State (No. 62)

Sophomore Sian Evans had two top 5 finishes and freshman Gabriella Wahl added a runner-up finish this fall for the Buccaneers, who finished no worse than sixth in each of their five events.

Kennesaw State (No. 70)

Owls notched three top 10 finishes in four fall tournaments. Junior Ket Preamchuen, ranked No. 144 in Golfweek's rankings, was Kennesaw State's highest individual finisher in three of four events and finished the fall with a 75.5 stroke average.

Mercer (No. 112)

Bears recorded three top 5 finishes in four fall events, including a win at the Eat a Peach Collegiate in which Mercer swept the top 5 places individually (Sophomore Lacey Fears took medalist honors). Sophomore Mary Alice Murphy finished at least third three times.

Stetson (No. 114)

Hatters, who have won past three conference titles, compiled one win and five top 5 finishes in their five fall events. Senior Alexandria Buelow, who notched two tournament victories, leads the team with a 72.8 average.

Florida Gulf Coast (No. 165)

Capped fall season with a fourth-place finish at the Hatter Classic in November.

Jacksonville (No. 182)

Dolphins finished third at Hatter Classic to notch second top 3 of the fall.

Belmont (No. 189)

Junior Janet Steen's 75.7 average and three top 10 finishes lead a Bruins squad that totaled three top 5 finishes in five fall events.

South Carolina Upstate (No. 206)

Spartans had just one top 5 and no golfer cracked the top 10 in five events during the fall.

Lipscomb (No. 228)

Bison finished eighth in each of their three fall tournaments.

Conference championship

Atlantic Sun Championship, April 9-11, Venetian Bay GC, New Smyrna Beach, Fla.

Lance Ringler's prediction

Kennesaw State. How do you not pick Stetson? The Hatters have been one of the surprise teams in conference championship play the past few seasons. Again, this year Stetson will enter the spring and certainly the A-Sun Championship not being labeled the favorite and try to steal the spotlight by winning the title. But, this year it will be the Owls of Kennesaw State representing the A-Sun in the postseason.
• • •
Complete coverage
Wondering how your favorite conference is shaping up headed into the spring season? Who is our favorite to pick up the automatic qualifier? Check out our conference-by-conference break down with our complete coverage page here.
• • •
Going social with Golfweek
Want to follow our college gurus on Twitter? Here are some quick links:
• You can follow blogger Asher Wildman here
• You can find Lance Ringler's college Twitter feed here
• Follow women's college golf with Julie Williams here
• And follow all of college golf on Facebook by clicking here
Golfweek.com readers: We value your input and welcome your comments, but please be respectful in this forum.
---
---
---
---
---
---
---
---
---
---
---
---
---
---
---
---
---
---
---
---
---