College Men
Men's preview: Big East Conference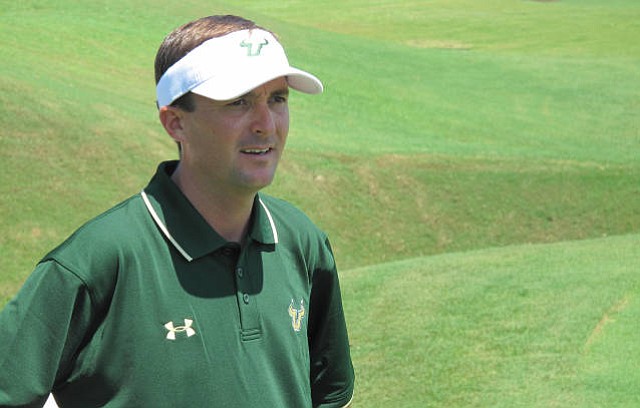 Monday, January 16, 2012
Chris Malloy knows he's selling a different product at South Florida. The main appeal of playing for the Bulls is not being part of a longstanding tradition of excellence, but creating one. Yet in two years, the former Florida State assistant has transformed USF into a Big East contender, and he's done so while battling perennial heavyweights Florida, Florida State, Central Florida and North Florida (all of which are ranked in the top 50 nationally) on arguably the most fertile recruiting ground in the country.
"It's tough going against schools of that caliber (for recruiting), but I'm happy it's raised the bar," Malloy said. "It just adds credibility to everyone."
So, why are some of the top juniors in the country starting to choose USF? It starts with Malloy, who is young and popular and gregarious. Then it helps to have great courses at the players' disposal -- tracks such as Lake Jovita, Tampa Palms, Concession, Belleair and Avila, all of which are currently in the Bulls' rota. And, perhaps most important, "it's the unique opportunity to be the first to win a conference championship here," Malloy said.
That goal is more attainable than you might imagine. The Bulls finished last season No. 196 in Golfweek's rankings, but enter the spring at No. 61. Part of that ascent can be attributed to their standout freshmen, Trey Valentine and Brenden Collins, both of whom were under-recruited as juniors but are flourishing in their first year on campus. Valentine hasn't finished outside the top 5 in three starts. Collins, meanwhile, has "superstar potential," Malloy said.
"They've been such pleasant surprises," Malloy said. "I knew we'd have a lot of firepower, but I didn't quite know what to expect."
Asked the difference between Year 1 and Year 2 in Tampa, Malloy laughed and said: "Well, it's easier to sell a product that you know."
• • •
Top of the class: Notre Dame
Best player this fall: Trey Valentine, South Florida
• • •
Past champions
2007: Louisville
2008: Marquette
2009: Louisville
2010: Georgetown
2011: Notre Dame
• • •
Conference capsules
Notre Dame (Golfweek/Sagarin rank: No. 59)

Up-and-down fall, highlighted by a third at the season-opening Gopher Invite. Max Scodro has been one of the most consistent players in the Big East, finishing no worse than 11th in four starts.

South Florida (No. 61)

Small sample size, having played only three events, but the Bulls are a real contender with two top-3 finishes. Trey Valentine has three top 5s.

Louisville (No. 136)

Two poor finishes - 12th at Jerry Pate and Bank of Tennessee - sour what had been a solid start to the season for the Cardinals.

Georgetown (No. 140)

Consistent start for the Hoyas, save the last-place finish at the Gridiron Classic.

Villanova (No. 147)

Three finishes outside the top 10 show that the Wildcats have plenty of room for improvement.

St. John's (No. 148)

The Red Storm heading into the offseason on a poor note, having finished 14th at Kiawah. But three previous top-4 finishes shows this group can contend with the rest of the heavyweights in the conference.

DePaul (No. 149)

Two fourth-place finishes in four starts, but it'll be interesting to see how Blue Demons fare at The Match Play.

UConn (No. 160)

Full slate of fall events (six), and the Huskies notched a victory at the Hartford Hawks, second at Shelter Harbor, third at the Connecticut Cup.

Seton Hall (No. 187)

In seven starts, the Pirates closed strong with a second at Barnabas Health and victory at the eight-team Lehigh Invite.

Marquette (No. 22)

Much to be improved with this team, as the Golden Eagles failed to crack the top 10 in their five starts.

Cincinnati (No. 254)

Highlight of the fall was an eighth at their own Bearcat Invite; won't play again until March.

Conference championship

Big East Championship, April 29-May 1, Reunion Resort (Watson), Orlando, Fla.

Lance Ringler's prediction

South Florida. It's a two-team race this spring, unless there is a 2010 Georgetown-like showing. South Florida and Notre Dame are the class of this league, and I expect the Bulls to get better this spring and sneak by Notre Dame, the defending conference champion, at Reunion Resort.
• • •
Complete coverage
Wondering how your favorite conference is shaping up headed into the spring season? Who is our favorite to pick up the automatic qualifier? Check out our conference-by-conference break down with our complete coverage page here.
• • •
Going social with Golfweek
Want to follow our college gurus on Twitter? Here are some quick links:
• You can follow blogger Asher Wildman here
• You can find Lance Ringler's college Twitter feed here
• Check out Ryan Lavner's witty commentary here
• For the latest on golf in social media, as well as college and junior news, check out D.J. Piehowski on Twitter here.
• And follow all of college golf on Facebook by clicking here
Golfweek.com readers: We value your input and welcome your comments, but please be respectful in this forum.
---
---
---
---
---
---
---
---
---
---
---
---
---
---
---
---
---
---
---
---
---