College Men
Men's preview: Big Ten Conference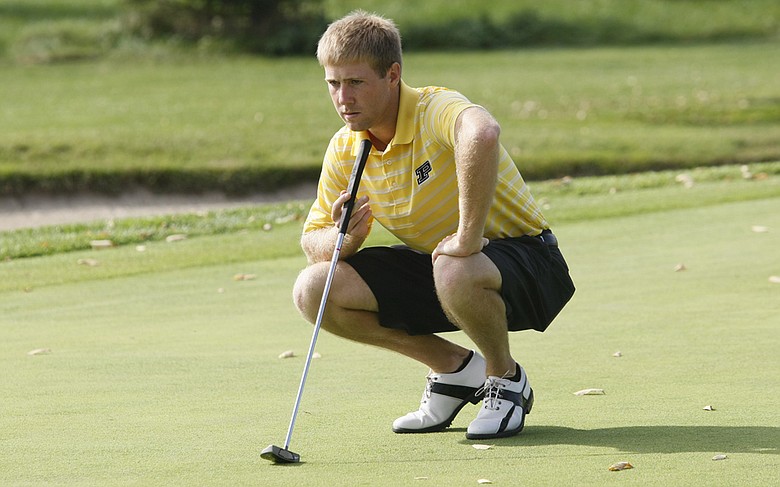 Wednesday, January 18, 2012
The message was delivered during a meeting late last April, before Purdue's Tyler Duncan went home for the summer after another maddening season.
"Just play golf," implored his coach, Devon Brouse.
No more tinkering with mechanics. No more trying to create the perfect swing. Duncan was a good player -- he played out of the No. 1 spot during his freshman season -- who endured a sophomore slump that, unfortunately, had lasted another year.
That simple reminder from Brouse -- just play golf -- apparently made a significant impact, as Duncan went out a few weeks later and won the Indiana Amateur. Now, after a spectacular fall season in which he finished in the top 8 in four of his five starts, he has ascended to a career-best 25th in the Golfweek/Sagarin rankings.
"It was a watershed moment," Brouse said. "Since that time, he's just been a different player."
For a senior, Duncan still doesn't have much experience contending in tournaments, and he's still learning how to win. That much was evident in September at the Northern Intercollegiate, where he was tied for the lead when he three-putted the final green to lose by one. Nonetheless, it's a marked departure from his play in the past two seasons, when his national ranking dipped into the 400s.
Said Brouse: "In retrospect, he was probably getting too much information and listening to too many people instead of playing golf and doing what comes naturally to an athlete."
Duncan's emergence comes at an ideal time for Purdue as it attempts to compete in a Big Ten Conference that, outside of favorite Illinois, is more wide-open than it has been in years.
• • •
Top of the class: Illinois
Best player this fall: Luke Guthrie, Illinois
• • •
Past champions
2007: Michigan State/Minnesota
2008: Michigan State
2009: Illinois
2010: Illinois
2011: Illinois
• • •
Conference capsules
Illinois (Golfweek/Sagarin Ranking: No. 25)

Disappointing eighth at Olympia Fields, but Illini rebounded with a win at D.A. Weibring and third at the Nicklaus. Luke Guthrie and Thomas Pieters form a nice 1-2 punch, combining for seven top-15 finishes in eight starts.

Indiana (No. 31)

Outside of a 12th-place finish at Olympia Fields, the Hoosiers have four top 4s, including a victory at Firestone. Senior Chase Wright has been a real standout, with four top 10s in five starts.

Iowa (No. 32)

Losing Vince India hurts, but more is expected of this senior-laden team; no better than fourth in five starts.

Purdue (No. 41)

Tyler Duncan has been a stud for the Boilermakers, with four top 10s in five starts. But he can't do it alone.

Ohio State (No. 71)

Tough to get a true read on this team. Win at Marshall and second at Jack Nicklaus, but the Buckeyes finished outside the top 10 in every other start, including a last-place finish at Isleworth.

Northwestern (No. 75)

Nice start to the year for Eric Chun, who has three top 10s. But he's not getting much help from his teammates - no one else has a top 10.

Michigan State (No. 78)

Closed the fall with a win at Georgetown's event; no player is ranked inside the top 250 individually.

Minnesota (No. 85)

Minnesota (No. 85): Haven't been able to break through yet, but Erik Van Rooyen has played well individually (four top 20s).

Michigan (No. 92)

Chris Witten's first year at the helm has brought modest results, but this young team will only get better with experience; Matt Thompson has cracked the top 100 individually.

Penn State (No. 146)

Three consecutive finishes outside the top 12 leaves a sour taste heading into the spring season.

Wisconsin (No. 168)

Outside of a third at Louisville's event, it's been a relatively quiet fall for the Badgers.

Nebraska (No. 188)

Won opening event (Fairway Club Invite), then followed up that title with four consecutive top-12 finishes. Work to do.

Conference championship

Big Ten Championship, April 27-29, French Lick (Pete Dye), French Lick, Ind.

Lance Ringler's prediction

Illinois. This year, the Big Ten Conference Championship will be played at a neutral site, the Pete Dye Golf Course at French Lick Resort in French Lick, Ind. The safe pick - if there is one in this conference - is the Fighting Illini. Illinois has reeled in three conference titles in a row, and while it would not be a huge surprise to see the likes of Indiana, Iowa, Purdue, Ohio State or even Northwestern win, it might come down to simply who has the best week, not necessarily the top seed.
• • •
Complete coverage
Wondering how your favorite conference is shaping up headed into the spring season? Who is our favorite to pick up the automatic qualifier? Check out our conference-by-conference break down with our complete coverage page here.
• • •
Going social with Golfweek
Want to follow our college gurus on Twitter? Here are some quick links:
• You can follow blogger Asher Wildman here
• You can find Lance Ringler's college Twitter feed here
• Check out Ryan Lavner's witty commentary here
• For the latest on golf in social media, as well as college and junior news, check out D.J. Piehowski on Twitter here.
• And follow all of college golf on Facebook by clicking here
Golfweek.com readers: We value your input and welcome your comments, but please be respectful in this forum.
---
---
---
---
---
---
---
---
---
---
---
---
---
---
---
---
---
---
---
---
---