College Men
Men's preview: Big West Conference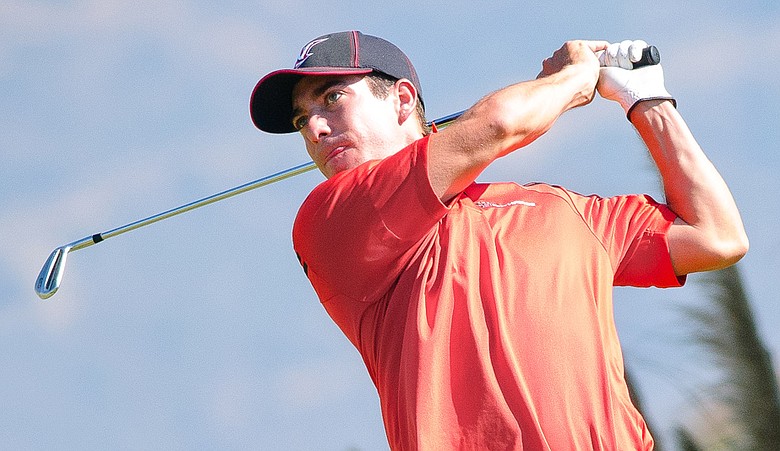 Thursday, January 19, 2012
Oregon had a great fall, one that started with four straight victories, including a dominating season-opening win at the St. Mary's Invitational.
But the player atop the individual scoreboard at the St. Mary's wasn't wearing green and gold. It was Chris Russo of Cal State Northridge, who picked up his first collegiate win in the process.
Russo, a junior from Thousand Oaks, Calif., held off Ducks Rak Cho and Daniel Miernicki for a two-shot win, finishing at 9-under 207 (68-69-70) at Bayonet GC in Seaside, Calif.
"It was pretty great to get that first win," said Russo, ranked No. 214 in the Golfweek/Sagarin Rankings. "I played well, hit it solid and putted well the entire tournament. The course was tough but I didn't find myself in trouble all that often."
Russo has been steadily on the rise at CSU-Northridge in his two and a half years there, posting four top 10s. He was the only Matador to play in all 33 rounds in his sophomore season and he's posted two consecutive top 10s at the Big West Conference Championship.
The rest of the Matadors, however, have some catching up to do.
Jim Bracken's squad is the lowest-ranked team in the Big West headed into the fall, coming in at No. 209.
Northridge finished last at St. Mary's, sixth at Cal Poly, last at the Wildcat Invitational and last at the Bill Cullum.
• • •
Top of the class: Long Beach State
Best player this fall: Russell Boring, UC Santa Barbara
• • •
Past champions
2007: UC Irvine
2008: UC Irvine
2009: UC Davis
2010: UC Irvine
2011: UC Davis
• • •
Conference capsules
Long Beach St. (Golfweek/Sagarin Ranking: No. 76)

A win at the Bill Cullum Invite was the highlight of the fall for Long Beach St., but head coach Ryan Ressa resigned in December. Former Arizona State assistant Mickey Yokoi will take over the helm and Xander Schauffele and J.J. Holen will lead the 49ers in the spring.

UC Davis (No. 101)

UC Davis didn't have a lot to show for the fall, finishing outside the top 10 in their first two events and eighth at the Pacific Invite. Matt Hansen had a top 10 at the Alister MacKenzie and finished T-19 at the Western Refining All-American, however.

UC Santa Barbara (No. 112)

Russell Boring (No. 120) had a great fall for UCSB, finishing in the top 10 in both of his starts (T-10 at the Wolf Pack Classic; fifth at Bill Cullum). The Gauchos finished 9th of 14 at the Wolf Pack and ended the fall with a fourth-place finish at the Bill Cullum Invite.

Cal State Fullerton (No. 113)

A fourth-place finish at the Kansas Invitational was the highlight of the fall for Cal St. Fullerton, with Scott Rubzin taking fifth individually. Other than that, it was middle-of-the-pack finishes at the Cougar Cup (10th) and CSU-Northridge (seventh).

Pacific (No. 134)

Alex Edfort led Pacific to one top-five finish this fall, a fifth-place finish at the Pacific Invite, where Edfort finished T-3. The Tigers finished 10th or worse in their other three events this fall, although Edfort had a T-13 finish at the Alister MacKenzie.

Cal Poly (No. 157)

The Mustangs started the fall with a fifth-place finish at the Cal Poly Invite, but had eighth- and ninth-place finishes to wrap things up. Cal Poly also had three different low scorers in their three events – a sign of depth. . . or inconsistency.

UC Riverside (No. 161)

Team results weren't spectacular – although UC Riverside did have a third-place showing at Cal Poly, where freshmen Jason Semthiti and David Gazzolo finished second and fourth, respectively.

UC Irvine (No. 162)

Michael Yang posted UC Irvine's best individual finish this fall with a T-15 showing at the Alister MacKenzie. It was the only time a UC Irvine player cracked the top 20 in the fall and as a result, team results weren't ideal.

Cal State Northridge (No. 202)

Chris Russo led CSU Northridge, winning the St. Mary's Invite and finishing T-9 at the Wildcat Invitational. However, the team scores were poor, as the Matadors finished 10th at St. Mary's, sixth at Cal Poly, 11th at Bill Cullum and last at the Wildcat Invitational.

Conference championship

April 30-May 2, La Quinta GC, La Quinta, Calif.

Lance Ringler's prediction

Long Beach State. Despite a midseason change at the head coach position, the 49ers will snap the streak of wins by UC Irvine and UC Davis. The 49ers golf program has been growing in a positive direction for much of the past three years and is now the top team in a league that may see only its conference winner in the postseason.
• • •
Complete coverage
Wondering how your favorite conference is shaping up headed into the spring season? Who is our favorite to pick up the automatic qualifier? Check out our conference-by-conference break down with our complete coverage page here.
• • •
Going social with Golfweek
Want to follow our college gurus on Twitter? Here are some quick links:
• You can follow blogger Asher Wildman here
• You can find Lance Ringler's college Twitter feed here
• Check out Ryan Lavner's witty commentary here
• For the latest on golf in social media, as well as college and junior news, check out D.J. Piehowski on Twitter here.
• And follow all of college golf on Facebook by clicking here
Golfweek.com readers: We value your input and welcome your comments, but please be respectful in this forum.
---
---
---
---
---
---
---
---
---
---
---
---
---
---
---
---
---
---
---
---
---