5 Things: No suds for the old Claret Jug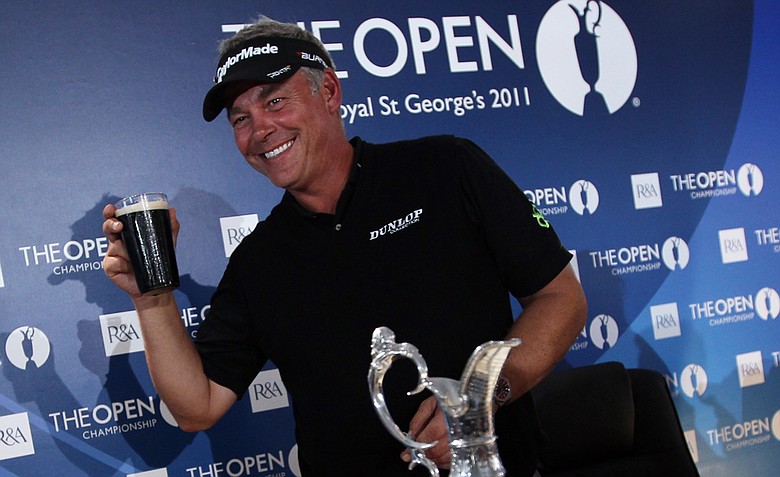 Monday, July 16, 2012
LYTHAM ST. ANNES, England -- It's only Monday, but there's a buzz about Royal Lytham in anticipation of the 141st Open Championship. Here are 5 Things to know from the first official practice day for the third major of the year.
• • •
1. DON'T DISRESPECT THE OLD CLARET JUG! Darren Clarke didn't dare. The Northern Irishman is known as someone who likes a tipple or three, so Clarke was expected to fill the old Claret Jug with his favorite beverage and celebrate in style. No way was Clarke going to disrespect the jug in that way.
"I didn't at any stage put any fluid in it," Clarke said after handing the trophy back to the R&A when he arrived Monday morning. "It is just too special a trophy. I have so much respect for the Open Championship, and I couldn't get myself to do it.
"I was tempted on the Sunday evening (the night he won) and the Monday evening and Tuesday evening and Wednesday evening, and for about two weeks afterwards. But I never put anything into it."
As Open winner Clarke is entitled to a replica copy of the old Claret Jug, a smaller version than the real thing. Clarke filled that up with his favorite beverage and celebrated, but not the actual trophy. He's too much of a purist to sully its honor.
• • •
2. A MAN WITH ISSUES: That's Bubba Watson, a man for whom half the battle is controlling his emotions. He did a good enough job to keep the issues at bay to win the Masters in April. "No matter if I've won the Masters or not, I have a lot going on in my mind," Watson said. "I've got issues. It's only Monday right now so I'm real calm.
"There are a lot of things running through my head. This is a week that my wife is not here, my new son is not here, so the first time out of the country away from them. My head is always racing about something. I've got to calm my mind down and focus on golf and try to get better. When I focus right, I play pretty good, and when I don't focus right, I miss the cut pretty quick."
Only time will tell which Bubba has turned up this week.
• • •
3. SO NERVOUS, YET HE COULD STILL PLAY: Tony Jacklin won the 1969 Open Championship at Royal Lytham, becoming the first Brit to win the old Claret Jug since Max Faulkner in 1951. Jacklin, a four-time Ryder Cup captain, still doesn't know how he won. "I remember saying to Jack Nicklaus at the presentation that I didn't think I could be so nervous and play. And he said: 'I know, isn't it great?' I'd never been that nervous before."
• • •
4. STAY OFF THE BEACH: Royal Lytham has 206 bunkers, the most of any Open venue. One of the keys to victory is staying out of as many bunkers as possible. "It's just a nightmare. They are very penal," Clarke said. "There's going to be occasions here this week where I think you're going to see guys taking penalty drops out of them because they won't be able to move their ball anywhere. Accuracy is going to be the key this week. It's not really length off the tee, it's keeping it on the fairways and keeping out of those bunkers."
• • •
5. "UNPLAYABLE." That was the headline in one British newspaper after Tiger Woods spoke to reporters following his Sunday practice round. What Woods actually said was that if players hit it off line into some areas of deep rough, then they were going to find spots that were unplayable. The rough is deep and lush because of the unusually wet spring England has experienced. Long-time Royal Lytham club professional Eddie Birchenough had the best line. "If you get in some parts of the rough then players won't even be able to find their feet."
Golfweek.com readers: We value your input and welcome your comments, but please be respectful in this forum.
---
---
---
---
---
---
---
---
---
---
---
---
---
---
---
---
---
---
---
---
---