Notes: Tour players prep for annual Pro-Member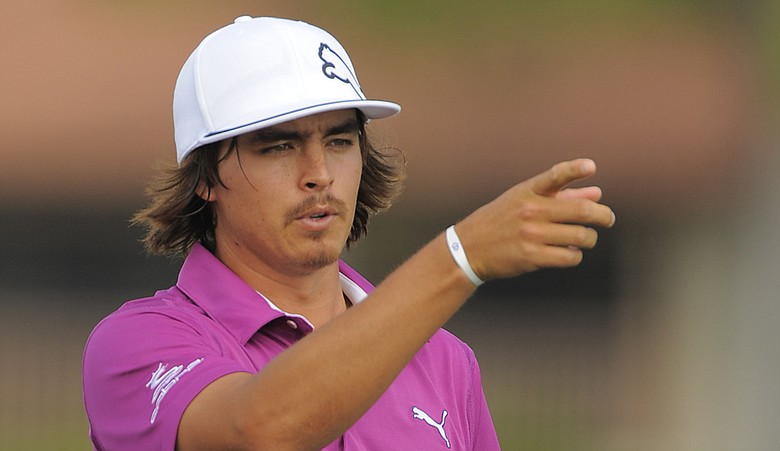 Saturday, March 3, 2012
PALM BEACH GARDENS, Fla. – As Sunday rounds go, tomorrow at PGA National should be a demanding one for participants in the Honda Classic.
Then again, it will also serve as a wonderful warm-up to a golf event that is truly one of a kind – the annual Pro-Member at famed Seminole Golf Club, which is located about 25 minutes from PGA National.
Played every year the Monday after the Honda Classic, just a few days before many of the invited professionals head down to Doral, the event pretty much attracts a field of PGA Tour members that would be the envy of tournament directors everywhere. Rickie Fowler took part last year, paired with his former Walker Cup captain Buddy Marucci, and if you're thinking he was thrilled to make seven birdies and an eagle to win, you're right.
---
Photo Gallery
Photos: Saturday at the Honda Classic
Images from the third round of the Honda Classic, played Saturday at PGA National in Palm Beach Gardens, Fla.
---
Only that wasn't the biggest thrill of the day because "I got to play (in the same foursome) with Arnold Palmer," said Fowler, who'll again be paired with Marucci.
"There aren't many like Arnold, so to be able to go out and play like that was a thrill. I really think it was because of my presence I played well. It was an unbelievable honor."
Jeff Overton will again play with his mentor from Indiana, Spider Miller, and try to regain a championship they took a few years ago.
Graeme McDowell will play for a second straight year, but his good mate from Northern Ireland, Rory McIlroy, will not be in attendance. Instead, McIlroy will use the day to catch up with his girlfriend, Caroline Wozniacki.
• • •
24 HOURS LATER, STILL PRETTY GOOD: The bad news: He was eight strokes worse than the day before.
The good news: Hey, 69 isn't bad, folks.
Brian Harman managed a smile, because he agrees. It's just that when you post a 61 – smashing the competitive course record by three – it's almost a certainty that no matter what you do the next day it will feel like you've shot 100.
"I was standing on the 11th tee and thought to myself, 'Yesterday I was 6 under here, now I'm 1 over.' So I'm proud that I hung in," said Harman, who birdied the par-4 13th to get level par for the day, then had a swing of emotions on the 18th end positively.
His second shot that went dead down wind at the 556-yard, par-5 18th ran through the green and seemingly was headed for a back bunker. From there, it would have been an easy recovery, but hard to believe, it got hung up in one clump of grass at the edge of the bunker, leaving Harman a delicate pitch. It came out and kicked dead right, but Harman converted the 12-footer for birdie and at 7-under 203 he's T-4, five back.
• • •
CHANCE MEETING: If there was someone happier than Harman by the birdie at 18, it would be his caddie, John Davenport.
He was first on the scene to see the precarious position in which the ball had come to rest, and Davenport scowled.
"Couldn't believe it stopped there," Davenport said.
The fact that he is carrying a bag for Harman in a PGA Tour arena so large and so loud and so bright is a thrill for Davenport, given the way the two met.
It was the Swiftwick Shootout at Palmetto Hall in South Carolina a year ago February when Harman, walking through the parking lot, saw Davenport in search of a caddie job.
"Hired me right out of the parking lot," Davenport said, "and in our first tournament we lost in a playoff. The rest is history."
A year later, with Harman and Davenport having already played in tournaments in Hawaii, Palm Springs, San Diego, Pebble Beach and Mexico. Now they are on the verge of a rather profitable Sunday.
• • •
INVISIBLE MAN: When you play beside Rory McIlroy on a day when enmormous crowds are chasing after the 22-year-old heart throb, you don't get noticed much.
But it's not like Dicky Pride disappeared. Having started the day in a share of third, one off the lead, Pride shot 1-over 71 and sits joint seventh, five back.
Yes, he sort of took notice that the kid beside him can play fairly well.
"Sexy beast," Pride said, laughing. "He hits it long, he hits it straight. He takes things in stride and keeps going."
But the veteran journeyman from Alabama is hardly unhappy with the way he played on such a big stage.
"I mean, this place is hard. It was blowing 20 out there," Pride said. "I was kind of hoping and expecting more of myself, but it's a hard golf course, very difficult."
Crazy game that it is, followed a sloppy bogey at the par-4 11th (he missed a 3 footer for par) with a drive sprayed into a fairway bunker at the 12th. Things appeared to be slipping away when he hit a brilliant bunker shot from 174 yards to 9 feet and made the putt for his only birdie of the round.
"The only putt I made all day," he lamented.
• • •
SHORT SHOTS: Of the top 10 scores on the leaderboard to start the day, the worst effort belonged to Vaughn Taylor. With only four players ahead of him to start the day, Taylor made just one birdie, at the 18th, and shot 74 to fall into a tie for 18th . . . . . Graeme McDowell shot 69 and sits T-10, hopeful that he can duplicate last year's effort when he closed with 64 to finish T-6 at the Honda . . . . . Though it played straight down wind, the par-5 18th yielded just one eagle, by Bob Estes . . . . . John Mallinger holed out from 165 yards to eagle the par-4 second en route to a round of 69 . . . . . Huge crowds have turned out and while Tiger Woods has been finished early two days in a row, late tee times for McIlroy have kept everyone around. Sure, the vocal patrons have had plenty of fun, but McIlroy said he loves the theater. Funniest thing he heard? Walking through the vaunted Bear Trap (holes 15, 16, 17), McIlroy was asked by a guy, "what kind of shampoo do you use?"
Golfweek.com readers: We value your input and welcome your comments, but please be respectful in this forum.
---
---
---
---
---
---
---
---
---
---
---
---
---
---
---
---
---
---
---
---
---