Prairie Dunes, Tulsa CC to host 2014 NCAAs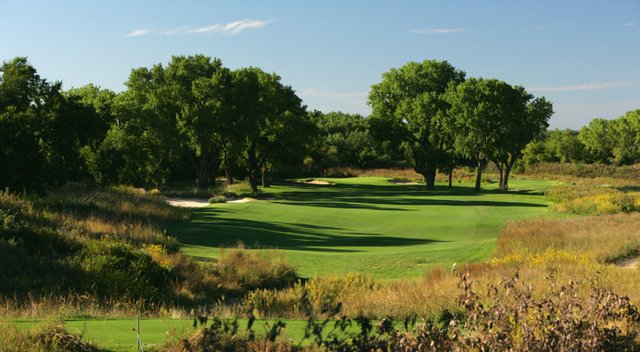 The NCAA Championship sites for 2014 and 2015 have been announced. Prairie Dunes Golf Club in Hutchinson, Kan., will host the 2014 NCAA Men's Division I Golf Championship, and Tulsa (Okla.) Country Club will host the 2014 women's championship.
Division I regional sites were announced for 2015, but the championship site was not named.
A look at the sites announced Thursday:
• • •
2014: MEN'S DIVISION I REGIONALS (host institution in parentheses)
• Auburn University Club, Auburn, Ala. (Auburn)
• The Club at Old Hawthorne, Columbia, Mo. (Missouri)
• Lonnie Poole Golf Course, Raleigh, N.C. (North Carolina State)
• Rich Harvest Farms, Sugar Grove, Ill. (Northern Illinois)
• Eugene Country Club, Eugene, Ore. (Oregon)
• Briggs Ranch Golf Club, San Antonio (Texas-San Antonio)
CHAMPIONSHIP
• Prairie Dunes Golf Club, Hutchinson, Kan. (Wichita State)
• • •
2015: MEN's DIVISION I REGIONALS
• The Sagamore Club, Noblesville, Ind. (Ball State)
• UNC Finley Golf Course, Chapel Hill, N.C. (North Carolina)
• The Farms Golf Club, San Diego (San Diego)
• The Rawls Course, Lubbock, Texas (Texas Tech)
• Gold Mountain Golf Club, Bremerton, Wash. (Washington)
• The Course at Yale, New Haven, Conn. (Yale)
• • •
2014: WOMEN'S DIVISION I REGIONALS
• SouthWood Golf Club, Tallahassee, Fla. (Florida State)
• Karsten Creek, Stillwater, Okla. (Oklahoma State)
• Tumble Creek at Suncadia Resort, Ce Elum, Wash. (Washington)
CHAMPIONSHIP
• Tulsa (Okla.) Country Club (Tulsa, Tulsa Sports Commission)
• • •
2015: WOMEN'S DIVISION I REGIONALS
• Lonnie Poole Golf Course, Raleigh, N.C. (North Carolina State)
• Briggs Ranch Golf Club, San Antonio (Texas-San Antonio)
Note: No West site named
• • •
OTHER SITES
• 2014 NCAA Division II Men's Championship: The Meadows, Allendale, Mich. (Grand Valley State)
• 2014 NCAA Division II Women's Championship: Rock Barn Golf and Spa, Conover, N.C. (Lenoir-Rhyne)
• 2015 NCAA Division II Men's Championship: Rock Barn Golf and Spa, Conover, N.C. (Lenoir-Rhyne)
• 2015 NCAA Division II Women's Championship: The Meadows, Allendale, Mich. (Grand Valley State)
• 2014 and 2015 NCAA Division III Men's Championship: Grandover Resort, Greensboro, N.C. (Guilford and Greensboro Sports Commission)
• 2014 and 2015 NCAA Division III Women's Championship: Mission Inn Resort, Howey in the Hills, Fla. (Oglethorpe, Central Florida Sports Commission)
Latest Related Headlines