Klein: Those pesky Ryder Cup ads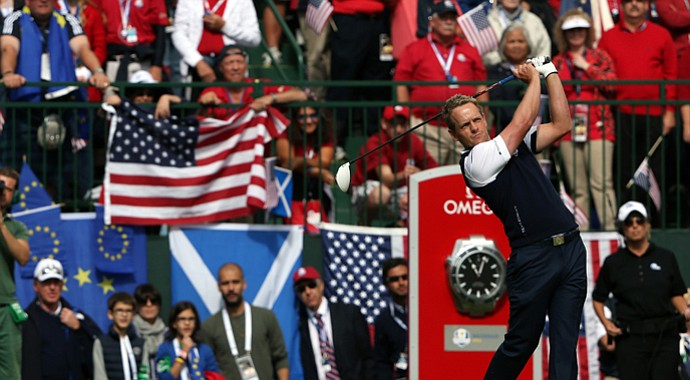 Friday, October 5, 2012
The best-televised sporting event of the year – if not the young century – was almost spoiled by the stop-start nature of the action.
Even as all 12 Ryder Cup matches were out on the course at once – by 2 p.m. EDT Sunday – and the action was flying fast and furious, NBC-TV opted to pay the bills and cut six or seven times an hour for commercial breaks. At least the last three-quarters of an hour went without an ad or a break.
The great irony came early in the telecast, after we learned that Rory McIlroy nearly missed his tee time. NBC cut to the first of four ads for "Get Golf Ready" and there was McIlroy reminding us to prepare to play the game. Nice touch.
If you're wondering what we were subjected to, in between the 362 golf shots, here's an informal tabulation of the sponsors messages. Local ads are excluded; this is from network-wide promotions. It's hard not to notice the bias towards the financial sector, as well as digital communications and luxury hard goods. And of course, there's the dominance of NBC-TV's own in-house promos.
• • •
(Company: Number of times played)
NBC Network Programming: 31
Omega Watches: 16
Get Golf Ready/Tee It Forward/Play Golf America: 13
Cadillac: 10
Mercedes: 10
National Car Rental: 10
Samsung Galaxy: 9
Royal Bank of Canada: 8
Michelob Ultra beer: 7
PGA.com: 6
Scottrade: 4
TD Ameritrade: 4
U.S. Bank: 4
ADT: 3
American National Gas Association: 3
Citi: 3
Geico: 3
Golf Channel: 3
Motorola Droid: 3
CarMax: 2
K&G Clothes: 2
Kia: 2
PGA of America: 2
Subway: 2
Verizon: 2
Xfinity: 2
AmericanExpress: 1
Buck: 1
MetLife: 1
Nissan: 1
Transamerica: 1
Transition lenses: 1
5-Hour Energy: 1
Golfweek.com readers: We value your input and welcome your comments, but please be respectful in this forum.
---
---
---
---
---
---
---
---
---
---
---
---
---
---
---
---
---
---
---
---
---