Woods finishes at 3 under after flagstick incident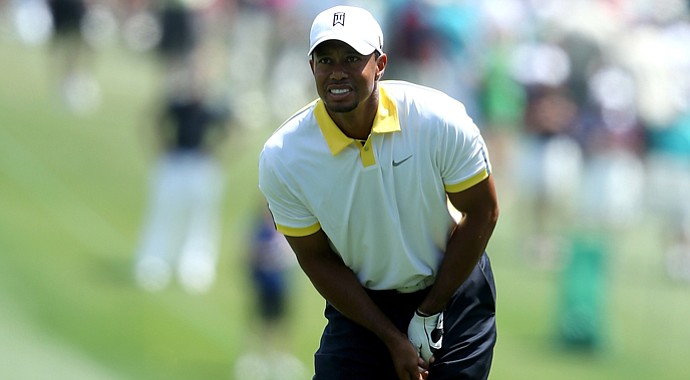 Saturday, April 13, 2013
---
Photo Gallery
PHOTOS: The Masters (Friday)
View images of the second round of the 2013 Masters from Augusta National.
---
Editor's note: A penalty assessed Saturday morning changed Tiger Woods' score to 1 under through 36 holes.
• • •
AUGUSTA, Ga. – Tiger Woods was tied for the lead when the course that's been the site of so much success turned on him. Woods' wedge approach to the par-5 15th hit the flagstick and rolled into the water in front of the green, turning birdie into bogey.
Woods also three-putted for bogey on the final hole to finish at 3-under 141, three shots behind 36-hole leader Jason Day, who shot 68 Friday. Woods played his fifth shot at the 15th near where he had hit his third shot. He got up-and-down this time to save 6.
"The sun was in my eyes, so I knew I started the ball on the flag. I didn't know if I cut it enough, but evidently it was a really good one," Woods said of his third shot to the 15th. The shot was well-executed; the result couldn't have been much worse.
Woods hit just 10 of 18 greens Friday, but walked off the course pleased with his ballstriking. "Even my misses were on top of flags," he said. Distance control was difficult because of Friday's inconsistent breezes. "I really swung the club well and didn't really get a lot out of this round," he said. "Granted, these conditions were tough. It was swirling all over the place."
Woods is tied for seventh place; he's been in fourth place or better at the halfway point in each of his four Masters victories. Woods has overcome a 36-hole deficit greater than three shots in two of his four victories, though. He was six back after 36 holes in 2005, and four shots behind in 2002. He overcame a two-shot deficit in 2001, and was the 36-hole leader in his dominant 1997 win.
Woods is chasing Day, the young Australian who once made headlines for saying he'd one day challenge Woods for the world's No. 1 ranking. Woods currently holds that position after winning his previous two starts before the Masters, and three titles in 2013.
Day, the runner-up in the 2011 Masters, is trying to become the first Australian to win the Masters. Day, 25, is full of potential, but it's been nearly three years since his lone PGA Tour victory, at the 2010 Byron Nelson Championship. He knows how quickly Woods can make a lead evaporate. "He can make that up in nine holes," Day said. "I don't need to worry about him. The moment I start worrying about other players is the moment I start losing focus on what I need to do."
Woods made the turn in 33 Friday after making three birdies and no bogeys. He had seven pars and his bogeys at Nos. 15 and 18 on the second nine.
He holed long birdie putts at Nos. 5 and 7, and reached the green in two at the par-5 eighth hole before two-putting for birdie.
Woods had several strong par saves over the second nine. The wind shifted while his tee shot on the par-3 12th hole was in the air, causing the ball to fly over the bunker behind the green before bouncing back into the sand. He got up-and-down, the first of two touchy sand saves. Woods' second shot at the par-4 14th flew over the green from the right rough. He holed a 6-foot par putt there. He hit into another bunker at the par-3 16th, blasting the ball well past the flagstick to allow it to trickle back toward the hole. At No. 17, Woods swung wildly on his approach shot to hoist his ball over a tree. He hit the green and two-putted.
Those shots will be overshadowed by one unfortunate break. Woods is still in contention for his fifth green jacket, though.
"There's a long way to go," he said. "We've got 36 holes, and this is a tricky test."
Golfweek.com readers: We value your input and welcome your comments, but please be respectful in this forum.
---
---
---
---
---
---
---
---
---
---
---
---
---
---
---
---
---
---
---
---
---