Bubba takes a stand in Moving Day Awards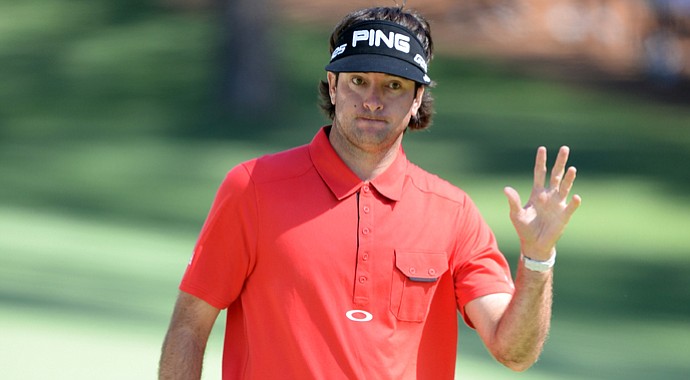 Saturday, April 13, 2013
---
Photo Gallery
PHOTOS: The Masters (Saturday)
Check out photos from the third round of the Masters Saturday at Augusta National.
---
AUGUSTA, Ga. -- Moving Day. How old-fashioned. At any major championship, Saturday should be called Crying Day. When it's over, most of the field has no chance to win.
Cry me a river. Cry me a Rae's Creek.
The Cry Bubba Award: Bubba Watson, expressing his disgust for television viewers who make phone calls about possible rules violations, had a scowl on his face as he said sharply, "I'm going to start calling in (as a protest against callers). You can put bad press on somebody. All it takes is one person to say something and bad press gets on you, even though you did nothing wrong."
The "I'm Not Going to Let Go of It" Award: Another distinction here for Watson, who recalled an incident from the 2007 U.S. Open. "I got a call (from the USGA) early in the morning. They said, 'Bubba, you said you double hit it on camera.' And I said, 'No, I did not double hit it. I didn't say that. I said I could have double hit it.' We watched it (the tape), and then I went back to sleep, because the ruling was I was right. Whoever called in was wrong."
The Sandy Andy Award: Sandy Lyle, when asked "Are the Rules of Golf too complicated?" said quickly, "Very complicated. It's like a lawyer's book. It's about an inch and a half thick, and we can't possibly know every rule and situation. But when in doubt out here in a major (championship), you ask. Tiger must have had a little bit of fog at the time."
The "I Like Tiger" Award: Steve Stricker, weighing in on the Tiger Woods incident, said, "I think in this circumstance they got it right. You know, the everything was laid out from what I understand. I think they got it right."
The Sitting on the Fence Award: "Our sport is a little different," Luke Donald said. "People have that ability to call in. I'm not sure whether I'm for it or against it, but I guess that's why they brought that other rule out of situations where people do call in."
The Best Description of Bad Putting Award: Paul Lawrie wins this one for saying, "It's like getting kicked in the bullocks. It's like a football (soccer) team that has 15 shots on target and don't score a goal."
The Best Advice for Bad Putters Award: Tim Clark, known as a streaky putter, invented a remedy for a horrible putting round. The worst thing a golfer can do, according to Clark, is "go and practice and grind over it." He added it is necessary "to kind of let it go. Don't practice."
The Disgusted with Putting Award: Lucas Glover said, "I work with Dave Stockton Jr. and some with Senior, and I'm the best practice green putter you've ever seen. I just can't translate it to the golf course. The upside is I'm hitting it good. The downside is I keep putting bad, and it makes it suck even more."
The "Let's Call Butch" Award: Phil Mickelson, coming off a third-round 77, said, "I just played terrible. I don't know what's going on."
The Playing Partner Watched it All Award: Nick Watney, who played with Mickelson, said candidly, "He's definitely not the Phil that we're all used to seeing. It was a bit of a lesson for me just because you know he's out of sorts, but he was still swinging pretty confidently."
The "I Played Faster" Award: Tianlang Guan, penalized one stroke Friday for slow play, played like he riding a rocket booster. "The weather is good today, and we played in twosomes, so we played fast," Guan said. Added fellow competitor Thorbjorn Olesen, "I didn't think he played slow. I think he played pretty quick actually. He's 14, and there's a big crowd following him, so it's pretty difficult for him. I think he handled it really, really good."
The No Meds Award: Rickie Fowler admitted, "Bay Hill (in March) was the first week I've played since last June off medication (pain pills for a back problem). So, yeah, I'm excited with where my game's at and moving forward health-wise."
---
---
---
---
---
---
---
---
---
---
---
---
---
---
---
---
---
---
---
---
---