College Men
Men's spring preview: Atlantic 10 Conference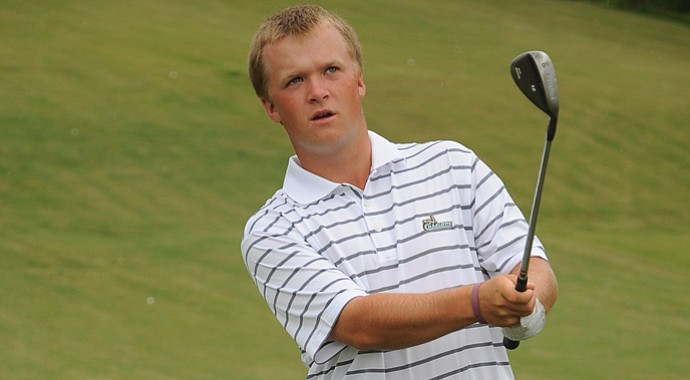 Friday, January 4, 2013
Editor's note: Over the next month, Golfweek.com will be previewing every conference that has an automatic bid into the NCAA Regionals. For all of the men's conference capsules, click here.
• • •
It's called the Atlantic 10 Conference. It is comprised of 16 schools. Of those, 13 have golf programs that compete nationally. Could get a bit confusing.
One thing that isn't so confusing, however, is that when the time comes for the Atlantic 10 Conference Championship in April, Charlotte will be the team to beat - again.
The 49ers won six consecutive conference titles, from 2006 to '11. The string was snapped last season when Charlotte and Xavier tied for second, two shots behind surprise winner George Washington. Still, it would be good to remember that the championship was shortened to 36 holes due to weather. A full 54 holes and who knows?
Two newcomers enter the Atlantic 10 fray this season in Virginia Commonwealth and Butler, with VCU having the potential to make some noise.
Still, it's Charlotte's ballgame. Under the direction of second-year coach Ryan Cabbage, the 49ers appear primed to regain that conference trophy.
The Atlantic 10 is not the most potent conference around, top to bottom. Charlotte, at No. 67 in the final fall Golfweek/Sagarin College Rankings, is the only team within the top 70. Just three others are among the top 155: Richmond (128), VCU (130) and Xavier (155). The other nine rank from Nos. 205 to 281.
The 49ers enter the spring season following a solid fall campaign during which they posted four top-10s in five starts, including a pair of third places: at the Tar Heel and Rod Myers.
Though there are no so-called superstars, the lineup appears to be steady and consistent.
Freshman Dan Hendry led the team in the fall with two top-25 showings in three starts, including a T-4 at the Tar Heel. He enters the spring with a team-best Golfweek/Sagarin ranking of No. 233.
Junior Joe Toland had three top-25s in five starts, highlighted by a T-12 at the Tar Heel and T-7 at the Pacific, while junior Franco Castro also had a trio of top-15s, including a T-10 at the Rod Myers and T-3 at Pacific.
Freshman Daniel Brantley notched three top-25s in four starts, while sophomore Raoul Menard had a T-10 at Pacific to top his five starts. Senior Braeden Cryderman tied for third at the Rod Myers in his lone start, and freshman Thomas Rowland cracked the lineup twice and contributed.
A young team, for sure, but look for the 49ers to not only be the leading contender for the conference title, but also to make their way into the NCAA post-season for the ninth year in a row.
But you can bet that the talented likes of Richmond, VCU and Xavier will have a say come conference tournament time.
• • •
Where it stands now
Top of the class: Charlotte
Best player this fall: Daniel Walker, Richmond
• • •
Past Champions
2007: Charlotte
2008: Charlotte
2009: Charlotte
2010: Charlotte
2011: Charlotte
2012: George Washington
• • •
Conference Capsules
Charlotte (No. 67)

The 49ers have pretty much dominated the Atlantic-10 over the past half-dozen years and have made it to the NCAA postseason the last eight years. After a slow fall start where they finished 12th in the Gopher Invitational, the 49ers have played solid. They placed third at the Tar Heel and Rod Myers, fourth at the Rees Jones, and closed the fall with a seventh at Pacific.

Richmond (No. 128)

In four fall starts the Spiders were 26-18-1 overall and placed in the top 10 in three events -- 6th at VCU, 2nd at Waterville, and T-2 at the ODU/OBX. Senior Daniel Walker leads the team with a No. 113 ranking and overall record of 169-12-2. He finished eighth at VCU, fourth at Waterville, and third at ODU, where his final round 7-under 65 tied a school record for 18 holes.

VCU (No. 130)

This new kid on the conference block could make a run at the league title. While the overall fall record was 26-40-1, VCU did place sixth at the ODU/OBX Collegiate and eighth at its own tournament. Three players are ranked below four digits -- Steffen Harm (420), Rocky Khara (710) and Jake McNulty (719).

Xavier (No. 155)

Musketeers are just 28-49-1 overall, but that could be a bit misleading. In six starts they have placed fourth at Georgetown and seventh at Marshall and the Irish Gridiron. However, they finished the fall on a down note, placing 15th at the Warrior Wave. Last season they were T-2 at the conference championship. Korey Ward ended the fall ranked No. 222, while Jesse Heinly was No. 883.

Temple (No. 205)

The Owls had a solid fall with a winning record of 49-27-1, but only faced two top-100 teams and were 0-2 against them. Brandon Matthews leads the way with his No. 438 ranking.

Dayton (No. 207)

Matt Bute (No. 612) and Sean Keatling (No. 863) lead the Flyers, who finished the fall with a 28-41-1 record.

Rhode Island (No. 215)

The Rams continue to rebuild and just squeezed in over the .500 mark for the fall at 29-28-0. Brandon Chicorka, with his No. 516 ranking, leads the team.

St. Bonaventure (No. 241)

The Bonnies are one of the few conference teams with a winning record in the fall, finishing at 36-21-0. Josh Stauffer is the lone squad member ranked under four digits at No. 788.

Fordham (No. 249)

Jason Del Russo (No. 1,049) leads the Rams, who finished the fall with a 33-40-2 record.

George Washington (No. 257)

Defending conference tournament champions are really going to have to kick it up a few notches if they hope to repeat. The Colonials are just 17-62-0 thus far and Jack Persons is the only player ranked below the 1,000 mark at No. 940.

Butler (No. 271)

One of the new kids on the Atlantic-10 block, but not making a lot of noise on the links with a 8-51-1 record. Andrew Wegeng leads the team with a No. 1,235 ranking.

La Salle (No. 279)

Explorers are just 14-31-0 for the fall. Michael Johnson has a team best individual ranking of No. 1,165.

Saint Joseph's (No. 281)

Hawks are close to .500 won-loss record at 28-35-4, but a long way to go. T.J. McNulty leads the team with his ranking of No. 1,577.

Conference championship

Atlantic-10 Conference, April 26-28, 2013, Heron Bay Golf Club, Coral Springs, Fla.

Lance Ringler's prediction

Charlotte. Last year George Washington snapped Charlotte's streak of six consecutive conference titles. Provided they play all 54 holes this year, the 49ers should start a new streak with a win this spring.
Golfweek.com readers: We value your input and welcome your comments, but please be respectful in this forum.
---
---
---
---
---
---
---
---
---
---
---
---
---
---
---
---
---
---
---
---
---