College Men
Men's spring preview: Horizon League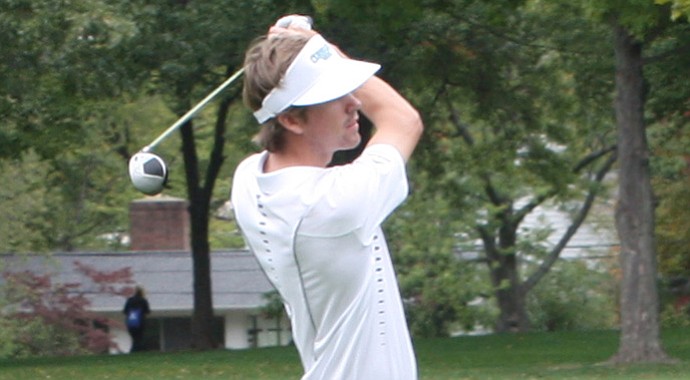 Friday, January 18, 2013
For a dedicated team like Cleveland State, failing to win a tournament after entering as the favorite can carry a hefty after-effect. Especially when it's the conference championship, and it's followed by a long summer break over which to reflect.
The morning after the Vikings returned home empty-handed from the Horizon League Championship last spring, they were already back on the practice range. That trend continued over the summer, and head coach Steve Weir even noticed a few players had improved their fitness by they returned to campus in the spring. That attests to this squad's work ethic and tough mental game, but there's more.
Weir and his team made a goal to win every tournament on the schedule this year. That's up from just wanting to win the conference championship, the goal Weir set six years ago, in his first season at Cleveland State. It happened in the spring of 2008, and again in '09 and '11.
This season, Weir didn't feel like that was enough.
"There wasn't a sense of urgency each week," Weir explained. Even the upperclassmen noticed it.
So Cleveland State entered the fall hoping to win in each outing. That became impossible after a seventh-place finish at the Turning Stone Tiger Intercollegiate and a ninth at the Marshall Fall Invitational. Still, the Vikings rallied to win the next week at the John Piper Intercollegiate. The victory broke a winless streak that stretched back to the 2011 Horizon League Championship. The Vikings had to play through rain and high winds in the final round, but it didn't phase them and actually might have helped.
"This is a team that doesn't care what kind of weather they're playing in," Weir said. The only player on the roster that doesn't hail from Ohio calls Pennsylvania home.
Weir explains that last year's third-place finish at the league championship was a result of the top two players showing up without their "A" games. The bottom of the roster was a pleasant surprise. This year, they all get another shot. Cleveland State's roster was consistent in the fall, especially in the top four spots. Not one player carried the team, but everyone contributes, and everyone has experience.
"It was nice to not have to break in too many players," Weir said.
It also means there's a sense of unfinished business.
• • •
Where it stands now
Top of the class: Cleveland State
Best player this fall: Andrew Bailey, Cleveland State
• • •
Past champions
2007: Detroit
2008: Cleveland State
2009: Cleveland State
2010: Detroit
2011: Cleveland State
2012: Loyola-Chicago
• • •
Conference capsules
Cleveland State (Golfweek/Sagarin Ranking: No. 156)

Last season's conference championship was tough on the Vikings, who were favored, but ended up finishing third, six shots behind winner Loyola-Chicago. You can bet they'll be ready this time around as they try to land coach Steve Weir his fourth league title in his six years at the helm. Junior Andrew Bailey leads the team and is No. 459 in the Golfweek/Sagarin Rankings.

Valparaiso (No. 169)

Coach David Gring's Crusaders are expected to be Cleveland State's chief challenger after a solid fall campaign. They finished second at the Battle at the Tetons, won the Purdue Midwest event, placed seventh at John Pipe, third at the Jim Colbert, fifth at the John Dallio, third at CSU and third at Dayton.

Detroit (No. 212)

The Titans were so-so in the fall with a pair of sixth places at the D.A. Weibring and CSU tournaments, a T-7 at the Bearcat and a solid T-3 at Dayton. Junior Brendan Leonard notched two top-20 finishes, including a T-9 at the Bearcat, freshman Wil Witmann had a pair of top-10s with a sixth at the Bearcat, and senior Simon Reyers posted a top 25.

Wright State (No. 221)

Senior Cody Fixari had a strong fall with three top-20s, highlighted by a T-2 at CSU and a T-3 at Dayton. Sophomore Cody Nickson and freshmen Tyler McHugh also had some solid showings. The Raiders' best effort was a T-3 at the Piper to go along with a T-7 at Marshall, eight at CSU, 10th at the Bearcat and eight at Dayton.

Youngstown State (No. 232)

The Phoenix got off to a good start with a win at Colgate, then moved up and down. They followed with a ninth at the Piper, a solid fourth at CSU before closing with an 11th at the Bearcat and ninth at Dayton. The young squad was led by freshman Bill Gaffney, who won at Colgate and was sixth at CSU.

Loyola-Chicago (No. 240)

The Ramblers earned a spot in the NCAA postseason with their surprise conference title last season, but certainly have their work cut out if they hope to repeat. In their seven fall starts, they didn't have a top-5 finish with their bests being sixth places at the Purdue Midwest and John Dallio. Junior Nick Willenborg scored a pair of top 20s.

Wisconsin-Green Bay (No. 246)

Led by Chad Ebert, Green Bay finished second at last season's conference championship, two shots behind Loyola. Ebert is back for his senior season and has had some solid showings in the fall from teammates junior Dan Ozga and sophomore Tom Boockmeier.

Conference championship

April 26-28, Mission Inn Resort, Howey-in-the-Hills, Fla.

Lance Ringler's prediction

Cleveland State. Cleveland State returns its top six players from last year's team that thought it was going to win the Horizon League (they placed third). The Vikings have won three of the last five league titles and with an experienced lineup, will be in the hunt again this spring and should snag the league's AQ and automatic berth into the postseason.
Golfweek.com readers: We value your input and welcome your comments, but please be respectful in this forum.
---
---
---
---
---
---
---
---
---
---
---
---
---
---
---
---
---
---
---
---
---