Woods misses first Euro Tour cut after penalty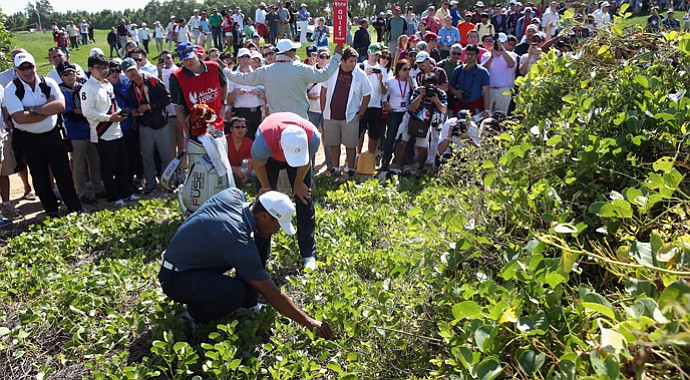 Sunday, January 20, 2013
---
Photo Gallery
Tiger Woods & Rory McIlroy: Abu Dhabi, Round 2
Check out images of Tiger Woods and Rory McIlroy from Round 2 at Abu Dhabi, including photos of the hole where Woods received a two-stroke penalty.
---
ABU DHABI, United Arab Emirates – Tiger Woods doesn't miss many cuts in his life, especially as dramatic as the way he missed the cut in the Abu Dhabi HSBC Golf Championship on Friday.
Woods flew home from the Middle East after missing the weekend for incurring a two-stroke penalty for an infraction on the fifth hole, a mistake he didn't even know he had committed.
The former World No. 1 carved his drive right of the fifth fairway at Abu Dhabi Golf Club and found some creeping vegetation in a sandy waste area that separates the fifth and sixth fairways. The ball was plugged, and Woods asked playing competitor Martin Kaymer whether he might be entitled to relief.
Kaymer said yes. Woods took what he thought was a free drop and chipped out sideways onto the fairway. He made what he thought was a bogey on the hole.
It later turned into a triple bogey when Andy McFee, the European Tour's senior referee, spoke with referee Miguel Vidaor about the incident. McFee went to the area to look at the situation and immediately decided Woods had incurred a two-shot penalty for taking incorrect relief.
"I thought my ball was embedded, so I called Martin over," said Woods, who was credited with a 3-over 75 on Friday, featuring four bogeys in his opening five holes. "He agreed. But Andy ruled that I had broken an infraction there and consequently got a two-shot penalty.
"Evidently it's sandy-based and doesn't call for an embedded ball there. So Andy gave me a penalty and I missed the cut."
Like all professional tours, the European Tour extends the local rule for embedded balls in preferred-lie situations to all areas through the green. The exception to this local rule is that it doesn't apply to balls plugged in sand. Since Woods' ball was embedded in a sandy waste area, he had incurred the penalty under Rule 25-2.
"On all tours we extend the embedded-ball relief," McFee said. "Under the rules of the game, the embedded ball only applies on a closely mown area. All tours use the note to that rule which extends it to through the green, which means everywhere on the golf course except hazards. But it's very specific, that rule, and it refers to ground other than sand."
McFee went to the spot where Woods took the drop. He immediately realized there was a problem. He alerted Woods on the 11th tee but did not clarify the situation fully until Woods arrived in the scoring area.
"I spoke to Tiger as he came off the 11th tee because I was aware of his situation in the tournament," McFee said. "I wanted him to know as this might affect his strategy going forward.
"When we got to the recording area, I said, 'Do you want to go out and have a look out there?'
"He said: 'If you think it's the right ruling, that's good enough for me.' "
The news couldn't be worse for Abu Dhabi and HSBC. With World No. 1 Rory McIlroy also having missed the cut, the last thing the sponsors needed was to see Woods bow out of the event too. McIlroy and Woods are estimated to have been paid about $4 million to turn up in Abu Dhabi.
"I didn't know the rule, either," McIlroy said. Tough for Tiger. Tough for the tournament."
Golfweek.com readers: We value your input and welcome your comments, but please be respectful in this forum.
---
---
---
---
---
---
---
---
---
---
---
---
---
---
---
---
---
---
---
---
---