College Women
Women's spring preview: Missouri Valley Conference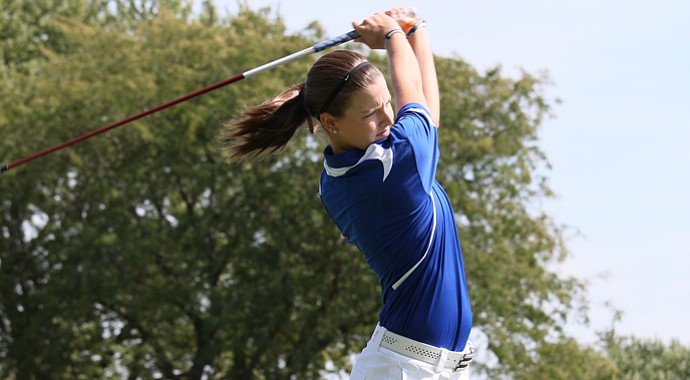 Monday, January 21, 2013
In her first collegiate tournament, Kimmy Askelson sent a message. She was for real.
At Illinois State's Redbird Invitational in September 2011, the Cedar Rapids, Iowa native carded a 225 total (78-73-74) to finish sixth. She was Drake's top player, and backing up the hype of her two-time first-team all-state status from high school.
However, nature would interfere. Injuries derailed Askelson's freshman year.
"That was my only healthy tournament," she said.

Askelson suffered from injuries to her foot, ankle and calf the rest of that fall. She had a sprained ankle and fibrous tissue in her ankle. She also had a weak ligament and a bone coalition.
Askelson played in three more tournaments in the fall, finishing only as high as 30th. She still managed to finish the fall with a team-low 79.7 scoring average in 12 rounds.
"I've had problems with my calf and ankle since high school," she said. "Last fall, I had pain in my ankle and foot. It was sort of an overwhelming pain that kept coming back. The more I played, the less I rested. It got worse and worse."
Askelson missed the entire spring to rest her injuries. She tried giving things a go in the fall, but the injuries flared up again. Askelson had surgery in the fall to tighten her ankle ligament and remove the bone coalition.
After rehabbing all winter, Askelson is healthy again and ready to rejoin Drake as a redshirt freshman. And they need her. The Bulldogs finished no higher than eighth in fall tournaments without Askelson and junior Cristina Bowery, who missed the fall due to a hip injury and will also return in the spring. Drake was forced to play the entire fall with a five-player roster.
Coach Leanne Smith is expecting a slash in scoring upon Askelson's return.
"She's definitely in our top 3," Smith said. "She can have a tremendous impact on us. We'll drop a few shots each tournament."
Although Askelson is aware of her team's need for a spark, she is trying not to set expectations she cannot reach. She has not competed in a college tournament in almost a year and a half, and her body needs to make the transition.
"I'm confident and cautious," she says. "I'm pretty hard-headed and sometimes don't know my body's limits. First, I need to make sure I'm doing okay walking 36 holes and then 18 the next day. If I feel good, I hope I can bring good scores in. That will take pressure off the less experienced players."
A telling sign for Askelson's return may have come at July's Iowa Women's Amateur. The tournament was one of three summer events Askelson played while trying to prepare for her fall return. Askelson won the tournament with a 54-hole score of 7-over 226 at Des Moines Golf and Country Club, and she was named Iowa Women's Golf Association Player of the Year in November. In the tournament, she was paired with Smith for the first and final rounds.
"She's really determined," Smith said. "She wants to be a great college golfer. She wants to pursue it after she's done. She's got all the tools for it. She has a really good mindset for golf."
Right now, Askelson is excited to get back on the course and travel with her teammates. If her body heals correctly, then she can start thinking about the next step.
"I know if I'm healthy, I can play really well and contend for those top spots going into the conference championship."
Askelson won a state amateur championship while needing surgery. Now that she's healthy, a conference championship could be in sight.
• • •
Where it stands now
Top of the class: Illinois State
Best player in the fall: Katie Jean, Illinois State
• • •
Past champions
2008: Illinois State
2009: Illinois State
2010: Illinois State
2011: Illinois State
2012: Missouri State
• • •
Conference capsules
Illinois State (Golfweek/Sagarin Ranking: No. 117)

Illinois State opened with a third-place finish but went downhill as the fall progressed. Senior Katie Jean finished in the top 10 in all five events and leads the conference with a scoring average of 74. She will need help from players such as sophomore Hayley Guyton to keep the Redbirds near the top of the conference.

Missouri State (No. 121)

On paper, the Bears' fall results can be misleading. A tough schedule overshadowed the success of Emma Clegg, Megan Thompson, Chiara Citterio and Ariel Tidwell, all of whom averaged 80 or better in 12 or more rounds.

Bradley (No. 137)

After a slow start, the Braves finished strong, closing the season with second- and third-place finishes. Freshman Danielle Lemek is second in the conference with a 74.79 scoring average.

Southern Illinois (No. 153)

The Salukis were steady all fall, finishing in the top 5 in five of six events. Junior twins Cassie and Ashleigh Rushing set the tone with averages of 76.38 and 77, respectively.

Wichita State (No. 159)

The Shockers pulled things together with fourth- and seventh-place finishes in their final two events. Senior Hannah Martin (77.53 average) will need to finish her career with a bang to make a run at a conference championship.

Indiana State (No. 179)

The Sycamores finished in fourth place or better in four of five events, including a first place crown at the CSU Cougar Classic. Four players, Emily Dixon, Amanda Smith, Christina Beyerl and McCall Christopher, carried a season average of 81 or better.

Northern Iowa (No. 190)

Which UNI team will show up? The Panther team that finished 18th out of 18 teams in the Blue Raider Invitational Oct. 22-23, or the team that finished first out of 11 teams in the Braun Intercollegiate Oct. 29-30? Little was answered in the final two events of the fall.

Drake (No. 200)

The Bulldogs were a non-factor, finishing no better than eighth in any event. The return of redshirted freshman Kimmy Askelson, the 2012 Iowa Women's Amateur Champion, from foot surgery could bring a boost.

Creighton (No. 229)

Lone senior Celeste Gassman (81 average) was a bright spot in an otherwise disappointing fall. The Blue Jays' best finish was fourth in the 8-team Jackrabbit Fall Invitational.

Evansville (No. 231)

The young Purple Aces are in the midst of rebuilding. Freshman Paige Crafton (80.82 stroke average in 11 rounds) may be a star in the making.

Conference championship

April 21-23, Lake of the Ozarks, Mo.

Lance Ringler's prediction

Missouri State. While Illinois State has the best player in the league in Katie Jean, the Bears are the deepest team in the league, one through five, and that will help them at the conference championship, where an AQ is at stake.
Golfweek.com readers: We value your input and welcome your comments, but please be respectful in this forum.
---
---
---
---
---
---
---
---
---
---
---
---
---
---
---
---
---
---
---
---
---