What they're saying: U.S. Open reactions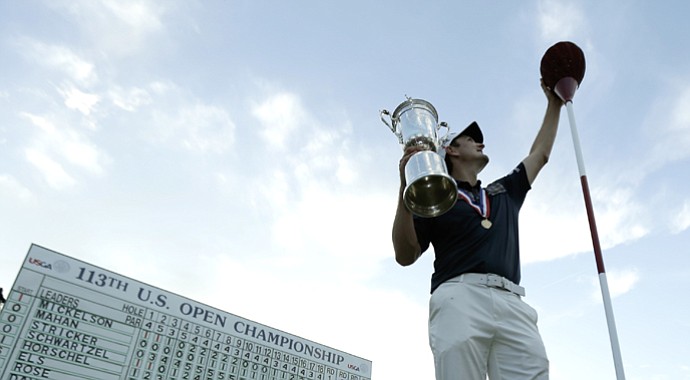 Monday, June 17, 2013
Here are some reactions to the U.S. Open at Merion Golf Club, which Justin Rose won at 1 over par, from golfers and other figures of the sport via social media Monday:
• • •
• Justin Rose, @JustinRose99: "Time to enjoy an amazing day!! Thanks for the support guys..... twitpic.com/cxn1ra"
• Nicolas Colsaerts, @Coelsss: "@JustinRose99 what a way to close ur 1st major win...huge congrats mate#example#usopen#merion"
• David Hearn, @HearnDavid: "Hole #13 last week played 123 yards on Sunday. Rose makes birdie, Mickelson makes bogey. Rose goes on to win by 2. #shortpar3s #justsaying"
• Steve Elkington, @elkpga: " "@EvanShaps: birdie on final 2 holes like Phil needed yesterday, can you think of a tougher 17 + 18 hole anywhere?"// whistling straits"
• Gonzalo Fernandez-Castaño, @gfcgolf: "I'm glad we only have to play courses set up by the USGA once a year. If we played more, life expectancy of touring pros will drop sharply"
• Luke Donald, @LukeDonald: " "The longest short course i've ever played!" RT @ChrisVanTil @LukeDonald Apart from #3, what did you think of the course setup this weekend?"
• Lee Westwood, @WestwoodLee: " "@IanJamesPoulter: Were those red baskets a little springy this week @WestwoodLee."you obviously didn't hit it straight enough sparrow legs!"
• Rory Mcilroy, @McIlroyRory: "A lot of comments about my bent 9 iron... Moment of frustration and silly thing to do. That's what Merion can do to you!"
• Hunter Mahan, @HunterMahan: "My apologies for cursing on 3 today. As soon as I said it, I saw the mic and knew I was going to be in trouble."
• Geoff Ogilvy, @geoffogilvy: " "@ChuckMcMillan21: @geoffogilvy Who do you think has or had the prettiest golf swing of all time?" Old days Snead. These days Oosthuizen"
• James Hahn, @jameshahnPGA: "Another U.S. Open and all they talk about is Phil,who didn't win.I hope when I win one, they'll talk about me.Congrats Rosie! #inspirational"
• Brandt Snedeker, @BrandtSnedeker: "Congrats @JustinRose99 for your first major.. Couldn't have happened to a better guy.. You are officially one up!!!"
• Edward Loar, @BigEinBigD: "Hard to appreciate the contours of the greens at Merion on tv. What an unbelievable golf course to play the @usopengolf on!!"
• Gary Player, @garyplayer: "Congratulations @JustinRose99 on a fantastic, emotional & deserving victory in @usopengolf at Merion. I am so happy for you & your family."
Player: "Golf is tough. Not always fair. Heartbreaking. I feel for Phil Mickelson. Always gracious in defeat & handles himself so well. I salute you."
• Ian Poulter, @IanJamesPoulter: "Congrats finally an Englishman wins a major. @JustinRose99 respect & well played that was a great week my friend. Enjoy. Where's the party."
Golfweek.com readers: We value your input and welcome your comments, but please be respectful in this forum.
---
---
---
---
---
---
---
---
---
---
---
---
---
---
---
---
---
---
---
---
---