Notes: Humble Ko sets eyes on a major record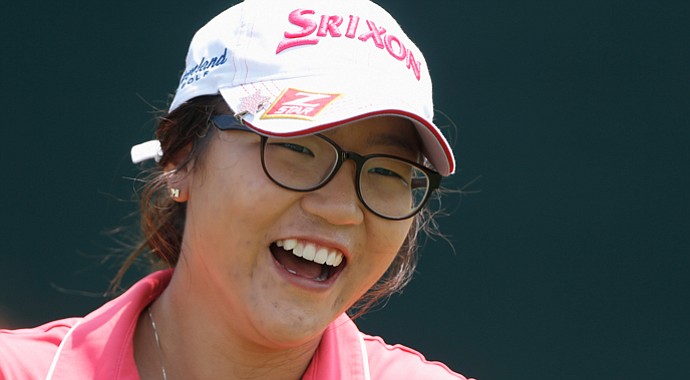 Wednesday, June 26, 2013
SOUTHAMPTON, N.Y. – A swarm of bright yellow surrounded Lydia Ko as she wrapped up a pre-tournament news conference at the U.S. Women's Open. Ko, the 16-year-old wunderkind, gave autographs to a handful of girls her age from the First Tee of Metropolitan New York.
That moment with her peers probably seemed more awkward for Ko than anything she'll face inside the ropes later this week at Sebonack Golf Club. Ko was only 10 minutes removed from making this humble statement: "Just because I've won a couple tournaments, I don't think it means I'm a huge star and stuff."
There weren't many media types on hand for Ko's presser, which is surprising given her recent success. Ko, the youngest player to win an LPGA event, tied for fourth last week in Arkansas, and had a legitimate chance at capturing her fourth professional title.
---
Video
VIDEO: Korda sisters talk U.S. Women's Open
---
At last year's U.S. Women's Open, Ko found herself shaking on the first tee. This time around, however, she has the experience of three more majors, including a T-17 at last month's Wegmans LPGA Championship. In six LPGA starts this season, Ko has finished no worse than tied for 25th. She won the ISPS Handa New Zealand Women's Open in February.
Players are calling this a second-shot golf course, and if there's anyone in the field who can keep her ball on a string, it's the fearless Ko. Add in a caddie, Louis de Kerillis, who happens to be an assistant professional here at Sebonack, and Inbee Park's record of being the youngest winner of this championship, at age 19, might be in jeopardy.
"Half of my actual shots are pretty much my caddie Louis' thoughts," Ko said. "He's like, 'OK, hit it over there,' and I hit it there."
• • •
INSIDER INFO: Paula Creamer thought it might be some kind of hoax. Sebonack co-designer Tom Doak sent a note asking for permission to walk a practice round with Creamer during the U.S. Women's Open. Doak watched Creamer play nine holes on Monday and 16 on Tuesday.
"I couldn't say thank you enough," Creamer said. "Having the architect come out there and walk with you and see you hit shots and just pick his brain. ... When I asked a question, he was right there."
On a couple of holes, Creamer couldn't help but give Doak a hard time about the demanding green complexes: Why would you do that to us?
Doak told Creamer it took seven minutes to design Nos. 18, 17 and 11.
"I was like, Whoa," she said.
Doak spent Tuesday afternoon following Stacy Lewis and said the course was playing four strokes harder than his morning walk.
• • •
OLDIE, BUT GOODIE: Juli Inkster, 53, a two-time U.S. Women's Open champion and the oldest player in the field, is playing on a special exemption from the USGA. As usual, Inkster delivered a few gems during her pre-tournament news conference that are worth noting:
• On Asians winning the past nine majors: "Well, I mean, it's just different cultures. I mean, I've raised two girls, and I had my girls in everything. They did dance; they did music; they did golf; they did basketball. I just kind of let them find their own path. Over in Asia, it's a little different. If the parents want the girls to play golf, they play golf and they do it really well. ... I'm not saying my way is right. I'm not saying my way is wrong. I'm just saying it's two different cultures combined together, and the girls are just really good players. I don't know how to explain, but they're born to win, and they do it well."
• On getting along with the young guard: "I have two girls, 23 and 19. So I relate really good to them. I don't give them my credit card, but they give me their credit card. But I have a good rapport with them. I've always kind of had an open-door policy. Paula (Creamer) and Morgan (Pressel) and Natalie (Gulbis), some of those girls really took advantage of it."
• On how the popularity of the tour has changed over the years: "Well, I think golf in general is very popular. I think our TV ratings are up. We're really popular over in Asia, Korea TV, Japan TV. I mean, we're more popular than the guys over there. ... When I first came out, our TV wasn't as good, but we had a lot more American players, and I think a lot more people probably could relate to them. I think it's kind of hard to differentiate one Kim (from) another. But being out here, I mean, they all have really different personalities, and they're a lot of fun. It's just hard for the American culture to get a grip on them."
Golfweek.com readers: We value your input and welcome your comments, but please be respectful in this forum.
---
---
---
---
---
---
---
---
---
---
---
---
---
---
---
---
---
---
---
---
---