Junior Boys
Experience outweighed the results at JGWP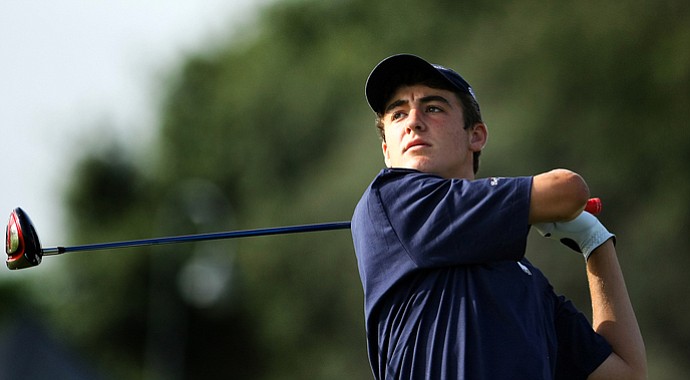 Thursday, June 27, 2013
When Scottie Scheffler, Cameron Champ, Ben Balter and Adam Wood step onto the same golf course, there's enough clout to make for a solid junior golf tournament.
But when they played 72 holes at the Chukyo Golf Course from June 18-21, they were doing so as a team.
The was just one problem — they were a long way from home.
With three of the four players making their first trip out of the country, the team flew to Japan to take part in the Junior Golf World Cup 2013.
The experience, once in a lifetime. The result, nothing to write home about.
The team finished sixth out of 12, falling to the winner, Venezuela, by 11 strokes.
But the experience outweighed the result for the four juniors.
"You recognize how great golf is in the other countries when you see teams from South Africa, Venezuela and some of those other countries," Wood said. "It was a really cool experience and I loved the format. We couldn't make very many putts, unlike the top finishing teams, but other than that we had a really solid week."
A long flight, a major time change and hours of sleep lost all come as a part of the deal when traveling overseas. Throw a one-hour drive to the course on top of that, and team USA was slightly out of its comfort zone.
"The jetlag was miserable. The two or three days we were there, I couldn't get out of bed, I couldn't sleep," Scheffler said. "The first day, I hit some of the worst shots I've ever hit on a golf course before. But after a few days you got used to the environment and everything."
The world cup presented a chance for the players to break from the norm and see competition they may not face in the states.
"The biggest thing they can take away is golf is such a global game, that there are players in other countries that are just as good as they are," said U.S. team captain J.R. Steinbauer. "It shows how junior golf around the world is really strong."
Said Wood: "I have a new appreciation for traveling to different countries and playing golf. The course setup was a little different, and the grasses were different, everything was just a little bit off. There are adjustments that need to be made with how thick the air is, the green speed and slope.
"As far as golf goes, it's just a different kind of golf and there's an adjustment that needs to be made traveling from course to course."
All of the little differences provided a challenge for the U.S. golfers, but there was a distinct difference that intrigued them. The course features escalators that took golfers from a green to a more elevated tee box on three occasions.
"Going from green to tee box, it was amongst the giant hills, it would be very steep up to the next tee box so instead of building a winding cart path, they just built an escalator," Wood said.
Despite the jetlag and mediocre finish, each player was able to take something away from the international trip.
"There was a lot of cultural differences," Wood said. "Everybody there follows the rules, if the light was red, even if there are no cars coming, the pedestrians wait. They are very correct, everything was very clean and food portions were small. Everything was just a little different."
In the end, the U.S. still took something home. Champ crushed his way to being the long drive champion, winning with a 333-yard bomb.
That four-man team wasn't going home empty-handed.
Golfweek.com readers: We value your input and welcome your comments, but please be respectful in this forum.
---
---
---
---
---
---
---
---
---
---
---
---
---
---
---
---
---
---
---
---
---