PGA prez: Members' next step on anchoring unclear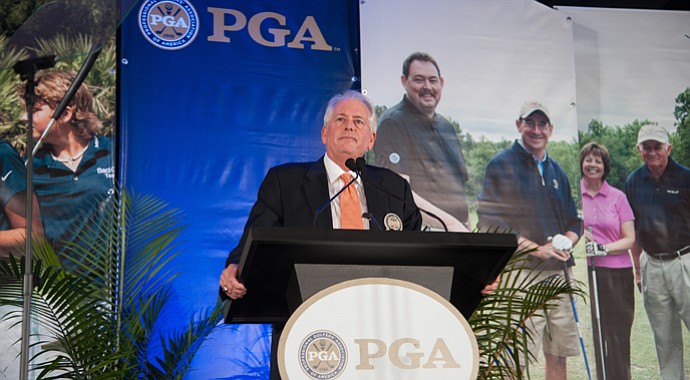 Tuesday, May 21, 2013
ST. LOUIS – In a conference room on the second floor of the clubhouse at Bellerive Country Club, site of this week's 74th Senior PGA Championship, PGA of America president Ted Bishop followed the USGA press conference announcing the adoption of Rule 14-1b to ban the anchored stroke starting in 2016.
Bishop, an early dissenter regarding a ban of the anchored stroke, sat calmly, eating yogurt and answering the occasional text message before the announcement. But Bishop has known for weeks of the USGA/R&A decision, having been briefed by the USGA two weeks ago at The Players championship at Ponte Vedra Beach, Fla.
Yet as USGA president Glen Nager was announcing the ultimate ban, Bishop still was trying to wrap his arms around what he already knew and how his organization of 27,000 members would deal with the decision.
"It's hard for me to answer that question right now because I really haven't thought much about that," Bishop said when asked what it would mean for the PGA of America not to follow the anchoring ban. "I held out hope really all the way up through the week of The Players Championship that there might be some consideration given to this compromise. I hadn't thought too much about it, seriously thought about it, as being a potential real next step. But I think those are the two options: Either you follow the rule or there's potentially another set of rules created."
Bishop said that litigation was not in the future for the PGA of America and added that he didn't think his association was interested in being in the rules‑writing business.
"I don't think I'm going out of school by making that statement," Bishop said. "I don't see us as an association going down that road. But I think we'll sit back and wait to see what the PGA Tour does, for sure."
• • •
Read the news statement from PGA of America president Ted Bishop
• • •
The PGA of America and the PGA Tour have been attached at the hip on this issue, working together on strategy, even sharing each other's news releases about the final ban.
In many ways, the PGA of America and PGA Tour's interests might start to diverge – with the Tour interested in the elite athletes of the game and the PGA of America interested in everyone else.
Bishop notified his board of directors last week of the final decision and asked that group of 19 to return to their 41 sections to get their thoughts and report back before the June board meeting in Sunriver, Ore., during the 46th PGA Professional National Championship.
But it was clear Bishop's biggest concern is the future.
"I know in my conversations with PGA members, I've said to them, 'How are you going to handle this, if it does go into effect, at your club?' And several of them have said, 'Well, we'll just implement a local condition of competition and allow those that anchor to continue to do so,' and you can't do that. If you're going to play the game according to the USGA and the R&A rules, you can't do that," Bishop said. "I mean, that's bifurcation in the purest sense."
Bishop had proposed to the USGA that it make anchoring part of the conditions of competition early in the process, but he learned from Nager during a two-day outing months ago in Augusta, Ga., that the option wouldn't fly.
So now Bishop must educate and assist his members to implement the ban. In an odd way, the biggest supporter in helping Bishop deal with educating his members will be the USGA.
The meeting in Ponte Vedra Beach was one of the few times that USGA and PGA of America leaders sat down and met about issues, not just anchoring.
And though the USGA offered to assist the PGA of America in educating its members, the meeting in Florida is the beginning of a new dawn in the relations between the two organizations.
"I think we have more open and direct communication than we had before," Bishop said of his relationship with Nager. "It kind of started out testy, no question, at the beginning of the comment period. But I think as we both went through it, we both found out that we were probably alike in some ways; we're both pretty direct; we're both not afraid to tell the other guy what we're thinking; and we digest it and we don't hold grudges and we discuss it and we move on."
Golfweek.com readers: We value your input and welcome your comments, but please be respectful in this forum.
---
---
---
---
---
---
---
---
---
---
---
---
---
---
---
---
---
---
---
---
---