Hudson, Marsh take trophies at Dormie Club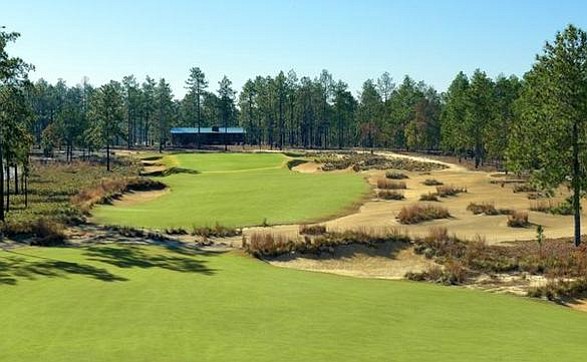 Wednesday, August 13, 2014
It came down to the very last hole, but Steve Hudson managed to hold off Pat Thompson on Tuesday to win the inaugural Golfweek Senior Match Play Championship. It's just one more title to add to his senior-golf resume, which already is full of titles won in his native Alabama.
Hudson, of Birmingham, Ala., took his first lead on Thompson, of Asheville, N.C., at the Dormie Club in West End, N.C., by holing a 50-foot birdie putt at No. 2. The two players went back and forth constantly from there. Hudson eventually won with a birdie at No. 18.
"It's getting harder and harder to compete against the younger guys," Hudson said. "We had a great match, you couldn't ask for anything better and it came down to the last hole and I was lucky enough to win it with a birdie while Pat made par."
Hudson, a Hall of Famer in Alabama, has won four state amateur titles in the past five years. Hudson has been in the investment business for 26 years. Thanks to support from his employees – Hudson owns his own business – and new technology, he is experiencing more freedom to travel and play golf. Earlier this year, Hudson won the first tournament he entered – the Society of Seniors Masters. Winning at the Dormie Club was no easy feat.
"It was a great tournament and hard to get through the four matches in two days," Hudson said. "The Dormie Club is a great match-play golf club. You've got to think about what shot you're hitting every step of the way, especially on No. 18 where it's risk or reward."
For now, Hudson is on a waiting list for the Canadian Senior Amateur. He will also try to qualify for the U.S. Senior Amateur on Aug. 18.
In the super-senior division, Don Marsh of Alpharetta, Ga., defeated Walt Martin of Oakton, Va., 1 up. Marsh is a former Ohio State golfer – he played for the Buckeyes for three years – and is a Vietnam veteran.
Both players had to play five matches in a three-day period at the Dormie Club.
"I'm pretty tired," Marsh said after the championship match, "but I feel great with the win. Walt is a great player and his ranking the last few years proves it, so it's a good feeling to win."
Like Hudson, Marsh also won with par on the 18th. Marsh, who retired after 30 years with IBM, also won the Senior Hall of Fame and the Georgia Senior Invitational earlier this year. He was third at the Lupton Memorial and lost the Jones Cup Senior in a playoff.
Amid all his golf, Marsh said he has been lucky in the health-and-fitness department.
"I'm fortunate. I don't have to work out a lot, I just watch what I eat and take a lot of Aleve," Marsh said.
Match Play results:
Seniors
First Round
Peter Van Ingen def. Herb Fisher, 1 up
Patrick Thompson def. Bob Casamento, 6 and 5
Bill Leonard def. Ken Larney, 3 and 2
Paul Schlachter def. Kevin Macy, 3 and 2
Scott Hudson def. Chip Ward, 2 and 1
John Fritz def. Dan Pouliot, 3 and 1
Dale Porter def. Phillip Leckey, 21 holes
Dennis Helms def. Don Ragley, 5 and 4
Quarterfinals
Bill Leonard def. Dennis Helms, 1 up
Steve Hudson def. Paul Schlachter, 4 and 3
Pat Thompson def. Dale Porter, 4 and 3
Peter Van Ingen def. John Fritz, 1 up
Semifinals
Steve Hudson def. Bill Leonard, 1 up
Pat Thompson, def. Peter Van Ingen, 3 and 2
Final
Steve Hudson def. Patrick Thompson, 1 up
Super Senior Division
First Round
Mack Clapp def. Jim deLeon, 2 and 1
Ted Smith def. Scott Northey, 6 and 4
Walt Martin def. Joe Pavoni, 1 up
Rick Luzar def. Don Jeasnes, 2 up
Mike Jackson def. Marshall Utterson, 3 and 2
Don Marsh def. Berger Warner, 2 up
Gary Kirwan def. John Richart, 20 holes
Larry Vander Bie def. Bob Yow, 5 and 4
Quarterfinals
Ted Smith def. Mack Clapp, 3 and 2
Don Marsh def. Rick Luzar, 5 and 3
Gary Kirwan def. Mike Jackson, 1 up
Walt Martin def. Larry Vanderbie, 3 and 2
Semifinals
Don Marsh def. Ted Smith, 2 and 1
Walt Martin def. Gary Kirwan, 1 up
Final
Don Marsh def. Walt Martin, 1 up
Golfweek.com readers: We value your input and welcome your comments, but please be respectful in this forum.
---
---
---
---
---
---
---
---
---
---
---
---
---
---
---
---
---
---
---
---
---