Monday musings: Tiger's physique; Seminole pro-am; more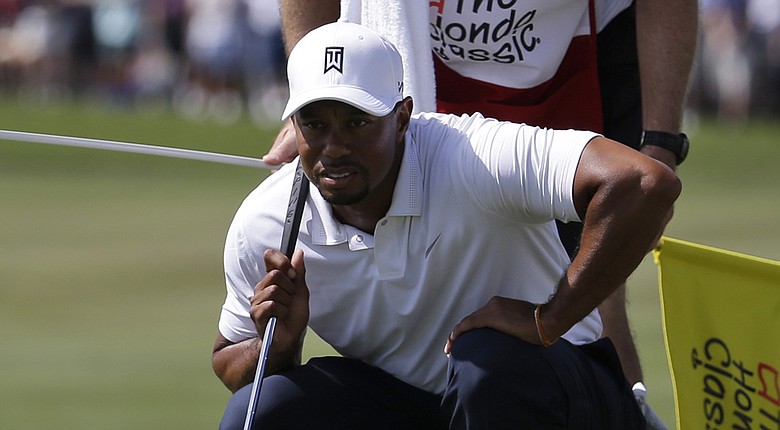 Monday, March 3, 2014
Plenty was buzzing about golf Monday on social media, including talk of Tiger Woods' WD at the Honda Classic, some of which originated on Twitter as Woods' former instructor Hank Haney was asking for questions for his radio show and offered an opinion on Tiger's schedule.
Hank Haney, @HankDHaney: "In '08 I had the feeling that Tiger should just play 12 tournaments a yr, 3 before each major, that schedule would give him his shot at Jack"
Haney: "Absolutely, wins one this yr @markroper23: Do you think it's still possible for him Hank?"
Haney: "Not great, spent the break working on his body, didn't make it 3 tournaments @AustinPost1:tiger WD today worse issue than he is letting on?"
Haney: "No, he's always thought a short backswing cures everything @DanielPGorman:could the shortness of Tigers swing of late be because of the back?"
Haney: "Yes, but he will never admit it, he loves working out @nvelthouse: is it possible that all that work on his body is wearing his body out?"
Paul Azinger, @PaulAzinger: "Tigers WD aside, there needs to be some assessment of the rise of injuries on tour, given increased emphasis on fitness to prevent them."
Azinger: "@IanJamesPoulter Ive been saying this for some time and getting ridiculed for it. Stretching/yoga makes more sense to me"
Haney: "I agree @PaulAzinger: Ive been saying this for some time and getting ridiculed for it. Stretching/yoga makes more sense to me"
Ian Poulter, @IanJamesPoulter: "Think you will find 75% of injuries are caused in the gym."
Paige Mackenzie, @Paige_Mackenzie: "Re: gym/injuries: I've done it all. 4 ME yoga HELPED, functional training MAINTAINED, weight training CHANGED and doing nothing HURT my body"
Mackenzie: "Everyone's body is different and I won't speculate what is the best way to maintain someone else's body...find what works for you!"
Haney: "Don't see anyway Tiger play's Doral. He can't just show up on Thursday, it's a brand new course w new greens so he needs practice rounds."
• • •
Others checked in from the pro-am tournament at storied Seminole Golf Club in Juno Beach:
@Chris_Kirk_: "Just a casual round of golf with The King pic.twitter.com/tcvnteLdJi"
Kirk: "I was blown away by how solid Mr Palmer hit the ball today. 84 years old and still flushing it."
Michael Thompson, @MSlickThompson: "What a great day playing in the Seminole Pro-Member! Had fun playing with huntermahan and his partner… instagram.com/p/lGOOohBNlW/"
Brad Fritsch, @BradFritsch: "Great day at Seminole Pro-Member. Old school golf course that can yield low scores but also can best you up. Thx for the invite."
Roberto Castro, @cicioCASTRO: "@TourMidAm yup. pic.twitter.com/QTx4Bpf3cE"
Morgan Hoffmann, @Morgan_Hoffmann: "Awesome day at the Seminole pro am with the McBride's! Now off to Puerto Rico"
Justin Thomas, @JustinThomas34: "Had a blast at the Seminole pro-member today with Mr. Harcourt Kemp, always has been one of my favorite courses and was a sick experience"
• • •
And as usual, there was chatter that didn't have much to do with competition:
J.J. Killeen, @jjkilleentcu: "@jjhenrygolf you coulda got somma this today vine.co/v/MAM1nd6EWE9"
J.J. Henry, @jjhenrygolf: "@jjkilleentcu what's that a 6ft rim?"
Bubba Watson, @bubbawatson: "9th hole hole-n-one prize!! #ThanksMrTrumpDoesThisComeInPink pic.twitter.com/HzyNEf5eoj"
Ian Poulter, @IanJamesPoulter: "Check out these 2 beauties.... Wow I love having friends with nice cars. I must work harder. instagram.com/p/lF_fj-Jg1-/"
Valspar Championship, @ValsparChamp: "Do you believe 10-day forecasts? If so, highs in 70s next week, lows in 60s, plenty of sun @VSPC"
Golfweek.com readers: We value your input and welcome your comments, but please be respectful in this forum.
---
---
---
---
---
---
---
---
---
---
---
---
---
---
---
---
---
---
---
---
---