College Men
Coaches, industry colleagues react to Balicki's passing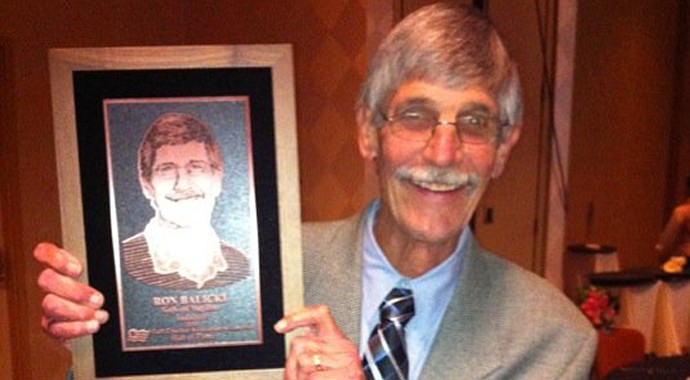 Thursday, March 27, 2014
Here are a few reactions from college golf coaches and others in the sport, as well as just a few of the many Twitter posts they have shared, upon learning that Golfweek senior writer Ron Balicki had died at age 65 after a months-long fight against cancer:
• • •
• Mike Holder, former Oklahoma State coach and current athletic director: "I first met Ron at a tournament at Oak Tree Golf Club (in Edmond, Okla.), but I can't remember the year. It was a long time ago, but probably leading up to the NCAA Championship at Oak Tree in 1989. I don't have a funny story, just fond memories of a man that loved golf, especially college golf, and the passion that he brought to his craft. He worked hard to tell the world about the great things happening in college golf, and he made countless friends in the process. He made all of us look forward to each issue of Golfweek to find out what was happening in our sport. 'Wrong Ron' did a lot of things right, but picking winners was not one of them. A few of us might still be coaching if he hadn't picked our teams to win. The Wrong Ron Curse ended many a career."
• Randy Lein, former Arizona State coach: "Truly one of the nicest guys I have ever met. I never, ever saw Ron upset. He had a calming demeanor about him and always found the very best in people. I started coaching in 1980, and the NCAAs were hosted that year at Ohio State, but I think I first met Ron at the NCAAs in 1981 at Stanford as I coached the individual champion that year. I would expect to have conversation with Ron at the NCAAs and at (former Arizona coach) Rick LaRose's event down in Tucson. Ron loved that event, and Rick took good care of him. I always respected Ron. He will certainly be missed."
• Chris Haack, Georgia: "Ron was an integral part of college golf. I got to really know Ron at the old Perry Maxwell tournament in Ardmore, Okla. We went striper-bass fishing and had so much fun. From then on, I always called him Striper Ron, and all my players over the years referred to him as Striper Ron. I would always beg him not to pick us to win the NCAA because of his Wrong Ron reputation. He did not pick us the two years we won.! He was a true friend. I will miss him dearly."
• Dwaine Knight, UNLV: "Ron was very special. I first met him in 1988 at Oak Tree in Oklahoma. I found out we were from the same area growing up in Fort Walton Beach, Fla. We became good friends over the years and had a lot of long talks, especially when I was selected captain for the inaugural Palmer Cup (1997). We spent an awesome week together at Bay Hill with Arnold Palmer. Ron knew that was a very special competition for college golf. His words over the years painted the picture for college golf. He brought to life the personalities of the players and teams. He told what it was like to play for national championships, to win and lose. He talked of the challenge to balance school and golf, whether to turn pro or stay in school and graduate. He spoke of the value of a degree. Most of all, he wrote of the love we all share for this great game of ours. My most enduring memory of Ron will always be the year we won't the NCAA in Albuquerque (1998). He showed me what he was wearing under his windbreaker that day was a red shirt. I don't know if it was by chance or choice, but I would like to believe it was by choice. We will all really miss him.
• Herb Page, Kent State: "What a great guy. You know Kent State was his favorite team. And Herb Page was his favorite coach. That's the way he made us feel . . . along with every college team and coach. Ron was always so positive in everything he wrote and always made us feel important, relevant and way better than we probably really were. I saw him at the '84 NCAA finals but really got to know him at the '89 finals. He wrote a fabulous story on Oct. 21, 2000 ("A Page in history: Coach puts Kent State golf on the map"). Front page. Made us very relevant and was so positive. But he did that for all programs, players and coaches. He was the best. We always visited early in the spring at the tournament in Puerto Rico. We always finished at the back of the pack, and usually by a lot. His quote was always, "You'll get them at the end in May." His call in late May or June was the best. We didn't always "get 'em all" but got our fair share, and we would always love to talk about our resilience. Wrong Ron only mentioned us once as a long-shot, in '94. We had won seven tournaments in a row at Ohio State Scarlet, including the '93 NCAA regionals. We were ranked seventh in the nation. The finals at Scarlet. The kiss of death: we missed the cut. Thanks, Ron. I told him never, ever even mention us again. Many special little memories and moments. As I said before, he made college golf relevant. Nothing but fond memories of a great friend and a great writer.
• Asher Wildman, sports director, KVIA-TV in El Paso, Texas, and a former Golfweek college reporter: "Every fall when I was at Golfweek, I would look forward to the Golfweek editorial retreat for two reasons: To get together with the "Off Campus" team of Lance Ringler and the "godfather" of college golf, Ron Balicki. I would always look forward to the Crain Cup matches and playing either with Ron or against him. Either way, we would always ride together just to talk about everything except golf. I would often count in my head how many times Ron would say, 'Riiiiight,' or 'Oh, I know . . .' Ron would normally call it a round by the 14th hole, and for five years I swear he would say after a chunked shot, 'OK, Ash, keep driving. I'm done. Ron was one of the nicest guys in the world, and he probably didn't even notice. Everyone loved being around him, or near him. He was fun to tease, fun to chat with and fun to work with. From dressing up as an American Revolutionary 'Minuteman' to ripping off shirts with colleges underneath his shirt, Wrong Ron was one of the best. I'm honored to say I worked with him but prouder to say I called him a friend."
---
Photo Gallery
PHOTOS: Moments from Ron Balicki's career
Here are just a few of the moments of Ron Balicki's long, hall-of-fame career covering college and amateur golf for Golfweek.
---
• Evans Scholars Foundation, via its Facebook page: "The Western Golf Association joins the rest of the golf world today in mourning the passing of Ron Balicki, a man we were blessed to have come to know and appreciate through his many years of covering the Western Amateur. Ron's love of amateur and college golf was boundless, and it showed in his work. His seemingly limitless talent was matched only by his kindness toward others. Ron will be remembered as one of the great golf writers of our time but most importantly, as a kind and decent man and a friend. He will be missed. Our thoughts and prayers are with his wife, Debbie, his friends and colleagues at Golfweek and all who knew and loved Ron."
• • •
• • •
The Haskins Award, @TheHaskinsAward: "College and amateur golf has lost its best friend. RIP Ron Balicki."
Mike McGraw, @BamaCoachMcGraw: "Stop and think about it...how many people do you know who really make a difference in their field? Wrong Ron you will be missed"
Bill McDonald, @billymackgolf: "Very sad to hear about @WrongRon he always had a kind word for everyone, loved college golf and was an icon in our sport #RIPmyfriend"
Glen Millican, @LoboGolf: "One of the greatest supporters of college golf. Will always be remembered as a great friend of our sport."
AJGA, @AJGAGolf: "We are sorry to hear about the loss of @WrongRon Ron Balicki. His commitment to young golfers & their collegiate pursuits was unparallelled."
GeorgiaGolf, @GeorgiaGolf1: "Saddened to learn that Ron Balicki has passed away. "Wrong Ron" was a great friend to college golf and will be missed."
Mercer Golf, @Mercergolf: "Saddened to hear the news of the passing of @WrongRon. He did so much to grow the game and share his love of this sport #RIPWrongRon"
Oklahoma State Golf, @OSUCowboyGolf: "College golf would not be where it is today without @WrongRon, a simple "thanks" doesn't do his work justice. Golf lost a special person."
Golfweek.com readers: We value your input and welcome your comments, but please be respectful in this forum.
---
---
---
---
---
---
---
---
---
---
---
---
---
---
---
---
---
---
---
---
---