Shoprite LPGA Classic: Tee times, final round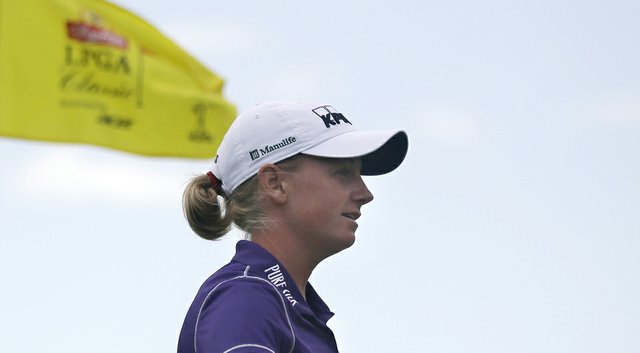 Leader Stacy Lewis will play in Sunday's final tee time, looking to stay ahead of some notable pursuers and earn the win at the 2014 Shoprite LPGA Classic.
Lewis will look to hold off the likes of Inbee Park and Anna Nordqvist in the groups ahead of her. Meanwhile, Lexi Thompson and Lydia Ko are among the players who made the cut but are relegated to tee times off No. 10.
• • •
Complete tee times and groupings for Sunday's final round of the 2014 Shoprite LPGA Classic at Stockton Seaview Hotel and Golf Club's Bay Course in Galloway, N.J. (all times EDT):
9:58 a.m. (No. 1 tee): Katherine Kirk, Karine Icher, Brooke Pancake
9:58 a.m. (No. 10 tee): Cristie Kerr, Joanna Klatten, Mo Martin
10:09 a.m. (No. 1 tee): Paola Moreno, Mina Harigae, Giulia Sergas
10:09 a.m. (No. 10 tee): Mirim Lee, Ilhee Lee, Jane Park
10:20 a.m. (No. 1 tee): Hee Young Park, Meena Lee, Azahara Munoz
10:20 a.m. (No. 10 tee): Jodi Ewart Shadoff, Ai Miyazato, Lee-Anne Pace
10:31 a.m. (No. 1 tee): Laura Diaz, Sarah Kemp, Suzann Pettersen
10:31 a.m. (No. 10 tee): Jee Young Lee, Belen Mozo, Chie Arimura
10:42 a.m. (No. 1 tee): Kelly Tan, Sydnee Michaels, Michelle Wie
10:42 a.m. (No. 10 tee): Reilley Rankin, Ashleigh Simon, Jennifer Kirby
10:53 a.m. (No. 1 tee): Becky Morgan, Brittany Lang, Karrie Webb
10:53 a.m. (No. 10 tee): Line Vedel, Paula Creamer, Mika Miyazato
11:04 a.m. (No. 1 tee): Shanshan Feng, Christel Boeljon, Mariajo Uribe
11:04 a.m. (No. 10 tee): Yani Tseng, Felicity Johnson, Ji Young Oh
11:15 a.m. (No. 1 tee): Mi Hyang Lee, Sandra Gal, Chella Choi
11:15 a.m. (No. 10 tee): I.K. Kim, Austin Ernst, Jenny Shin
11:26 a.m. (No. 1 tee): Na Yeon Choi, Amy Anderson, Lindsey Wright
11:26 a.m. (No. 10 tee): Silvia Cavalleri, Catriona Matthew, Maria McBride
11:37 a.m. (No. 1 tee): Dori Carter, Kim Kaufman, Brittany Lincicome
11:37 a.m. (No. 10 tee): Giulia Molinaro, Lexi Thompson, Jennifer Rosales
11:48 a.m. (No. 1 tee): Inbee Park, Haru Nomura, Julieta Granada
11:48 a.m. (No. 10 tee): Moriya Jutanugarn, Katy Harris
11:59 a.m. (No. 1 tee): Anna Nordqvist, Gerina Piller, Haeji Kang
11:59 a.m. (No. 10 tee): Lydia Ko, Stacey Keating
12:10 p.m. (No. 1 tee): Stacy Lewis, Christina Kim, Jennifer Johnson
Latest Related Headlines